'Borderlands 3' Vertical Split Screen Change Angers Fans of Long-Awaited FPS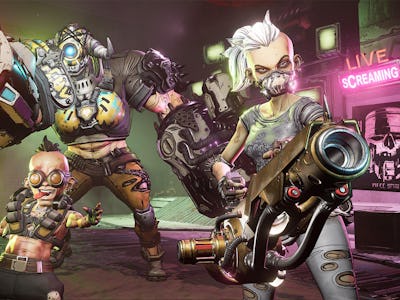 2K Games
Pandora is back in Borderlands 3 with more than a billion unique guns, signature comic book gore, and toilet humor. The third installment of the RPG-first-person shooter hybrid was released on PlayStation 4, Xbox One, and PC on Friday.
Even after a five-year absence, Gearbox Software and 2K Games has stayed true to the aesthetic and gameplay that first wowed gamers in 2009. But Borderlands 3 came with one seemingly small tweak that has angered and disappointed fans who want to play on local split-screen mode with their friends.
Early buyers have discovered that the usual vertical split-screen multiplayer display has been replaced with a horizontal split-screen. This change has made in-game text, like menus, the HUD, and subtitles annoyingly difficult to read. Gamers on Reddit and Twitter have noted it strains their eyes to read quest markers and menus that are pivotal to gameplay when they're playing locally with friends.
"Why is there not vertical split screen on co-op for Borderlands 3?" wrote Twitter user @Wtfwit. "The game is almost unplayable with forced horizontal split screen. You can't read the text."
To make matters worse, there's no way to increase the font size used in the HUD or menus, players only have the option to increase subtitle size. This can be done by pausing, going into the Options menu, scrolling to Accessibility, and finding the subtitle size scroller under the Sound submenu.
"For the love of god, let us increase UI text size on console," wrote Redditor [/u/paulinaaaaa]. "I'm playing split screen on a massive 55" TV, and we had to sit 4' from the TV just to read UI elements like tutorial text and and gun stats. I appreciate the subtitle settings, now PLEASE give the same treatment to the UI/menus!"
A multitude of gamers are already calling for a patch that would bring back vertical split screen and allow them to change menu font size. That's two additional issues on top of a launch day that has been described as "extremely buggy" and "annoying and disorienting."
This messy return to Pandora has had detrimental affects on Borderland 3's user Metacritic rating, which stands at a 5.2 with 236 reviews as of Friday. That's by far the worst any of the installments have been rated by fans, with comments ripping on 2K and Gearbox for launching with a "truckload of technical problems."
We'll wait and see if a patch will address these issues with a patch or two.
Borderlands 3 is out now for PS4, Xbox One, and PC. It'll be released on Google Stadia once that launches in November 2019.