The Plant-Based Guide to Fast Food Fake Meat, September 2019 Edition
Here's your timely guide to eating delicious fake meat this fall.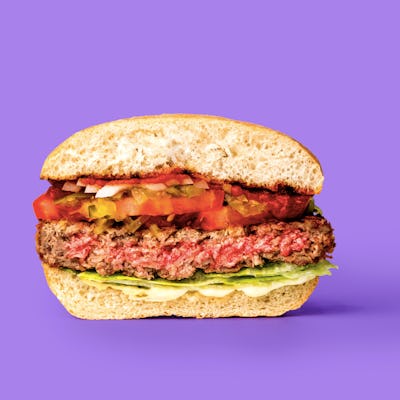 Impossible Foods
If you want to do something about the worsening climate crisis, and maybe improve your own health along the way, you could do worse than making the shift to plant-based foods instead of eating meat.
Luckily for you, lover of fast food, a growing number companies are acting on changing public tastes, which means you can still indulge in your drive-through faves while kicking it plant-based. The fast food landscape is ever evolving (is the McRib back or not right now?) so here's your timely guide to to plant-based fast food meat. Look for another update just as soon as one is warranted.
BURGER KING — THE IMPOSSIBLE WHOPPER
Launched: August 2019
Where available: Piloting at 7,000 locations across the U.S. & on DoorDash delivery app
Tastes like: Thanks to an iron-containing molecule called heme, the Impossible burger famously comes closer to looking and tasting like meat than its competitors. And plenty of people are becoming converts: On Twitter, user @skwinnicki writes that her dad, "a meat-and-potatoes guy," preferred the Impossible Whopper to the original. To see how BK's Impossible patty stacks up against others, Delish ate their way through an Impossible burger roundup, and called the Whopper the "clear winner." But can it replace the real thing? Trying the Impossible Whopper was "like eating a shoe," writes Twitter user @Phil_Sanchez.
Made from: Soy and potato protein; coconut and sunflower oils; and, of course, heme
Replaces: The Whopper Sandwich
Cost: Suggested retail is $5.59 but price varies
Get it until: BK says it'll be around for a limited time, but they also announced plans to bring the burger nationwide by the end of the year. Stay tuned.
KFC — BEYOND FRIED CHICKEN
Launched: August 2019
Where available: A single location in Atlanta, Georgia
Tastes like: The initial response is promising: KFC sold out of Beyond chicken in just five hours, the company told The New York Times. Vegan vlogger Ashley Renne blind taste-tested the non-chicken on her "die-hard meat eater" husband, who could tell when he ate vegan chicken — but that it was the texture, not the taste, that gave it away. But he was a fan: "The vegan chicken's surprisingly pretty good," he says in a YouTube video.
But Insider writer Ni'Kesia Pannell was less enthusiastic. She writes that the plant-based nuggets "were a bit dry and even though they looked and smelled like actual chicken nuggets, they didn't taste like them." The boneless wings were "surprisingly tasty," she writes, "but the sauces, especially Buffalo and Honey BBQ, were the real stars of the dish."
Made from: Pea and soy protein
Replaces: KFC's "finger lickin' good" fried chicken
Cost: Boneless wings went for $6 per half dozen; nuggets were $6.49 for a six-piece combo meal or $8.49 for a 12-piece meal
Get it until: The initial run was a flash in the pan (or fryer), and KFC told the Times it's now determining its next move.
DUNKIN' — BEYOND SAUSAGE BREAKFAST SANDWICH
Launched: July 2019
Where available: New York City
Tastes like: "That is amazing — wow," says Twitter user @GoLidZ, while @madelyneortiz_ comments it "tastes like sausage." Others were less into it: "The texture and look was very similar" to meat sausage, commented @Here4theRatio2, but had "an odd after taste."
Made from: Pea, mung bean, rice, and sunflower protein
Replaces: Dunkin's sausage, egg, and cheese sandwich
Cost: $4.29
Get it until: It's here to stay: Dunkin' plans to offer the sandwich nationwide, its CEO told Business Insider, and to create more meatless options at a lower cost than comparable meat options.
SUBWAY — BEYOND MEATBALL MARINARA
Launched: September 2019. Any day now (launches in September, per the company)
Where available: Select locations across the U.S. and Canada
Tastes like: According to a September 5 Facebook live taste test conducted in Harrisburg, Pennsylvania — one of the first areas selling the new option — "it's really, really good," and a Subway worker said he couldn't tell the difference between the meaty and meatless versions. The Beyond meatballs are doused in marinara sauce, topped with Provolone and grated parmesan cheese, and laid atop Subway's signature bread. So there's a lot of flavor packed into the sub apart from the namesake meatballs at its center.
Made from: Beyond beef patties are made of pea, mung bean, and rice protein
Replaces: Subway's classic Meatball Marinara
Cost: TBD; the original meatball sub goes for around $6.00
Get it until: Subway plans to roll out the Beyond sub nationwide, so it might be here to stay.
WHITE CASTLE — THE IMPOSSIBLE SLIDER
Launched: White Castle was one of the first in the game, launching their Impossible Slider in April 2018.
Where available: Nationwide
Tastes like: Overall, food journalists have expressed about as much excitement over the Impossible Slider as one can assume they'd muster when reviewing a White Castle burger. Two reporters from the Chicago Tribune each gave it a thumbs up, and Eater called it "one of America's best fast-food burgers." The consensus seems to be that once you account for the cheese, onions, bun and likely significant inebriation, there's not a huge difference between the original and the Impossible.
Made from: Soy and potato protein
Replaces: The iconic slider that sent Harold and Kumar on a journey across New Jersey.
Cost: $1.99
Get it until: It's been here, it's gonna be here, and uh, you can even watch the Wu-Tang Clan eat Impossible Sliders in space while answering fans' questions. (The four-part series was selected as a finalist for the Tribeca Film Festival's Tribeca X Award.)
CARL'S JR. — BEYOND FAMOUS STAR
Launched: January 2019
Where available: Nationwide
Tastes like: The Beyond Famous Star doesn't seem to have attracted as much attention on social media as the Impossible Whopper, and they certainly don't have Ghost Face Killah promoting the brand in outer space. But similar to the reviews of the Impossible Whopper, fans say they can tell the difference between the meatless and original versions, but they still dig the new flavor — and with all other factors equal, it comes down to personal preference. "[M]ost of the nuance of the burger got lost under the loud flavors of the pickles, condiments, and the bun, which dwarfed the patty," writes Catherine Lamb in The Spoon. "This isn't necessarily bad; fast-food burgers aren't just about the taste of the beef."
Made from: Pea, mung bean, and rice protein.
Replaces: The Famous Star
Cost: Suggested retail is $6.29; you can swap any regular patty for an Impossible for $2.
Get it until: Seems to be permanent.
With the buzz around the meatless alternatives, a few fast food mainstays have yet to enter the plant-based game. Fans of Wendy's and McDonald's are even petitioning the remaining big brands to hop on the bandwagon.
McDonald's, a brand nearly synonymous with fast-food burgers, is in fact planning to mess around and get into the meatless market. In a departure from the Impossible and Beyond loyalty so far, they'll instead offer Nestlé's "Incredible Burger," which hits the market this fall — but only in Germany, Delish reports.