World's First Floating Dairy Farm Uses Solar and EVs to Fight Climate Change
The Rotterdam installation is a breakthrough.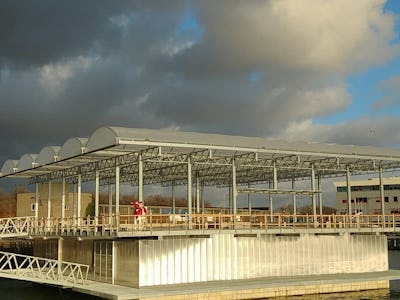 Floating Farm
A floating dairy farm has set sail in the Netherlands, running entirely on solar energy and using electric vehicles to transport the feed.
The aptly named Floating Farm lies near the heart of Rotterdam, the home of Europe's largest port. The 0.3-acre (1,200 square meter) farm produces 159 gallons (600 liters) of milk every day, using 32 Meuse Rhine Issel cows. The cows have a walkway to wander across to a nearby field.
"We are also working on a floating egg-laying unit and a vegetable farm. We hope to launch these in the Netherlands next year," Peter van Wingerden, a Dutch engineer and the CEO of the Beladon company behind the project, told Farmers Weekly in a Thursday interview.
The farm, which is powered by a nearby floating set of solar panels, is part of an increasing area of interest in how humans can use water to adapt to climate change. Researchers have called for a mass retreat away from ocean areas as rising temperatures melt more ice and raise sea levels. Beyond floating farms, experts have also called for floating cities, solar farms, and wind turbines.
Floating Farm: The Farm of the Future?
The farm has multiple tiers. The roof collects rainwater as it falls, covering the cows underneath. Around 80 percent of their feed comes from a mix of spent grain, the leftovers from brewing beer, and grass cutting from golf courses and parks. The remaining 20 percent comes from a food specialist. This is all collected using electric vehicles.
Below the cows, lower tiers are used to handle cow waste, make yogurt, put milk into bottles, mix the feed, or hold the water. An original plan to produce forage using LEDs under the cows was scrapped due to space constraints, as it would only produce around 20 percent of the required feed.
The end result is 5.3 gallons (20 liters) of milk per cow per day, sold at $1.11 (€1) for one cup (250 ml) in outlets within Rotterdam.
"No matter how much rain falls, no matter how high sea level goes, we can always produce our life-essential, healthy food," van Wingerden told BBC Radio 5 Live.
Floating Farm: The Rising Trend
The farm is part of a broader movement toward exploring how humans can adapt to rising sea levels and more efficiently use space on the water. Rotterdam, where the farm is based, is particularly well-suited to these projects. It's previously supported the Floating Pavilion project, large plastic bubbles that control temperatures and aid food growth. Much like the floating farm, the pavilion is an exploration of how water space can be used for food production.
Along similar lines, the United Nations has outlined a proposal for a floating city, in partnership with Oceanix. The design would involve 10,000 people living on a series of hexagonal islands, each one hosting 300 people over 4.5 acres. Buildings would only rise to seven stories, and the underside of the islands would be used to host ocean farms and make the project completely self-sustaining.
The ocean has also been used to collect electricity. North Holland's Andijk reservoir is playing host to 73,500 solar panels across 15 islands, combining with another nearby project to power 10,000 homes. In Scotland, the world's deepest non-floating wind farm recently took shape, providing enough power for nearly half a million homes.
The Netherlands is world-renowned for its water engineering and ability to work with the oceans. As societies look at how to use resources more efficiently, it could prove a highly important skill.
"Nine out of 10 of the world's largest cities will be exposed to rising seas by 2050," Bjarke Ingels, lead architect on the United Nations floating city project, said in a statement. "The sea is our fate — it may also be our future."