FUTURE CITIES | Rotterdam
The Dutch will innovate or sink.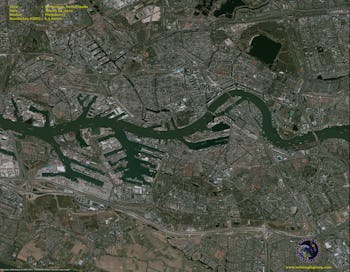 Satellite Imaging Corp
Three large white domes sit atop an artificial island in Rotterdam's harbor. Known collectively as the Floating Pavilion, these structures are built on thick layers of polystyrene and concrete, and connected to the rest of the city by a pathway made of steel and wood. Waves lap up against the transparent plastic film of the completely stable domes, which represent a small scale model of an urban habitat built to protect the low country from rising seas. These domes show what long-term survival might look like for Europe's largest commercial port, a city that exists under constant threat of erasure.
Like most of the Netherlands, Rotterdam was reclaimed from the sea by Dutch innovators around 700 years back. About 80 percent of Rotterdam is below sea level today, meaning that the city's inhabitants have much to fear from climate change. The Dutch government invests around €1 billion a year in new ideas to protect the Netherlands from flooding, providing a sharp reminder of the high stakes this small country is dealing with.
For hundreds of years, the Dutch approach has been trying to keep water either out of populated areas or under strict human control, usually achieved through carefully-placed dykes and dams. But over the past ten years, Rotterdam has taken the bold decision to stop fighting the water and start embracing it.
"Rising sea levels and increased rainfall show us that water is becoming a larger challenge in this part of the world," says Karina Czapiewska, director of project development at DeltaSync, the Dutch company that created Rotterdam's Floating Pavilion. "In the Netherlands, we've been living with water for ages, but there's been a mindset switch in the last decade."
Planners, architects, students and entrepreneurs are now investigating how to live and grow with water, highlighting a change in both policy and perception. It was this shift that inspired the creation of the Floating Pavilion project.
"We realized we have to look differently at how we develop our urban environments for future residents," Czapiewska explains. "Populations are growing and cities have to grow with them. Our concept is less destruction and more innovation, for the benefit of the next generation."
The Floating Pavilion project is designed to address the biggest challenges the Netherlands will face this century: land scarcity, climate change, urban growth, and deforestation. Because each dome has a controlled interior environment, the possibility of food production and farming activities on floating structures is another area Czapiewska and her team are keen to explore.
Rotterdam's capacity for innovation and resilience in sustainable development comes largely from the city government's distinctive approach to planning. Rather than top-down decision-making, city officials take a collaborative approach, involving everyone from community groups to celebrated entrepreneurs in shaping the city's future. The result is a springboard for futuristic projects like the Floating Pavilion.
"Urban design in Rotterdam is always about integrating different aspects of city planning such as economy, living and public space," says Mattijs van Ruijven, Head Urban Planner for the City of Rotterdam. "We are in constant dialogue with what we call city makers. The developers, housing corporations, architects, artists and others whose hearts are in our city. This leads to an open attitude with room to experiment."
This collaboration and freedom to experiment that so characterizes Rotterdam has a role at the city's port too, where sustainable development projects are flourishing at every turn. Rotterdam is home to one of the world's busiest ports, and with high shipping activity comes high CO2 emissions; the city currently emits 29.8 tonnes of carbon per capita, while the global average is just 4.6 tonnes.
Since 2013, Rotterdam has committed to reducing its carbon footprint by 50 percent through an ambitious project that aims to make its port the most sustainable in the world. Schemes are already in place for leftover materials such as piles of concrete and old quay walls to be used in the construction of dams, while a new 9 km water passage, currently under construction, will serve as a green entry point for the city.
"We have to take the Paris climate agreement seriously and aim for an 80 to 95 percent reduction of CO2 emissions by 2050," says Sjaak Poppe, spokesperson for the Port of Rotterdam Authority. "Rotterdam already has the largest bio-based industrial complex in Europe, and we aim to be a frontrunner in all these new developments to combat climate change."
To achieve this, an energy infrastructure project has been launched which captures residual heat, steam, and CO2 from port industry, and converts these emissions into domestic heat. Through projects like PortXL and SmartPort, the Port Authority is also working closely with city officials to stimulate water and energy-related innovation via accelerator programs and funding opportunities for startups.
Rotterdam's ultimate goal is to achieve a circular economy, meaning an industrial sector that produces no waste or pollution. This is why transitioning from fossil fuels to renewables is a key concern for both the city and its port. As the reality of climate change becomes more tangible in the Netherlands, the nation is taking firm action to ensure its future is emissions free. After all, rising sea levels remain a timely concern — at least until Rotterdam's residents have fully mastered the science of living in floating domes.
The intrepid Dutch have always had a fraught relationship with the sea. But as the world enters a new era of man-made climate, Rotterdam has found its zen — living with the water, no longer battling against it.