'Fortnite' Cube Memorial Locations: Find Them in the Desert and by a Lake
Remembering Kevin the purple cube.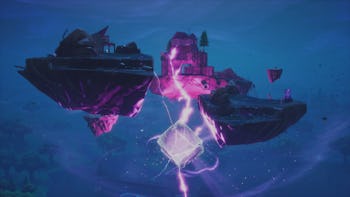 Epic Games
The latest Fortnite: Battle Royale Season X mission in Week 3, "Worlds Collide," celebrates Season 5's many rifts, but also the weird exploits of the mysterious purple cube that once wandered around the map. One new challenge has players visit a "cube memorial" either "in the desert" or "by a lake." The prestige version of the challenge unlocked when you complete all seven Worlds Collide challenges has you visit both in a single match. Where are these memorials?
One of them is in the desert location where the cube first appeared almost exactly a year ago. The other memorial commemorates the location where the cube lived for a stretch during Fortnitemares before dying as part of the Butterfly event. That memorial is located on a small grassy island just southwest of Loot Lake's center. In both cases, there'll be a small plaque and then a statue of the cube standing up on one of its corners.
Thankfully, the statue is indestructible. Oftentimes with challenges of this type, frustrating trolls out there will destroy the object that players need to visit just to inhibit progress. That's not the case here.
When you get to the prestige version of this challenge requiring that you visit both in a single match, that's where things get really difficult. Mobility has been greatly reduced in Season X with the loss of most vehicles. We suggest using a resource like LootLake.Info to take stock of all your travel options.
This following map aggregates the locations of all known rifts, ziplines, driftboards, and the slipstream — all of the known methods of transportation other than the B.R.U.T.E. mechs. Using one of those will make you a target to enemy players, so you're better off trying to keep a low profile.
Unfortunately, there aren't many things in the center of the map that will help you get from Loot Lake to southeast of Fatal Fields. The best course of action might be to land at Loot Lake, visit that memorial, hop into the rift there, and then use it to reach the driftboard east of Dusty Depot. From there, you should be able to ride it south all the way to the memorial in the desert.
Like the "Spray & Play" challenges, Worlds Collide lasts until the end of the season, so players have a lot of time left to complete this challenge.
Fortnite: Battle Royale Season X should end on or around October 5, 2019.