Everything You Need to Know Before 'Mindhunter' Season 2 Lands on Netflix
From the release time to plot spoilers.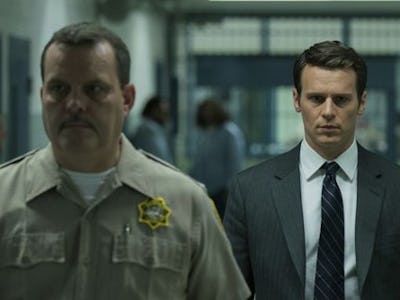 You've been waiting for over a year. Maybe in a basement or a creepy shed somewhere, plotting your revenge. Well, you can put those plans on hold because Mindhunter is finally back for Season 2!
The beloved Netflix drama about serial killers and the real-life FBI agents determined to figure out what makes them tick was an instant success when it launched in 2017. And now that the David Fincher-produced series is almost back for another dose of his serial killer saga, you may be in need of a quick refresher before Season 2 arrives on Friday, August 16.
This is a recreation of Inverse's twice-weekly newsletter, Multiverse. Sign up here for free.
Here's everything you need to know about Mindhunter Season 2, along with a quick recap of Season 1.
(Warning: Minor spoilers, and some seriously triggering historical facts, below.)
When and Where to Watch
Okay, let's start with the basics. Mindhunter is a Netflix show, so that's where you can watch it. Hopefully you didn't cancel your account after Season 1, but if you did, maybe you have a friend who can share their mom's sister's password with you?
Now that you've got Netflix all queued up, when can you actually start watching Season 2? All nine new episodes will hit the streaming service at exactly 3 a.m. Eastern on Friday, August 16. So if you plan on starting then, you may want to take the day off from work now. Even if you don't binge the whole thing in one sitting, you'll be in no shape to do anything else for the rest of the day. Read More
What's Happening in Mindhunter Season 2?
So much! Seriously, Mindhunter will pack more serial killers than ever into its second season, including none other than the infamous cult leader and Hollywood boogeyman Charles Manson (whom you may remember from his role in the semi-historical new Quentin Tarantino movie, Once Upon a Time in Hollywood). We're also getting Son of Sam aka David Berkowitz, who terrorized New York City with a series of shootings during the summer of 1976. And don't forget Season 1 fan-favorite Ed Kemper (another serial killer and infamous necrophile), who helped FBI agents Holden Ford and Bill Tench understand what makes a serial killer tick and provided one of the show's scarier moments in its Season 1 finale.
The killers listed above are all behind bars when the show begins, but in Mindhunter Season 2, FBI agents Holden Ford and Bill Tench will face their greatest challenge yet: the Atlanta Child Murders. From 1979 to 1981, at least two dozen black children and teens in the Atlanta area were kidnapped and killed. Eventually, 23-year-old African-American photographer Wayne Williams was accused, tried, and convicted for the murders. However, more recent evidence suggests he might not be the culprit (at least not for all of those murders). The New York Times even reported that the Ku Klux Klan admitted to one of the killings before local law enforcement allegedly stepped in to suppress that evidence.
In other words, there's a lot to unpack when it comes to the Atlanta Child Murders, and Mindhunter is primed to explore one of the biggest mysteries in American true crime history. While we don't expect Netflix to be the ones to break this case wide open, the series is sure to offer a nuanced take on the controversial story. At the very least, you can expect some great music from the Season 2 soundtrack.
"Next year we're looking at the Atlanta child murders," Fincher told Billboard in 2017. "So we'll have a lot more African-American music, which will be nice. The music will evolve. It's intended to support what's happening with the show and for the show to evolve radically between seasons."
Read more about the Atlanta Child Murders
Even More Mindhunter
Need something else to read while you wait for Mindhunter Season 2? We've got you covered with interviews from series creator Joe Penhall and Season 1 star Cameron Britton (he played Ed Kemper).
Here's a quick taste of Britton talking about taking on the role of a villain. He also plays one of the antagonists on Netflix's superhero series The Umbrella Academy, so he has lots of thoughts on what it means to play a bad guy.
"Studying Kemper sort of demystifies a lot of the supervillain feel that we give serial killers, that they are these mastermind folk," Britton told Inverse. "They're not to me anymore at all. There's nothing commendable about what they did and why they did it."
And here's Joe Penhall offering a taste of what's coming for Bill and Holden in Season 2 and beyond.
"I think the idea if we get to Season 3, is that the more illustrious and successful the unit becomes, and the bigger the scalps — for example, Manson is a big scalp for them — I guess the more power they have," Penhall says. "At the end of season 1, Holden was becoming vaguely narcissistic himself and realizing that in a way he'd fed off Ed Kemper and got a career out of it."
Who's your favorite Mindhunter serial killer in Season 1 or 2? Shoot me an email at jacob@inverse.com with your answer and I'll be sure to feature it in next week's newsletter.
Reader Mail From a Galaxy Far, Far Away
Last week, I asked what you thought about rumors that Star Wars: The Rise of Skywalker could retcon Rey's origins … and I got some great responses! Here are a few of my favorites:
Antony thinks Episode IX will confirm what we already know about Rey's parents while also revealing new details. "It's my belief that Kylo Ren wasn't entirely telling the truth about Rey's parents," he writes. After all, it's possible that the people who raised Rey were filthy junk traders, but her biological parents are someone different, right?
Meanwhile, *Adam agrees but takes things a step further, arguing that those junk traders were just caretakers collecting a paycheck. When the money stopped, they abandoned her. "Like so many Soviet projects that simply were abandoned after the USSR collapsed, Rey's foster parents stopped taking care of her when the paychecks stopped coming," Adam writes. As for who her genetic parents are, he thinks she's probably a "a clone of Mara Jade, or Luke's hand (probably) or made in a Bacta-tank out of Darth Vader's dandruff and some midi-chlorians."
But my favorite theory comes from Brian, who thinks Rey is basically the female version of Anakin Skywalker, conceived by midi-chlorians with no biological father. "If Anakin is the male side of the prophecy, Rey is the female side, hence bringing balance to the force." The theory goes on to say that Leia is actually Rey's mom, but she hid her daughter to protect her — and because she knew Han wouldn't believe the whole immaculate conception thing. So "Rey is hidden on Jakku, in the same way Luke was hidden on Tatooine."
Brian concludes that Rey will bring balance to the Force by literally balancing out the genders. "True evil is the patriarchy of Palpatine," he writes. Brian also bet me a beer that he's right. I'll take that bet friend, but, to be honest, I hope I lose.
Thanks for reading Multiverse! If you liked this newsletter please share it with a friend, it makes an even bigger difference than you'd think. And remember, email me with your favorite Mindhunter serial killer to get featured in next week's Multiverse.
This is a recreation of Inverse's twice-weekly newsletter, Multiverse. Sign up here for free.