Best CBD Gummies for Pain
Millions of Americans suffer with pain, whether chronic or something short-term related to an injury. If you're not interested in drugs, try these gummies.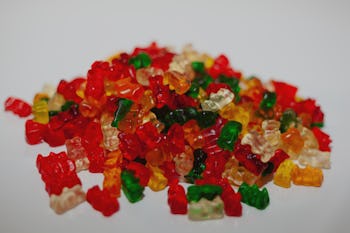 Unsplash / Jonathan J. Castellon
Unless you've been hiding under a rock for the past few years, you know that CBD-based products have increased in popularity. While cannabis has gotten a bad rap for many years, most experts agree that the properties within it are ideal for a variety of purposes such as reducing anxiety, beauty treatments, and most importantly—pain relief. If the idea of using traditional OTC or prescription medications leaves you nervous you might want to consider a tastier way to treat your pain.
While CBD use is becoming mainstream, Amazon still has an official policy of not selling true CBD products on its platform. As a result, many products labeled as CBD are actually hemp-based. But hemp can still be incredibly effective in providing natural pain relief. These hemp gummies are some of the best-rated on Amazon.
Living Green Hemp Watermelon Gummies
These multifunctional gummies help to reduce pain, relieve stress and anxiety, as well as encourage better sleep. Living Green's gummies contain Omega 3, 6 and 9 and hemp extracts to aid in reducing inflammation that causes pain. Each chew contains 10 milligrams of hemp extract as well as these helpful nutrients: protein, polyunsaturated fatty acids, Vitamins B and E as well as Iron, Zinc, and Magnesium. An added bonus, this gummy will help improve the look and health of your hair, skin, and nails.
Hawaiian Health Premium Hemp Gummy Bears
Hawaiian Health's gummies offer many of the same benefits as other brands featured in this roundup, but they go a step further. One of their biggest attractions is their nootropic—or natural performance-enhancing—capabilities. Hawaiian Health promises that through consistent use of their product, you can increase productivity through improved focus and memory function. Each gummy contains 50 milligrams of hemp extract.
HempBridge Tasty & Relaxing Hemp Gummies
If your focus is on finding a locally grown and sourced hemp-based product, then HempBridge is a great option. Their gummies are derived from hemp grown by farmers in Colorado. This brand offers many of the same benefits as others in this list including stress and anxiety relief, improved sleep, pain reduction and the bonus of better hair, skin, and nails. Additionally, their nutrient profile is similar to others with various Omega acids, vitamins, and minerals. But with HempBridge, they also certify that their products are non-GMO, vegan, organic and tested by third parties to guarantee purity and efficacy. Each gummy contains 125 milligrams of hemp extract.
Once again, if domestic sourcing is your priority, Wellbies is a great option. Just like Hemp-Bridge, this brand is sourced and produced in the US and features 125 milligrams of hemp extract in each gummy. In addition to guaranteeing that their gummies are also non-GMO, and organic, Wellbies states that their product can help with common ailments such as nausea, depression, weakened immune systems, and insomnia.
Twinleaf's gummies are also made in the U.S. but one of their biggest selling points is the potency. In total, the 90-count jar of gummies contains 10,000 milligrams of hemp extract. That translates to roughly 111 milligrams per gummy. Most of the reviewers also noted that this brand had a great green apple flavor and that it helped to relieve pain with disorders such as Lyme Disease, as well as general anxiety, and insomnia.
For hemp shoppers who are concerned about unhealthy additives, Tacanna's hemp gummies are a great solution. The brand is gluten-free, safe for vegetarians, non-GMO and guaranteed not to contain THC. The Tacanna gummy is also billed as a multivitamin. So, in addition to 51 milligrams of hemp extract per serving, you'll also get biotin, Vitamins A, C, B6 and B12, zinc, folic acid, and niacin. These gummies also promise to work as a nootropic while improving mood, reducing anxiety and stress and relieving pain.
These gummies offer a lighter dosage of hemp extract, featuring 35 milligrams per chew. NatureFine's product is also grown and produced in the U.S. and is tested by third-party labs to guarantee quality and potency. And like the other brands featured in this list, they promise to improve mood, reduce pain, and aid with sleep while providing a similar nutrient profile as many of the other brands featured in this post.