PlayOn Lets You Record & Download Streaming Video From All Your Favorite Sites
Record from Netflix, Amazon Prime, & more and watch anytime, ad free, even when you're not online.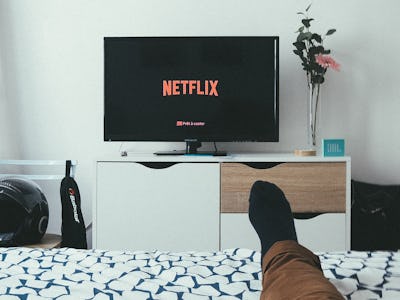 Unsplash/Joanes Andueza 
If you're committed to the cord-cutting lifestyle, you already know what an overwhelming tide of video streaming content the Internet has to offer. It seems like new streaming services are being introduced all the time, each with their own lineup of original programming along with old favorites and obscurities. And that can be pretty hard to manage. But PlayOn is a service that works like an all-in-one media server for all your streaming shows and movies and lets you record and download steaming video to watch anytime, anywhere, even when you're offline.
The most robust version of PlayOn is PlayOn Desktop, which turns your computer into a kind of super-streaming all-in-one TV, with all of your video streaming from a wide variety of services in one place. That includes streaming services like Netflix, Hulu, and Amazon Prime video, network apps like HBO Now and CW Seed, cable providers like Xfinity or Time Warner Cable, and more.
PlayOn Desktop has a variety of cool features, but its killer app has the ability to download streaming video with just a click. Entire seasons of TV shows and whole movies are yours on the .mp4 format, with no expiration dates. You can subscribe to shows so you never miss an episode, and easily stream or cast your downloaded programming to a mobile device or TV, making your programs available to watch wherever you go. Another DVR-like feature of PlayOn Desktop is AdSkip, which automatically cuts the commercials out of your recordings.
PlayOn Desktop can be yours for as little as $2.50 a month if you choose to be billed annually, but you can also get lifetime access for a one-time fee of $49.99 - a limited time summer discount of $20. All of the PlayOn Desktop plans are backed by a 30-day money-back guarantee, with world class customer service reps ready to answer any questions and help you work out issues 24/7.
PlayOn Desktop can help you save money by providing the features of a DVR or premium streaming subscription at a lower cost to you. Even if you don't have a PC, there's a version of PlayOn for you called PlayOn Cloud. There are three different PlayOn Cloud storage and recording plans, with the cheapest one priced at $2.99 a month for 50GB of storage. Unlike PlayOn Desktop, PlayOn Cloud works with recording credits that you spend to record videos, with a given number of credits allotted per month according to which plan you choose. Want to record more shows than your credits will allow? No problem, since additional Anytime credits that never expire can be purchased or used whenever you want.
Both versions of PlayOn are currently on sale for the summer. For $49.99, you can get either a lifetime subscription to PlayOn Desktop with unlimited recordings, or 300 PlayOn Cloud recordings — a bargain at just 17 cents per recording.
So click here today to get a complete rundown of the benefits of PlayOn Desktop or PlayOn Cloud at the official PlayOn site, and start getting the most out of your streaming services, today.