NYC Wants to Make Happy Meals Healthier A.K.A. Less Happy
If regulations are passed, every meal with a toy will get a little less fat.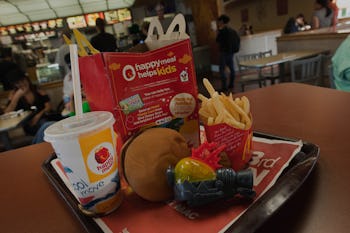 Getty
The New York City Council has proposed a set of regulations that would force fast food restaurants into a veritable Sofie's Choice between toys and fat on their kids' menus.
If passed, the policy would force all fast food meals with a small toy to include a serving of fruit, vegetable, or whole grain, and be limited to no more than 500 calories with restrictions on fat and salt.
You might indeed replace the kid's Go-Gurt with some real fruit so that they can keep their tiny monster truck — we're not talking about a huge change in their diets. Changing the standards would only drop caloric intake about 9 percent with a 10 percent reduction in salt and fat calories.
And while I can't quite shake the feeling that this is specifically policing poor people — where are the regulations for kids' menus at restaurants that don't have a clown pitchman? — as long as the Happy Meals stay affordable meals, it couldn't hurt to slip a few apple slices in there. I suppose.