Phase 4: 9 Revelations Marvel Will Likely Make at San Diego Comic-Con 2019
Who will play Shang-Chi? Who will star in 'The Eternals'? Who are the new Avengers? All these and more are what fans should expect at Comic-Con.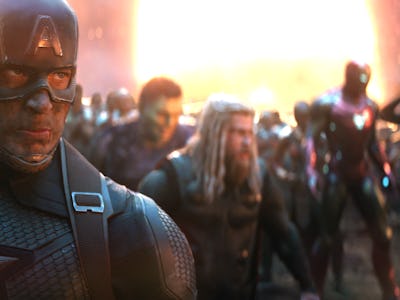 Marvel Entertainment
We are just days away from learning the future of the Marvel Cinematic Universe. Days, people! It's an exciting time to be a Marvel fan. The first 10 years were just the beginning.
This Saturday, July 20, Marvel Studios' Kevin Feige will take the stage of Hall H at San Diego Comic-Con, where he's expected to reveal the future of the MCU. From new movies to possibly new TV shows on Disney's streaming service Disney+, to cast reveals, Saturday is when it'll all go down. There might even be a new Avengers team.
In the aftermath of Avengers: Endgame, there are a million and one questions as to what the MCU will look like. But we have just nine things we realistically expect to see.
9. Black Widow Trailer
Already in production in Europe, Marvel's Black Widow will star Scarlett Johansson reprising her super spy role in the long-awaited solo film. Fans should expect a trailer, if not just an early preview, at Comic-Con.
8. Shang-Chi Reveal
Marvel's first Asian superhero is coming to the big screen in the form of Shang-Chi, the Master of Kung Fu who dominated comic book sales in the 1970s. With the Chinese box office an attractive market for Marvel, the studio hopes to produce a culturally relevant and revelatory superhero movie as it did with Black Panther last year.
The search for Shang-Chi is on, with Marvel reportedly looking at exclusively Chinese actors. Previous reports point to Power Rangers star Ludi Lin and Ross Butler from 13 Reasons Why in the running for the role. Asian superstar Donnie Yen is also rumored to appear in the film in a supporting role.
7. The Eternals Reveal
Another reveal Marvel could, and probably should, make at Comic-Con this year is the Eternals. An ancient alien/human hybrid race imagined by Jack Kirby, the Eternals will star in their own ensemble film, The Eternals, from director Chloé Zhao.
Angelina Jolie will star in the film as Sersi, an Eternal with molecular and atomic manipulation and psionic powers. Other actors rumored to star in the film include Kumail Nanjiani, Ma Dong-seok, Richard Madden, Keanu Reeves, Salma Hayek, and Millie Bobbie Brown. Filming is expected to begin very, very soon, starting this September in London. A cast reveal should happen any minute now, and Comic-Con is certainly the place to do it.
6. Sequels Reveals
While fans should expect to meet a lot of new, unfamiliar characters in the MCU, there will be a lot of old, familiar faces as well.
Sequels to Captain Marvel, Black Panther, Guardians of the Galaxy, and Doctor Strange are all known to be in the works. Doctor Strange 2 (title TBA) is expected to commence shooting in "early 2020," and a fourth Thor movie was reported just this week. If there is any place to let fans know exactly which movies are getting sequels, Comic-Con is it.
5. Release Dates for All of These Movies
This one's a no-brainer. When are these movies coming out? Marvel should let us know at Comic-Con so we can free up our weekends from now until 2021.
4. The Future of Spider-Man
The end of Spider-Man: Far From Home left poor Peter Parker in a pickle. With his identity revealed to the world, what's to happen to young Peter? Will he join the Avengers? Will he go off the planet? Will he enter a new dimension? While the next Spider-Man movie isn't expected for a few years, we should at least know what's next for the neighborhood web-slinger.
3. Literally Anything Disney+
The big screen isn't the only place fans will get to hang out in the MCU. Disney+, launching in November, will be the place where fans can catch up with Falcon and the Winter Soldier (in The Falcon and the Winter Soldier), Wanda and Vision (in WandaVision), Hawkeye (in Hawkeye), and who knows what else! Release dates, image reveals, all the works should be made at Comic-Con.
2. More Specifically, Falcon as Captain America
The mantle of Captain America was passed to Steve's loyal friend, Sam, aka the Falcon, at the end of Avengers: Endgame. It was an emotional transition that ensured the future of the MCU was in safe hands.
But what will Falcon look like as the new Captain America? Come on, Marvel. Just give us a cool image reveal, yeah?
1. The Next Avengers Movie
You can't have a Marvel Universe without the Avengers. A new team and a new movie will likely be the biggest thing fans should expect Marvel to announce on Saturday.
Will Falcon lead as the new Captain America, or will Captain Marvel take the reigns as shot caller? Will newcomers like Shang-Chi join or remain solo? What of Doctor Strange, Black Panther, and even Thor? Either way, a new team will assemble, and it will be revealed come Saturday.
Related video:
Sign up for the Multiverse newsletter to get more newsworthy theories, exclusive interviews, and streaming updates.