'Doctor Strange 2' Cast, Release Date, Plot, Spoilers for the Trippy Sequel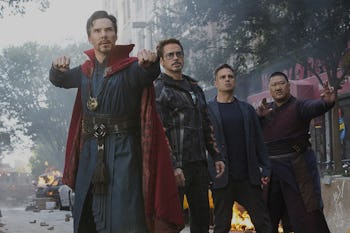 Marvel Studios.
Out of all the (rumored) upcoming Marvel Cinematic Universe's Phase 4 movies, the one we're most excited for may be Doctor Strange 2, which is sure to be the trippiest entry in Marvel's Phase 4. The return of Benedict Cumberbatch as our favorite smarmy sorcerer also means some favorite characters will be returning and new characters, including a new villain (or two) and potential new allies for Doctor Strange, will be coming along for the ride.
Doctor Strange 2 is expected to take place after the life-altering events of Avengers: Endgame and fit nicely into the newer, larger story arc of the Marvel Cinematic Universe's Phase 4. Doctor Strange will no doubt be a changed man after Endgame but he (and his close friend, Wong) will be keen to get back to work as Master of the Mystic Arts, taking down magical foes as they pop up.
Doctor Strange might know what the future holds, but we're not on his level yet. So let's take a look at everything we know so far about Doctor Strange 2, from possible release dates to the latest casting rumors.
When Is the Doctor Strange 2 Release Date?
With a production start date still unknown, we're not sure when Doctor Strange 2 will be released. With the exception of Spider-Man: Far From Home, no MCU Phase 4 films have a confirmed released date. However, we might be able to make an educated guess.
There are nine confirmed weekends that have been reserved by Marvel through 2022:
July 21, 2020 (previously August 7)
Doctor Strange was released November 4, 2016. The film made back half of its reported $165 million budget, with a little over $85 million earned domestically on opening weekend and a cumulative domestic gross of more than $232 million. In movie speak, the first Doctor Strange did well enough to warrant a sequel in addition to Cumberbatch's contractual obligations to appear in other MCU films, including Thor: Ragnarok, Avengers: Infinity War, and Avengers: Endgame.
With all of this in mind, we're willing to bet Marvel will want to recreate that opening weekend magic by scheduling Doctor Strange 2 for November 6, 2020. Early November will see the early stirrings of holiday moviegoers and the timing would match up if production begins on the film soon.
Is There a Trailer For Doctor Strange 2?
There are no trailers, teasers, or even early promotional images for Doctor Strange 2 at this time. But you can bet your Cloak of Levitation that when we get our hands on them, we'll share them with you.
Who Is In Doctor Strange 2's Cast?
There's been no official confirmations, but logic tells us that the following cast members will return for Doctor Strange 2:
Benedict Cumberbatch as "Doctor Strange"
Chiwetel Ejiofor as "Mordo"
In late June, it was reported by Discussing Film that casting for a Chinese-American male named "Will" for an untitled Marvel film believed to be Doctor Strange 2 had begun. According to the report, the character breakdown allegedly reads: "Mid-20s, Chinese-American (must be able to do a standard American accent)." Just two days after that report, Jeremy Conrad of MCU Cosmic posted a tweet seemingly refuting the Discussing Film's report, writing, "The Doctor Strange 2 casting news people were talking about this week apparently isn't for that movie. It seems to be for Shang-Chi instead."
It's worth noting that while it's still entirely possible for Asian and/or Asian-American actors and characters to be included in Doctor Strange 2, it's tough to tell whether this casting news is actually for the sequel since neither Derrickson nor Marvel Studios have confirmed it.
As for possible returns based on what happened in Doctor Strange and beyond, there's a chance Tilda Swinton could reprise her role as The Ancient One. Rachel McAdams could also return to the role of Dr. Christine Palmer, although Strange and Christine fail to resolve their rocky relationship before he has to go off and defeat Kaecilius in Doctor Strange.
Finally, Twitter leaker @RogerWardell, who revealed several key plot points for Endgame that were proven to be true upon the film's release, has also teased some casting news that has yet to be confirmed.
"Doctor Strange 2: 1980's Boogaloo," Wardell tweeted on May 7, 2019. "Tilda Swinton is in talks to return as the Ancient One. Jericho Drumm and Clea will make their MCU debuts, Clea will likely be portrayed by an Asian actress. Most importantly the gloves will be back!"
Although no names have been dropped for Jericho Drumm, a.k.a. Brother Voodoo, or Clea, the Sorceress Supreme of the Dark Dimension, just the idea of two powerful sorcerers being added into the mix is an exciting prospect.
Who Is the Villain in Doctor Strange 2?
Doctor Strange seemed to leave Mordo (Ejiofor) primed and ready to take over as the big bad for the inevitable Doctor Strange sequel.
Not so fast. A 2016 IGN interview with director Scott Derrickson revealed that Derrickson was toying with the idea of bringing one of the first Doctor Strange comic book villains to life for the sequel: Nightmare.
"I really like the character of Nightmare and the concept that the Nightmare Realm is a dimension. That's early — that's like the first Strange tale. I think that's in the introductory episode of Doctor Strange, and I always loved that."
In the comics, Nightmare is a demon from the dimension Everinnye and the ruler of the Dream Dimension and an anatgonist to both Strange and Ghost Rider. The MCU's version of Freddy Krueger, Nightmare prefers to torture people by turning their dreams into nightmares. Nightmare feeds off of the dreams of humans and needs those dreams to exist.
It hasn't been confirmed if Nightmare will be the actual Doctor Strange 2 villain, but you can't say he wouldn't add some intrigue to the sequel.
What Is the Plot of Doctor Strange 2?
No official plot has been confirmed. However, with Doctor Strange as an origin story, Doctor Strange 2 will be able to move deeper into the Doctor Strange world. Expect to see more of an exploration of the Mystic Arts, more exhibitions of Strange's powers, and more world-building
Presumably, Doctor Strange 2 will also take place 5 years after The Snap. As such, Strange and Wong will have to deal with the effect of The Snap as they return to their old lives and pick up the pieces.
If @RogerWardell's tweet about Brother Voodoo and Clea prove to be true, than expect even more insight into the world of the Mystic Arts and magic as a whole. In the comics, Brother Voodoo is the brother of Daniel Drumm, who was actually killed in Doctor Strange when Kaecilius invaded the New York Sanctum. It stands to reason Brother Voodoo would enter the scene to find out the truth about what happened to his brother.
In the comics, Clea is revealed to be the niece of Dormammu and estranged wife of Strange. Since Strange isn't known to be a married or divorced in his first story, Clea's relationship to him could be adjusted so that she is a new love interest as well as a possible threat thanks to her Dormammu connection.
Does Avengers: Infinity War & Avengers: Endgame Set Up Doctor Strange 2?
Doctor Strange plays a fairly important role in Infinity War and Endgame. At the beginning of Infinity War, Strange and Wong are in the Sanctum, guarding over the valuables as they track Thanos's movements across the universe. Strange is the protector of the Time Stone during this time, which makes him a person of interest when two members of the Children of Thanos, Ebony Maw and Black Dwarf, land in New York City. Tony Stark and Peter Parker end up protecting Strange from being tortured and killed by Ebony Maw for the Time Stone, with all three ending up on Titan and plotting a way to defeat Thanos. During their time on Titan, Strange reveals there more than 14 million ways things end between Thanos and the Avengers, with one one possible victory for the Avengers.
Because Strange gets dusted in Infinity War, he is actually not seen until the final Endgame battle when all of the fallen Avengers are brought back to life. We do, however, return to the world of Doctor Strange when Hulk, Iron Man, and Captain America travel through time to New York City in 2012 to retrieve the Space Stone, the Mind Stone, and the Time Stone. Hulk is tasked with going to the New York Sanctum to retrieve the Time Stone from Strange, but instead meets the Ancient One. As the two converse, the Ancient One reveals that Strange was not yet the hero he was meant to become, but he was destined to be the greatest of all practitioners of the Mystic Arts.
With this in mind, it's likely that The Ancient One's words on Strange and his destiny for greatness will manifest in some way in Doctor Strange 2. As previously mentioned, Strange and Wong will probably also have to deal with the effects of being dusted during Infinity War as well as any/all issues that arose from that time.
We'll keep you posted on Doctor Strange 2 details as they emerge.