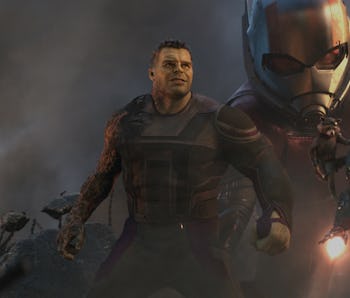 Entertainment
SDCC 2019 Marvel Studios: Here's Exactly When We'll Know the MCU's Phase 4
What might be revealed this July?
Marvel Studios
Set your alarms now: Marvel Studios will officially host a Hall H panel at San Diego Comic-Con later this month, and it's expected that Kevin Feige will reveal a timeline for the MCU's Phase 4 — or at least what superhero films we can expect over the next few years. Here's everything you need to know.
Most of San Diego Comic-Con's schedule was released Sunday, confirming that a major panel titled "Marvel Studios" would be held in Hall H from 8:15 to 9:45 p.m Eastern on Saturday, July 20. Details about the panel are slight so far, but after Avengers: Endgame and Spider-Man: Far From Home, Marvel Studios need to do very little to generate hype for the MCU heading into Phase 4.
The official panel description promises "surprise panelists" and implies a focus on the future of the MCU rather than a retrospective celebration of the Infinity Saga:
"Marvel Studios president and producer Kevin Feige and surprise panelists provide an inside look at the ever-expanding Marvel Cinematic Universe."
What can fans expect from this panel?
At the very least, we should get several confirmed titles and release dates for the next few years — but don't expect anything like the massive Phase 3 announcement from fall 2014 that included everything from Captain America: Civil War in 2016 all the way up to Avengers: Endgame in 2019 (then titled Infinity War Part II). Feige and the rest of Marvel Studios recognized that such an event may have been a misstep, so they're changing how they announce Marvel films moving forward.
Feige confirmed in April to i09 that Marvel Studios' has a five-year plan for Phase 4 that doesn't include any properties acquired in the Disney-Fox merger. Feige also told ComicBook.com in February, "I don't think we'll be announcing five or six years, but we know sort of where we want to head in the next five or six years."
Marvel Studios has all of Phase 4 mapped out, but come SDCC, Feige will probably only tease the next 2-3 years. The question then becomes: What films Marvel Studios might release between 2020 and 2022?
The Black Widow solo film is already in production, so chances are that will be the next Marvel film to come out. The Eternals is also slated to begin filming later this summer. Sequels for Black Panther, Doctor Strange, and Guardians of the Galaxy are also confirmed to be at various stages early in the development process.
Beyond that, Phase 4 remains a mystery.
Captain Marvel 2 feels inevitable, especially after that Spider-Man: Far From Home post-credits scene. Some kind of Avengers 5 crossover event might close out Phase 4 in the early- to mid-2020s, but we'd be shocked if the SDCC panel includes any details about this just yet.
The panel description also calls the MCU "ever-expanding," so we'd do well to remember that Disney+ will host several other series that technically take place within the same universe. There's Falcon & Winter Soldier, Hawkeye, WandaVision, and a series about Loki. This panel will have to include details for some or all of these shows, but there's bound to be a few surprises.
Marvel Studios used a Hall H SDCC panel in 2016 to announce Brie Larson's casting as Carol Danvers (aka, Captain Marvel). So we might see something similar happen with the upcoming Shang-Chi movie. No matter what happens, we've got less than two weeks to wait.
Marvel Studios' huge Hall H panel at San Diego Comic-Con 2019 will occur from 8:15 to 9:45 p.m Eastern on Saturday, July 20.