The VMAs Are Most Successful Online, So Why Isn't There a Stream?
I don't understand it, bruh!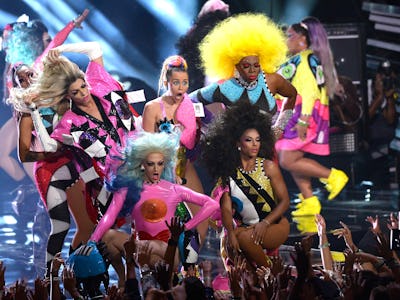 Kevork Djansezian/Getty Images
Like them or not, last night's Video Music Awards felt bigger than MTV's attempts at relevance in recent years. Miley Cyrus hosted and released an album with the Flaming Lips; Nicki Minaj squashed her beef with Taylor Swift before starting a new one with Miley; the Weeknd showed up in public; and Kanye West is going to be president. With all the extravagance, it's surprising to learn that ratings dipped for the second consecutive year, TheWrap reports. Reportedly, 9.8 million viewers did tune in, but that number's down 500,000 from last year and 2.3 million from 2013.
The VMAs found their most success with online participation. They had a live stream with various behind-the-scenes-type cameras, but the official show was available only on television. Although it lacked the prime content, it generated 19.1 streams. The VMAs also became the most-tweeted-about non-Super Bowl TV event.
Millenials like the internet. MTV doesn't have to ditch the actual TV show, but it really should offer an official online broadcast. The NFL offers the Super Bowl online for free, presumably paying for it with ad money. MTV could follow suit, as they've shown this year that the event still has cachet. It's quite likely that people would even pay a small fee to watch it online. (College kids don't have TVs!)