Miley Cyrus' 'Dead Petz' and Her New Cult of Coyne
Miley Cyrus' new eight-year-long album and her new residency as Flaming Lips lead singer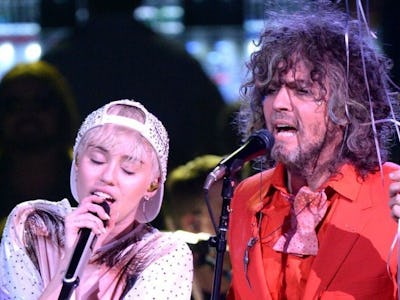 The pro-Miley Cyrus argument, since she cast off her earthly, Hannah Montana-tainted shell a little over two years ago, has been, "Whatever, she's just having fun." This is valid, and still the most appealing thing about Miley. With that, though, comes some ill-advised and irritatingly self-congratulatory moves; would one really expect anything less from one of the entertainment industry's most successful, high-profile and seemingly unmonitored 22-year-olds?
With each new installment in her self-curated line of bizarre (and yet increasingly "on-brand") career moves, one imagines these Miley defenders falling more and more by the wayside. At least, it's hard to believe that the appreciation wouldn't, at this point, be becoming more theoretical. But if one of her problematic comments, performances, or other acts of performative rebellion hasn't muted your enthusiasm, perhaps Miley's newest music — with a psychotropic, glittery-hellion Burning Man aesthetic to match — will find a way.
Miley's newest and most grand-scale gesture since her re-hatching with 2013's Bangerz is last night's surprise album billed to Miley Cyrus and her Dead Petz. It lasts somewhere in the vicinity of an hour-and-a-half, and was produced outside of contract with RCA (and apparently without any exterior guidelines or caveats from them). She footed the 50k bill herself, and co-produced it — along with, mostly, new blood-brother and guru Wayne Coyne, the rest of the Flaming Lips, and Atlanta trap-turned-pop wonder-producer Mike Will Made It (responsible for a hefty portion of Bangerz's production). Cyrus used her platform as host of the MTV Video Music Awards last night to (among other things) announce the album's free streaming release and debut its first "single," opener "Dooo It!" in a charmingly irreverent closing performance featuring over thirty participants in Ru Paul's Drag Race.
The song itself was certainly the weak link, but the perplexing, racy "Dooo It!" turns out to be one of Dead Petz's most pop-minded tracks. The album — whatever else it may be — is aggressively singles-less. It's intended as a statement of fierce artistic independence for Miley, but ultimately it functions this way more in theory than practice. Yes, it is a stunningly uncommercial product for a major artist to put out, but musically, it reveals a debt: mostly, to the aesthetic and general ethos her backing band — the Flaming Lips — has been developing for the past five years.
The band's recent projects have been extensions of the hazy, pealing psych-pop of their earlier, most widely celebrated years (late '90s and early '00s), but taken out at the seams. Unfortunately, the "focused songwriting" element has been thrown out with the bathwater. The approach has been, in large part: get in the studio, indulge all spontaneous impulses, bring in some unlikely collaborators, and then push the fruits of this strange labor to the people. The ambitious, full cover albums they have released (including their takes on Dark Side of the Moon and Sergeant Pepper's) feel like documents of the fact that they actually went through with the concept more than enduring statements designed for repeated listening. Accusations of gimmickry have been understandably pervasive.
Dead Petz not only provides the same sort of WTF effect, but in fact sounds like Miley trying to channel the Lips' recent work, from the inflection of her voice, to the measured, simple vocal lines, to the alternation between messages of platitudinal hope and hedonism. The first eighth of the album, in particular, features a couple of songs that sound like they are almost deliberately comic Lips impressions. "Karen Don't Be Sad," in particular, recalls Coyne's boosts of confidence on 2002's Yoshimi Battles the Pink Robots. There is also lots of speculative space talk that gives you an image of Miley, Wayne, and whoever else was around doodling spaceships on edibles with Contact rolling on a projector in the background.
It almost seems that Miley has erected her own strange cult around Wayne Coyne — to say nothing of her recent statements to the New York Times about the spirit of her dead dog Floyd inhabiting Coyne, and her deep platonic love for him. On Bangerz, Miley immersed herself in trap, and here, she's fallen for Coyne's anti-establishment, Source Family-esque ethos. Some of Cyrus' individual obsessions creep in; hip-hop representatives Mike Will and Big Sean drop by to provide some of the album's most resourceful, though headache-inducing moments. Perhaps nothing is stranger on this album than hearing Will's producer tags (which used to signal the start of Gucci Mane and Future songs) on top of blown-out, John Bonham-like Lips drumbeats and dreamy synths. Big Sean shows up to laconically rap like Earl Sweatshirt, on top of a Lips jam in the vein of 2009's Embroynic ("Tangerine").
Of course, there are also moments which channel the abrasive, hyper-sexual electronica of Berlin-based provocateur Peaches (with whom Coyne has also collaborated). The swear-filled "BB Talk," a spoken-word-break-filled declaration of her sexual preferences and PDA takedown, finds her at her most confrontational. Like many of her VMA monologues, it's hard to listen to, mostly because of the way she inflects slang like "homegirl." On the other end of the spectrum, there's a solo-piano-backed tribute to her blowfish Pablo which devolves into sobs.
Despite all of these surface-level peculiarities, Dead Petz is boring, as is much of the Lips' material since Embryonic. It takes a special sensibility and some careful curation to make spontaneous, weed-fueled music compelling to people who were not among those creating it, and this 23-track album doesn't succeed at doing this. In fact, Dead Petz begs for lame jokes along the lines of Miley as a "PSA for non-legalization". But really it might be reasonable to direct any ire towards Coyne, who by all accounts seem to be the ghost architect of this latest Miley micro-movement.