Roll the Dice on 8 Astounding Prime Day Deals in Tabletop Gaming
Including great discounts on 'D&D' books.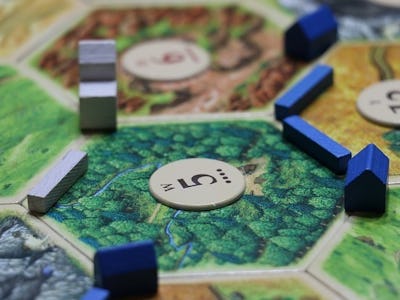 Pixabay
Amazon Prime Day 2019 kicked off July 15 and continues through the end of July 16, and for any big fans of tabletop gaming, this marks a great time to stock up on some essentials or that Dungeons & Dragons source book you've been eyeing.
The event began Monday morning at 3 a.m. Eastern and will end on July 17 at 2:59 a.m. Eastern, so there's only so much time that these deals will be available for. Many of them last the duration of the event, but some should shuffle in and out of Amazon's Lightning Deal rotation.
If you haven't signed up for Amazon Prime yet, you can use a one-time 30-free trial to get in on these deals at no cost at all.
Here are eight of the best deals from Amazon in terms of board games and other forms of tabletop gaming, from casual to more serious:
The classic tile-based word-building game won't break the bank even at full price, but for Amazon Prime Day 2019, it's available for 51 percent off. If you don't already have it, then consider this a must-buy.
Settlers of Catan is an efficient means of destroying friendships that's less aggressive than Risk or Monopoly, and therefore a little bit more fun. Amazon's discount is a slight 17 percent off, which is better than nothing.
Ticket to Ride transforms the "Longest Road" gameplay mechanic in Settlers of Catan and makes it the entire point of the railway-building game. Originally set in the United States, players connect their railways and fulfill various challenges. Amazon has decent prices on various versions of the game, but the best — and one of the only Prime Day Deals — is for the Europe edition at 30 percent off.
In Carcassonne, players lay down tiles to design the countryside of a Medieval kingdom and place down Followers. The player with the most victory points wins the game. It's similar to Settlers of Catan and Ticket to Ride, but it will probably feel a bit simpler to most players. You can't beat the 43 percent off price tag, however.
A colorful variation on the social deduction game type you can play with any regular deck of cards (and call it "Mafia" or just "Werewolf" or whatever you might want), One Night Ultimate Werewolf is a streamlined and very cheap version of the whodunnit format. Amazon has other versions and expansions of the game, but One Night Ultimate Werewolf is priced at 59 percent off.
This board game modeled after Diplomacy and inspired by the Game of Thrones book and TV series lets players assume the role of powerful figures in Westeros following the death of King Robert Baratheon, essentially re-enacting the War of Five Kings in board game form. At 45 percent off, this Prime Day Deal could turn out better than Game of Thrones Season 8.
One of many D&D-lite tabletop gaming experiences out there, Mansions of Madness explores Lovecraftian horror in a mansion where everyone's losing their mind. Mansions of Madness has four different campaign variations and takes up to three hours to complete just one — all with the help of a companion mobile app. Not for the faint of heart, this game is 37 percent off during Prime Day.
1. Dungeons & Dragons Core Rule Books & Adventure Books
Amazon often runs a $5 discount on physical books during events like Prime Day, and for the duration of the 2019 event, they're offering $5 off any printed book that costs $15 or more. That, coupled with deep discounts on various Dungeons & Dragons books and products not associated with Prime Day, makes for some really compelling prices when these titles usually go for $49.95.
The official Stranger Things D&D adventure is marked down to $14.99 as of this writing, the Starter Set is at $12.52, and the full Core Rulebooks Gift Set that includes the Player's Handbook, Dungeon Master's Guide, Monster Manual, and DM Screen with a case all for $86.03 (using the below code).
With the one-time use code PRIMEBOOK19 at checkout, anyone can score the following prices on one these D&D books:
Amazon Prime Day 2019 ends July 17 at 2:59 a.m. Eastern.