Prime Day 2019: 3 Bonkers Gaming Setups You Can Make Using Amazon Deals
Three setups for three types of gamers.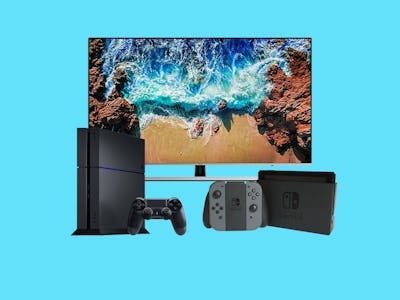 Sony / Nintendo / Samsung
Amazon Prime Day 2019 is just around the corner for its fifth year of summertime deals. The savings event will last kick off on July 15 at 3 a.m. Eastern and slash prices on everything from high-powered PC rigs to cutting-edge consoles, everything a gamer needs to take their gaming setup to the next level.
Prime Day will last for 48 hours for the first time, giving video game fans ample time to design their perfect gaming battle station. Prime subscribers will also have the option to shop straight from any Echo device by saying, "Alexa, what are my Prime Day deals?" and get exclusive access to an early selection of discounts beginning at 3 p.m. Eastern. July 14.
There's never been a better time to shop for gaming systems and AAA titles. The next-generation PlayStation 5 and Xbox Project Scarlett are expected to ship late in 2020, meaning current-gen devices will have already begun to see slight markdowns even before Prime Day goes into effect.
Amazon has already announced a flurry of deals that will let any demographic of gamer level-up their entertainment system into a gaming command center straight out of Star Trek. The company has yet to reveal all of the products that will receive discounts but expect sizable savings on broad categories of gamer gear.
Here are three groups of Prime deals that three specific kinds of gamers will want to look out for come July 15:
Prime Day 2019: Nintendo Switch Amazon Prime Deals
Nintendo will release four heavy hitting titles later this year: Pokèmon Sword and Shield, Luigi's Mansion 3 and The Legend of Zelda: Link's Awakening. If you've been holding off on picking up the $300 Nintendo Switch, July 15 will be the time to save big on the console itself, as well as accessories and games to prepare for the incoming batch of fire titles.
The e-commerce giant will bundle discounted Nintendo Switches with $35 Nintendo eShop gift cards to let anyone who has been sleeping on the console to save on iconic games like Legend of Zelda: Breath of the Wild or Super Mario Odyssey.
Most Switch attachments will also see price cuts. That will include 25 percent off on the Switch's Joy-Con controllers, lowering their price from $70 to $52.5, and "big" savings on SanDisk and WD storage and memory products to cram even more games into the console.
Prime Day 2019: Playstation 4 Deals
Console graphics junkies won't be disappointed with Amazon's offers either. Gamers looking for a 4K-resolution experience will want to look out for two deals in particular.
First, the 4K-supporting PlayStation 4 Pro will receive a 33 precent discount, lowering its price from $400 to $268. That gets you a controller, its USB-charger, and an earbud headset so you can get gaming as soon as it's delivered. But to truly make the most of the Pro, you'll also need a 4K-supporting TV.
Luckily, Prime day will include "big savings" on Samsung OLED 65-inch LED Smart TVs. These face-melting displays will make sure you're in complete awe as you battle your way through God of War and swing through New York City in Spider-Man.
Prime Day 2019: Best PC Gaming Deals
PC gamers will have endless options. Amazon plans to offer 50 percent off on select PC gaming laptops, desktops, monitors, components, and accessories.
One of the site's most popular choices is the 34-inch Viotek Ultrawide Curved QHD monitor, which could cost $200, down from $400. The Reddragon K552 LED Backlit Mechanical Keyboard is another popular option that could cost as low as $17 down from $32.
PC accessories will also see massive price cuts. Gaming headset prices will be slashed as much as 40 percent, meaning the Bengoo G9000 Stereo Gaming Headset could be as low as $24.
Twitch and YouTube streamers will also see deals of up to 50 percent off on popular PC streaming equipment, like the Elgato Pro Streamer Bundle, that could be priced at roughly $150 down from its $306 standard asking price.
So if you've always wanted to start streaming games for fun, or are just itching to play the latest titles games from Sony and Nintendo, July 15 will give all types of gamers the discounts they've been craving.
Plus, if you haven't signed up for Amazon Prime you can use the one-time 30-free trial to get in on these deals at no cost at all.