Dave & Buster's Began in the '70s as the Most Debauched Arcade in Arkansas
The chain's roots are a haunt of "politicians, bond daddies, and cocaine whores."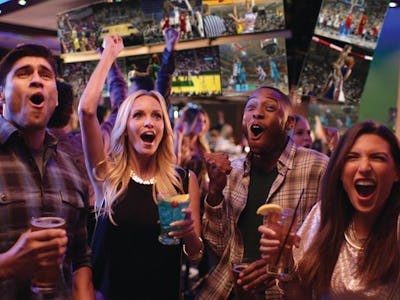 Dave & Buster's Facebook
You may know Dave & Buster's today as something akin to a mashup of an arcade and a casino bar. Now at 73 locations and nearly 11,000 employees, the chain has an eye on expansion. But before the adult arcade became a publicly traded company with a reported revenue of $746.8 million, it was a sleazy little "fern bar" where young Arkansas professionals could go to start/find trouble in the late '70s.
An amazing piece in Arkansas Business recounts the early years of "Busters," the Little Rock bar operated by James "Buster" Corley in 1978 next door to future partner Dave Corriveau's Willy's World of Entertainment. (Fun fact: Little Rock's other famously entertaining Willy, Bill Clinton, took over as Arkansas's governor in '79.) Corriveau had the video games, but Corley had more fun.
One Arkansas businessman called it: "A favored haunt of politicians, bond daddies, and cocaine whores." Bond daddies, for you Yankee readers, were a very specific kind of Southern securities salesman big during the yuppie years of the 1980s.
Arkansas businessman Jay DeHaven backed up that assessment, describing it as a long bar with heavy pours. "Back then, you didn't have the DWIs. You didn't have the drugs. You just had booze, you know?" DeHaven reminisced.
As men of evident vision are wont to do, Corley and Corriveau joined forces, opening the first Dave & Buster's in 1982 in Dallas. Combining their respective strengths for hard liquor and novelty gaming, unique in the era of mall arcades aimed at teenagers, they gradually took over an America in which those teens kept turning 21. Today, aside from an occasional incident with drunken frat boys, the place's image is downright family-friendly, with underage gamers allowed as long as they're accompanied by an adult. An unfortunate tradeoff from the days when Corley's bartenders were willing to protect a little misbehavior.
"Having spent the better part of — well, all — my adult life in the restaurant and bar business, you learn to become discreet," Corley recalled. If they ever want to open a spin-off location from the old school, consider me there. In the meantime, the wait has paid off for Little Rock, which is about to get its first (second?) Dave & Buster's location.