7 Must-Have Pet Supplies on Amazon Now
They're solutions to problems you've been trying to solve for years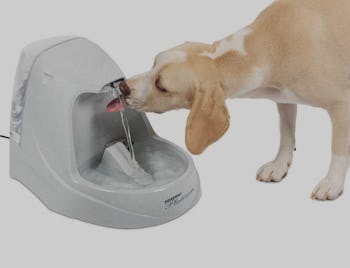 Amazon
If you are a pet owner, you've probably encountered numerous problems. What do you do when your pet eats way too fast when you feed them and then throws up everywhere? How do you get your pet to eat slower? How can you encourage your pet to drink more water? Having a pet can be a full time job, so you need all the help you can get, whether that's a device to let you know what your pet is up to while you're away, or a device that makes it easy for your pet to go in and outdoors to the backyard without you having to monitor the door. Here are some of the best deals for pet supplies on Amazon right now.
1. TAOCOCO Pet Camera
Why We Picked It This camera will let you monitor your pet's activity while you're out of the house. It will start recording when it detects motion, and it also has a two way microphone so that you can talk to your pet from a far, and tell them you miss them.
2. Outward Hound Fun Feeder
Why We Picked It The perfect solution for pets who eat too fast. This one helps dogs eat up to 10x slower, which will massively help their digestion, and spare you a mess. It also comes in a bunch of fun patterns.
3. Gorilla Supply 1000 Pet Poop Bags
Why We Picked It This super convenient bag dispenser comes with enough bags to last so you won't be constantly searching for them on your way out to walk your dog. The bags are not too thick or thin, and given that you're getting 1000 bags for $14, it's pretty much the best deal you'll find.
4. Bissell Stomp 'N Go Pet Lifting Pads + Oxy for for Stain Removal on Carpet
Why We Picked It These stain removers are perfect for pet owners to use around the house if/when your pet has an accident. All you have to do is lay this stain remover down and it'll absorb the stain. It even works on dry stains.
5. PetSafe Drinkwell Platinum or 1 Gallon Pet Water Fountain
Why We Picked It Here's the perfect way to get your pet to drink more water. It's fun and the fountain keeps the water fresh for your pets, which helps them drink more and stay hydrated.
6. PetSafe Freedom Aluminum Patio Panel Sliding Glass Dog and Cat Door
Why We Picked It This is a great solution if you've been looking for an easy way for your pet to come in an out of the house. It's easy to install and the flap is magnetic which makes it easy for your pets to use while also keeping the door closed at all times.
7. WAHL Dog/Pet Deodorant Spray, Eucalyptus and Spearmint
Why We Picked It Whether they've been playing outside all day or you're simply looking for a solution to cover up your dog's smell, this deodorant spray will work wonders. It smells like eucalyptus and spearmint, and only a few sprays go a long way.