5 Quotes That Confirm a 'Stranger Things' 4 Release Date Is Happening
And when you can expect it.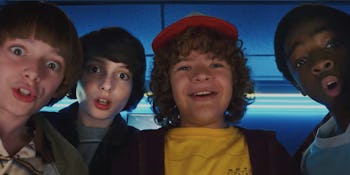 Netflix
Stranger Things Season 3 just landed on Netflix, but if you're anything like me you may have already binged your way through all eight new hour-long episodes of the sci-fi thriller. In that case, you're probably wondering whether Stranger Things Season 4 is confirmed and when its release date might be. Well, you're in luck! We've rounded up every quote we could find from the show's creators and cast confirming that Season 4 is already in the works, and we even did a little math to figure out when it will arrive.
Predicting the Stranger Things Season 4 Release Date
This part is actually pretty easy. Stranger Things follows a pretty strict schedule, with the first season arriving on July 15, 2016, Season 2 hitting Netflix on October 27, 2017, and Season 3 launching on July 4, 2019. So it seems safe to assume that Stranger Things Season 4 will release in October 2020.
Netflix typically releases new shows on Friday. So in October 2020 that could mean 2nd, 9th, 16th, 23rd, or 30th. Then again, maybe the company will stick with this new holiday release trend and drop Season 4 on Halloween (Saturday, October 31).
Ok, with that out of the way, here are five quotes about Stranger Things Season 4 that confirm it's coming and reveal some key details.
5. The Duffer Brothers Hint Season 4 Could Be the End
In a 2017 interview with Vulture, series co-creators Matt and Ross Duffer hinted that Season 4 could be the end for Stranger Things.
"We're thinking it will be a four-season thing and then out," Ross said.
"I don't know if we can justify something bad happening to them once a year," Matt said.
Ok, but before you freak out that Season 4 is the end, here's another quote to set the record straight.
4. Stranger Things Season 4 Is Just the Beginning Middle
After the Duffers scared us silly with the threat of no more Stranger Things, executive producer Shawn Levy stepped in to set the record straight.
"Hearts were heard breaking in Netflix headquarters when the Brothers made four seasons sound like an official end, and I was suddenly getting phone calls from our actors' agents," Levy told Entertainment Weekly. "The truth is we're definitely going four seasons and there's very much the possibility of a fifth. Beyond that, it becomes I think very unlikely."
3. Stranger Things Season 4 Confirmed, Again
More recently, Levy spoke to Collider and confirmed yet again that Season 4 is in the works:
"I mean I will say we have a good sense of stuff that happens in Season Four. Season Four is definitely happening. There's very much the possibility of a season beyond that one, that's currently undecided."
2. Guess Who Knows How Stranger Things Ends?
David Harbour, that's who. Sheriff Hopper himself told DigitalSpy that he already knows how the series will end, saying, "I think it's beautiful."
Regarding the possibility Stranger Things Season 4 and beyond, he added, "I don't think four is enough. I think five is maybe enough — if you want my opinion, I would like five."
1. Dustin Weighs In
Gaten Matarazzo (aka, fan-favorite character Dustin), also seemed to hint that Stranger Things could continue beyond Season 4 in an interview with Telegraaf last year.
"I know that Matt and Ross , their goal is not to go as many seasons as possible," he said. "It's to go until they finish their story, and I've heard the magic number is either four or five."
So there you have it. Definitely, expect a Stranger Things Season 4 release date (maybe next fall). But after that, nothing is guaranteed, not even Season 5.