The Most Useful Items for Summer Entertaining You Can Buy on Amazon
A few little helpers that will make entertaining a little less stressful.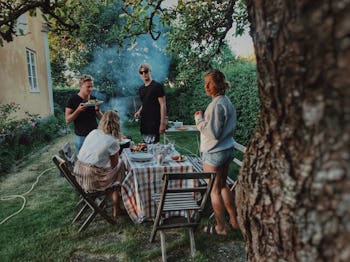 Unsplash
It's summertime and that means we're all ready to open our homes to friends and family. With no excuse other than getting together and having some summertime fun the season for outdoor entertaining is upon us.
Now we all love hosting a good shindig now and then but truth be told they can be a little stressful. There's a lot to manage when you're hosting a get-together. But having a few little helpers can help you enjoy the day a little more.
So before you send out your next round of invites take a look at a few of the most useful item for summer entertaining you can find on Amazon.
Simply Genius Pop Up Mesh Food Cover
Nobody likes uninvited guests. But year after year you always seem to find them trying to eat your food. No, we're not talking about what's his face, we're talking about insects. You can always count on the fact that where there's food, these guys will find it. But not this year. The simply genius pop up mesh food covers will protect your food from invaders. The Simply Genius Pop Up Mesh Food Cover is attractive, collapsible, and reusable.
Circleware Drink Dispenser With Chalkboard
If you find that you're spending most of your time being the bartender instead of being the host you might consider the Circleware drink dispensers. Mixing your drinks beforehand can actually help you enjoy the party too. The glass dispenser adds an air of elegance to any party and the handy chalkboard takes out the guesswork. Cheers!
Keter Cool Bar Rattan Style Outdoor Patio Pool Cooler Table
The Keter cool bar comes highly rated most likely because it's sleek and multi-functional. In the heat of the summer, ice is pretty important. No one ever asks for a warm drink at a bbq. The Keter cool bar is a cocktail table, a coffee table and a cooler all in one. With a simple twist, you can go from intimate gathering to full-blown party — should the situation present itself.
The Ice Chilled 5 Compartment Condiment Server Caddy
Food safety is everyone's concern and food sitting out in the sun is a recipe for disaster. Diving into the fixin's an hour or two into the party can be a dicey proposition. The Ice Chilled 5 Compartment Condiment Server Caddy takes the stress out of food safety when your next backyard bbq rolls around. Keep all the fixin's crisp and chilled long after the party has started.
3 Tier Galvanized Serving Tray
A tiered serving tray and add some elegance and organization to your outdoor spread. Varying heights keeps everything in sight. This one is a great idea for keeping your condiments together so everyone can find them. And when the party dies down this can easily turn into a dessert display. The galvanized styling makes it the perfect piece for a backyard bbq.