Electric Cars in Crowded Cities Will Be a Disaster Without This Crucial Fix
Electrification advocates can't settle on a noise to replace the combustion engine.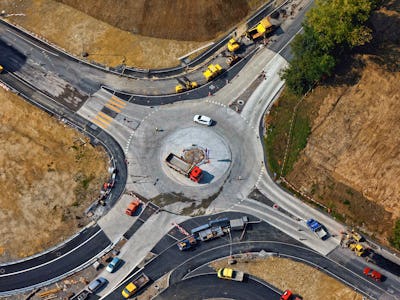 Unsplash / Ricardo Gomez Angel
To prevent avoidable collisions, electric cars are going to have to make some noise. The emissions-saving cars could improve the air quality in cities, but they're also quiet. Because of their low volume, campaigners are already beginning to worry that quiet electric cars could present a danger in city streets where people are accustomed to listening for traffic, particularly children and the visually impaired.
Of course, manufacturers have an easy fix: Contrive an artificial noise to fill the gap left by the car's lack of a combustion engine. Upcoming laws in the European Union and the United States will require makers to keep to certain standards.
It's all well and good. Only problem is, nobody can quite agree what they should sound like. Uniformity, after all, is somewhat important. How else will you know that it's a car pulling up behind you into that roundabout? Unfortunately, actually picking a noise for these electric cars is proving surprisingly contentious.
The controversy came to the forefront this week, as a dispute emerged over a Transport for London presentation about electric bus noises. Gloria Elliot, chief executive of the Noise Abatement Society, told The Guardian that most of them were "ghastly."
Some of the sounds played during the presentation, which may surface on London buses as early as the fall, included:
"A sound like someone blowing bubbles through a pipe," John Welsman, from the policy team at Guide Dogs UK, told the publication.
A beeping noise that sounded like a message alert, which would get faster and slower depending on the speed of the car. Welsman described it as "very irritating."
Four other sounds, which Welsman described as "all very spaceshippy."
Electric Car Noises: Why Automakers May Need to Act
Legislation is coming that will require electric cars to make noise.
The European Union introduced a directive last year to push automakers to act. The rule means that cars will have to make a noise when travelling under 12 mph. At greater speeds, it is assumed the car tires will make enough noise to alert pedestrians. As of July 1, all new models will have to come with such a noisemaking device, and by July 2021 existing vehicles will have to be retrofitted with a noisemaker.
Transport for London claims "there is no mention in the regulation that the noise needs to simulate that of an internal combustion engine," only that there must be a continuous sound that increases as the speed increases. That explains why these pilot sessions have come out with some rather strange suggestions.
The process for deciding these rules has been met with controversy. Philippe Tour, CEO of noise emission software firm Arkamys, told Inverse in March 2017 that smaller automakers were getting pushed out of discussions. This is of importance to Chinese electric automakers that have sprung up over the past few years, who may lack the connections to get involved with the rule-making process.
In the United States, all relevant hybrid and electric vehicles will have to comply with a similar rule by September 2020.
Electric Car Noises: How They Might Sound
Welsman and others argued that the agency should just reuse the sound of the Routemaster bus, the iconic design with a familiar sound instantly recognizable to the visually impaired. Others called for the sound of any old bus, or one that replicates a diesel engine, to comply with the regulations.
Not everyone agrees. Tesla CEO Elon Musk suggested in October 2017 that electric cars should offer a "pick your tech level" setting, choosing whether they want it to sound like horses, chariots, steam engines or gas cars. The horse mode could imitate coconuts, he said, a reference to Monty Python.
Tesla could soon introduce a noisemaker to comply with regulations. YouTuber Dærik noted in January that his Model 3 came with speaker grills by the front. There was no speaker behind the grill, but the design touch could lay the groundwork for a future update to comply with the rules.
Others have looked at more inspiring sources to power their new car. BMW worked with Hans Zimmer for the Vision M NEXT. The result is something that wouldn't sound out of place in Blade Runner:
Adopting a more liberal interpretation of the rules could pave the way for some imaginative ideas. Inverse previously suggested that electric cars could sound like a crackling fire, a waterfall, or Beethoven's Ode to Joy.