What Will Electric Cars Sound Like?
The streets are about to get noisy, but what will they sound like?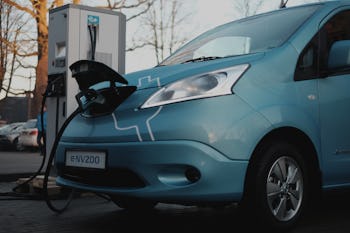 Janitors/Flickr
As a pedestrian, it's been pretty great being able to hear if a car's coming. But with the rise of electric vehicles, pedestrian accidents have increased. These problems will only get exacerbated once self-driving cars go mainstream. The computers behind the wheel will need a way of alerting others to their surroundings — Google's autonomous car team has already said their cars will "honk patiently," but there's no denying the fact that computers will have to make up for even more of the noises missing from traditional cars.
With a series of regulations set to come into force, car manufacturers are getting ready: the next generation of cars are going to need to make noise, and somebody has to come up with them.
French software company Arkamys is one firm that's developed what's called an Acoustic Vehicle Alerting System, the first product in the industry specifically designed to comply with these new regulations. Founded 15 years ago, the company specializes in audio signal processing for phones and home entertainment systems. The electric car audio software was designed with a team of chemists to tune the sounds to the relevant environment. Arkamys has partnered with Korean automotive supplier MHE to create the hardware, and the pair is hoping that the first generation of the product will enter mass production this year. At the 2017 Consumer Electronics Show in Las Vegas in January, the team demonstrated a Tesla Model X using the system.
The rise of electric cars gives car makers a chance to get creative with their sounds, opting for something a bit cooler and more futuristic.
"I wouldn't say that the car manufacturer would like to have a sound like a petrol car, it's really something completely different to what we have now," Philippe Tour, CEO of Arkamys, tells Inverse. "I'm not really sure the sound has to be close to something that we already know."
While in the first generation the car maker can choose their own sound that can vary depending on the speed, Arkamys is planning for future generations where the car will be able to adapt the sounds based on the environment. Eventually, a car will be able to adapt its customizable sound signature depending on, say, if there are pedestrians nearby.
The car can even "speak" through the external audio system, like saying "goodbye" when a user locks the car. Here's a video of how it will work in practice:
Arkamys was prompted into action by a raft of new regulations. In April 2014, the European Parliament voted in favor of a proposal that mandates adequate sound alerting systems in all electric and hybrid cars by 2019. British charity Guide Dogs for the Blind welcomed the decision, following a campaign to get the parliament to approve the regulation.
Similarly, the United States' National Highway Traffic Safety Administration announced in November that by September 1, 2019, all electric and hybrid vehicles will need to emit a warning noise when traveling less than 18.6 miles per hour. The idea is that, when a car is traveling faster than this, tire and wind noise will provide adequate warning.
"We all depend on our senses to alert us to possible danger," said then-Department of Transportation secretary Anthony Foxx. "With more, quieter hybrid and electrical cars on the road, the ability for all pedestrians to hear as well as see the cars becomes an important factor of reducing the risk of possible crashes and improving safety."
One that is an area of focus for Arkamys is the United Nations Economic Commission for Europe, which approved a regulation in March that required "quiet cars" traveling up to 12.4 miles per hour to make an artificial noise.
But Tour is concerned that smaller car manufacturers, with less clout in negotiations like these, have been sidelined. "This regulation came like that and some people are quite involved in the regulation, but some are quite passive, and they don't know really what is expected from the market," he says.
The issue, he explains, is that as countries like China are emerging markets, new car makers may sometimes struggle to catch up with other car makers, who have established teams of experts and know exactly what they need.
"I think a tool that gives you a lot of flexibility, of designing a sound, but not having a company mature enough to explain what they want, it creates some frustration in both parts," Tour says.
Jean Rodriguez, chief of the commission's information unit, tells Inverse that the commission worked with non-governmental organizations that came up with proposals and suggestions, but whether a car maker is a member of an NGO that participates is outside of the commission's influence.
"Of course during the development phase for these regulations, a dialogue and consultation is done with the different NGOs representing inter alia consumers, civil society especially the most affected ones like the National Federation of Blind or the World Blind Union but also industry including vehicle manufacturers, system and device producers that are mainly SMEs [small and medium-sized enterprises]," Rodriguez says.
Car makers will need to act before the 2019 deadline to ensure they don't fall foul of these new rules. While the regulations may prove a challenge for manufacturers not involved in negotiations so much, it provides an opportunity to create a unique signal for the car.