Group Chats Are Surprisingly Good for Your Self-Esteem
Read this before you mute.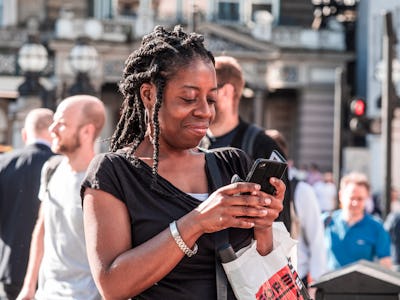 Unsplash / Kevin Grieve
In an effort to combat a rising tide of loneliness among adults, scientists are trying to figure out what is driving that loneliness. In that process, social media has emerged as a suspected catalyst of loneliness. This hypothesis spurs the question If technology is making millennials and Generation X the most-connected generations, is it also making them the most-lonely generations?
A study published in May in the International Journal of Human-Computer Interaction proposes that the answer depends on how people are utilizing their technological connections. When the researchers behind the work focused specifically on how being a part of a WhatsApp group chat made users feel, they overwhelmingly observed that being linked to friends in a group chat induced positive feelings.
Co-author Linda Kaye, Ph.D., a senior psychology lecturer at Edge Hill University in the United Kingdom, tells Inverse that the popular focus on the damaging aspects of social media and online communications motivated her team to look into how those tools can affect social functioning in a positive way.
While Kaye's study examines WhatsApp, she suspects the findings could be relevant for many types of group chat platforms — as long as those chats are happening between known friends and family.
Kaye and University of York psychology lecturer Sally Quinn, Ph.D., surveyed 158 women and 41 men with an average age of 24 who spent an average of 55 minutes a day on WhatsApp. When asked why they use WhatsApp, 76.5 percent reported it's because their friends use it. Seventy-two percent specifically reported that they enjoyed its "functionality for group chat."
Why Group Chats Are good for Self-Esteem
Questions about each user's quality of relationships, sense of group identity, and psychological well-being revealed a consistent, corresponding link between spending time on WhatsApp and having positive personal relationships: The more time people spent on group chats, the closer they felt to their friends and family.
Furthermore, this sense of having closely bonded relationships led people to have higher self-esteem and better social competence. This effect likely happens because feeling close to the people in a group chat created a sense of belonging.
This finding supports previous research that found that, when the internet is used to enhance existing relationships, it can be useful for reducing loneliness.
"We found that the different support motivations people have for using WhatsApp may be impactful on their psychological experiences," Kaye says. "That is, if people reported that emotional support was a reason for using it, this related more strongly with them experiencing social bonding and having better quality relationships with their WhatsApp partners than using it for other reasons."
The overarching idea is that if individuals use social technologies to supplement how they communicate and interact with existing contacts, then these tools can be enriching and positive. This makes sense in the context of previous research as well: Studies on Facebook use have shown that passive use of large social networks can lead to rumination and loneliness.
So while an endless scroll through Instagram might not leave a person feeling more connected, they likely will feel in the loop if they're keeping up with existing relationships in the group chat. It's like a real-life hang-out — but one where you can press "mute" when you need a break.
Abstract:
The psychosocial outcomes associated with online communication is hotly debated. We explored how WhatsApp engagement related to a number of psychosocial outcomes, and how key social factors were relevant here. WhatsApp users (N = 200) completed an online questionnaire measuring WhatsApp use and motivations, online bonding, quality of relationships, group identity, and psychosocial outcomes. Findings showed that including mediator variables of online bonding, group identity and quality of relationships was important for understanding the relationship between WhatsApp use and well-being. Specifically, online bonding mediated the relationship between WhatsApp use and social competence, and self-esteem. Group identity had an effect on all outcomes except psychological well-being. Conversely, although minutes per day using WhatsApp was positively related to quality of relationships, this in turn, was not significantly related to any of the outcome variables. This highlights the pertinence of accounting for key mediators underpinning the link between technology use and well-being.