Why Mark Hamill Didn't Want to Recycle His Joker Voice for 'Child's Play'
Accomplished voice actor Mark Hamill found a different direction for Chucky than his acclaimed Joker from 'Batman.'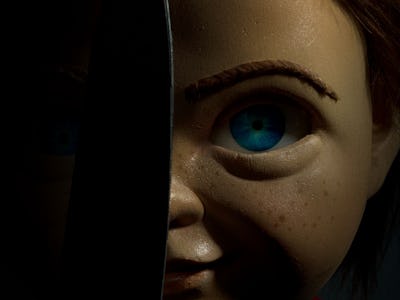 Orion Pictures
It borders on insulting to ask a professional actor to "do" something for a role that they did years ago, all over again. But Mark Hamill has won such acclaim for his performance of Batman villain "The Joker" in the Emmy-winning Batman: The Animated Series, one can't help but think of Gotham's Clown Prince of Crime whenever Hamill lends his voice to any antagonist.
Still, Lars Klevberg of the recent Child's Play reboot worked with Hamill to come up with a performance that didn't sound like the Joker 2.0.
"First and foremost, I just wanted a great actor," says Klevberg in an interview with Inverse. "I just wanted someone who can use their voice as a tool, and he could do that. Of course he has Joker as a creepy, sinister voice. He could go to that level quickly, but I challenged him to come up with something different."
Besides playing Luke Skywalker in Star Wars, Hamill has a prolific career as a cartoon and video game voice actor. His credits include the animated television Spider-Man, Avatar: The Last Airbender, Metalocalypse, DreamWorks Dragons, and the English dub of the 1986 Hayao Miyazaki film Castle in the Sky.
Still, Hamill's Joker was partially the reason Klevberg wanted the actor in the first place, besides the fact that it's Mark Hamill.
"I knew that he could go high and dark," Klevberg says. "I didn't know it was that good between the takes. I just knew that he was able."
The director says he worked with Hamill to create a "default" sound for the Buddi Dolls, which they tweaked for Chucky.
"We have this default Buddi sound when Chucky is 'normal.' We leap from that to something sinister and human [when it's Chucky]."
Hamill also listened to Bear McCreary's "Buddi Song" (which the actor chillingly sings in the post-credits) nearly 20 times a day before recording it himself.
"Mark was like, 'Okay, I need to listen to this 20 times a day,'" says Klevberg. "He did that for a couple days, and back to the recording studio he did it. Bear McCreary came up with the tune and wrote lines and presented it, and I was blown away by how fast and good he did it."
Adds Klevberg, "He was just really on board. There's no 'star stuff,' there's no bad behavior. He's just a really pleasant guy who shows up and works as best as he can. That's everything I want from my cast and crew. He was just amazing, man."
Child's Play is in theaters now.