This Advanced Tincture Infuses Your Favorite Drinks With High-Quality CBD
Mellowment's PHY2O Nano Tincture is the water-soluble CBD beverage enhancer you've been waiting for.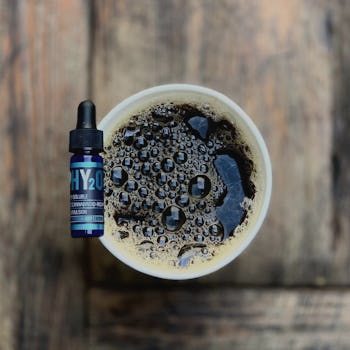 Instagram
If you've been getting your CBD from the same corner store where you buy frozen burritos on the way home from the bar, you really need to stop. While it's nice that CBD has become so widely available, not all CBD products are created equal. Chances are the CBD in those gas station gummies—or even your fancy iced vanilla chai almond latte—is not of the highest quality. So if you are using CBD for its numerous comfort, health, and wellness benefits, you should't spend your hard earned money on junk. You should look for CBD products from industry-leading companies like Mellowment. Over the last few years, Mellowment has been at the forefront of chemical engineering, continually working with top CBD suppliers to develop more sophisticated CBD products. And their latest, the PHY2O Nano Tincture PCR beverage enhancer, might just be their best one yet.
A lot of CBD companies are just trying to cash in on the increased demand for CBD to make a quick buck. As a result, quality is not their top priority. But that's not the case for Mellowment. Every one of their CBD products is made from industrial-grade hemp grown locally in Colorado. Their extracts are meticulously engineered using an advanced chromatography process that removes all THC, eliminating the risk of unwanted psychoactive effects or failed drug tests. Then the extracts go through a nano-emulsification process that shrinks the active ingredients. This makes it easier for them to permeate cell walls, while also decreasing the amount of time it takes for the ingredients to take effect. The end result of all this is the most effective, fastest-acting broad spectrum phytocannabinoid-rich (PCR) hemp extract on the market.
Until recently Mellowment has mostly specialized in easy-to-swallow CBD gelcaps. Their latest product is a CBD tincture, another very popular CBD delivery method. But as you would expect, this one is a cut above the competition.
The PHY2O Nano Tincture is made with Mellowment's industry-leading nano-emulsified PCR. It is completely water soluble, easily dissolving in any beverage. So not only can you take it with you on the go and get fast-impact comfort in just a few minutes, but unlike a lot of other CBD tinctures, you don't have to worry that your high-end CBD will wind up in the bottom of your glass.
PHY2O contains 1.5mg of CBD per two drops, and each bottle contains 200 drops. Mellowment recommends you start by adding six drops into six-to-eight ounces of water and observing the effects. Then you can either increase or decrease the dosage as needed. Once you find the dosage that's right for you, PHY2O can be added to any beverage you like, be it juice, tea, coffee, water, or even protein shakes. And if you don't feel like a beverage, or you're in a crunch for time, PHY2O can also be dropped directly onto your tongue.
The primary goal of Mellowment's PHY2O Nano Tincture is to provide near instantaneous comfort, and you can feel free to take it daily as your primary CBD product. However, it's also designed to be taken as needed in combination with Mellowment's other CBD products, giving you more control and flexibility.
If you're taking CDB on a daily basis for natural, gentle relief from pain, discomfort, inflammation, stress, or anxiety, you might want to start with Mellowment's classic High Impact PCR. Each bottle contains 30 softgels, and each softgel contains a powerful 25mg dose of water soluble nano-emulsified PCR that provides fast comfort without putting you to sleep. And right now you can get it for $10 off the regular price.
High Impact PCR was formulated to be taken daily, and you can take up to four per day. However, some users might find a whole extra dose to be overkill. That's where the PHY2O Nano Tincture comes in. It allows you to supplement your daily dose of Mellowment CBD with just the right amount and nothing more.
Meanwhile, anyone who uses CBD specifically for sleeplessness should check out Mellowment + Gravity, a supplement that combines CBD with traditional natural sleep remedies to help you "fall faster into a deeper, longer and fuller sleep." Mellowment + Gravity PM, which is also currently $10 off the regular price, contains a high-impact 25mg dose of Mellowment's nano-emulsified PCR, plus 1mg of melatonin and 1mg of chamomile, and is designed to provide maximum relief from nighttime stress. Each bottle contains 30 easy-to-swallow softgels designed to be taken nightly before bed. However, just as with the Mellowment's regular High Impact PCR, if you find yourself needing fast-acting relief, you can supplement Gravity PM with the PHY2O Nano Tincture.
Whatever you use CBD for, you need to stop using inferior products. So give Mellowment a try, and experience the difference that quality can make.