Watch 10 Breathtaking Minutes of 'Mouse Guard' the Disney/Fox Deal Killed
The same engine that powers 'Fortnite' almost brought one of the most magical movies to life.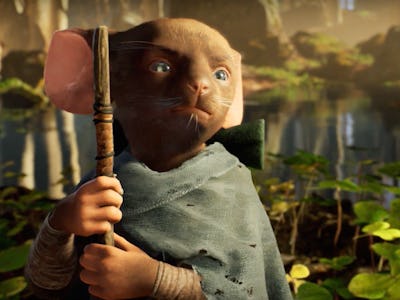 Wes Ball
The Avengers may finally meet the X-Men thanks to the $50+ billion merger between Disney and 20th Century Fox, but there's a lot of projects that were killed, too. On Tuesday, the animated fantasy film Mouse Guard was officially, one hundred percent, canceled, which director Wes Ball marked by revealing a ton of concept art including ten whole minutes of test footage.
In so few words, it is clear the cancellation of Mouse Guard is unfortunate, because the movie was shaping up to be spectacular.
On Tuesday, Wes Ball (of The Maze Runner movies) shared on Twitter a behind the scenes tour of an empty studio that, not long ago, was at work making Mouse Guard. The film was to be based on the Eisner Award-winning comic book series by David Petersen and BOOM! Studios, which tells the story of sentient mice in a medieval setting who protect their kind from predators.
"Yes sadly, its true," Wes Ball tweeted. "Our #mouseguard movie is dead."
He continued: "Seems it's too big a risk. It's a damn shame really. We had something special. To my hella talented cast/crew: I'm sorry I couldn't push this one through. The past year with you all has been a blast. May the Guard prevail!"
Besides the hundreds of gorgeous concept art, models, costumes, CGI test footage, and props that litter the studio, Ball uploaded ten minutes of Mouse Guard test footage on YouTube. "The following is a collection of tests that explore the visual potential of the movie," reads the onscreen text. "Everything you see here is rendered in REALTIME using Epic's UNREAL ENGINE." As a brief primer, Unreal is the same engine that powers games like Fortnite.
Continues the text:
"Basically what you're watching is very good looking PREVIZ, with environments capable of streaming live to stage during motion capture with our actors.
"While the visual quality is impressive, it's important to note this is only meant to illustrate how the movie will 'feel' not how it will 'look.' Everything will ultimately be sent to WETA to be recreated with cutting-edge photorealistic CG."
With that in mind, try not to watch these GIFs without thinking this movie would have been something special. There is not only a sense of scale, but the imagination and ambition are off the charts. This is just a glorified montage of scenes free from context, and I'm almost in tears.
When the film was greenlit, its cast was expected to include Idris Elba, Jack Whitehall, Andy Serkis, Ron Bottitta, and Natalie Britton. It is unknown how much of the script was recorded (one of Ball's shots of the studio includes motion-capture footage of Jack Whitehall saying his lines), but there are no lines of dialogue heard in any of the uploaded footage.
First announced in July 2016, Mouse Guard was originally a 20th Century Fox production with producer Matt Reeves and Gary Whitta as screenwriter. In September 2017, Ball signed on as director.
However, pre-production (which resulted in all this material) halted in April 2019, when Disney — Fox's new owners — scrapped the project just two weeks before production was to begin. Sources told The Hollywood Reporter that Disney deemed the project "too close" to Disney's own animated features. The film was allowed to be shopped elsewhere, "One possible home could be Netflix," the publication wrote. But ultimately, the film's $170 million production budget proved too costly to produce.
You can watch the complete footage below.