WatchOS 6: 5 Secret Apple Watch Beta Features That Have Reddit Drooling
Apple has big changes in store for the fall.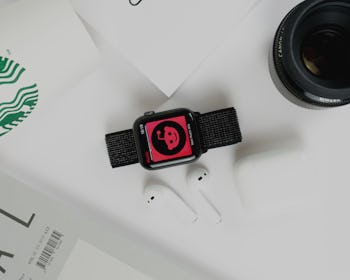 Unsplash / Daniel Korpai
The Apple Watch is one of the Cupertino-based company's most popular products. And even amid a notable year for Apple software upgrades, the changes to the Apple Watch — which include the creation of the first standalone Watch OS store — stand out.
A standalone app marketplace will bring Apple's smartwatches a significant step closer toward becoming an independent gadget, perhaps even one that's capable of attracting the attention of non-iPhone owners. The move is part of the increasing focus on Apple's wearable business, which SVP Luca Maestri has said is already "approaching the size of a Fortune 200 company" in January.
In its initial unveiling at the Worldwide Developers Conference, Apple touted watchOS 6's new faces, added health features, a calculator, and an app for listening to audio books from the wearable. But that just barely scratches the surface.
The second version of the watchOS 6 developers beta became available for download on June 17, and since then, the Reddit's developer community has spotted some of the software's most useful and unique unannounced capabilities.
Below are the best five features Apple sprinkled into watchOS 6 but didn't mention during its WWDC 2019 keynote.
5. Refined Menus, Buttons, and Brightness
One of the most popular changes is relatively subtle. WatchOS 6 significantly re-works the menus, buttons, and the screen's brightness settings to make basic interactions more natural. The incoming call screen, list view, and cinema brightness mode all changed significantly.
While the new layout isn't perfect, it is more intuitive. The green button to answer a call is now larger and placed at the bottom center of the screen to avoid accidental call rejections.
List view has become larger, bolder, and its individual components are now easier to tap. Smartwatch screens are tiny compared to smartphones, so it's crucial that Apple makes big, clearly defined menu options to avoid making users susceptible to misplaced calls or opening the wrong app.
Finally, Theater Mode's maximum brightness was greatly reduced, so users don't have to worry about disturbing others during a movie or themselves if they wear their watch to bed.
4. Turn the Apple Watch Into an Apple TV Remote
The "Now Playing" app on the Apple Watch now lets users control the music they're playing from their phone or speakers. Apple has also made the app compatible with Apple TV on watchOS 6.
Developer /u/diegorf1207 discovered that the Now Playing turned his Apple Watch into a digital Apple TV remote control. They could play, pause, rewind, and fast-forward the video or show playing and access other options.
3. Visual Navigation
The Apple Watch also got an upgrade to help users navigate while they're walking, driving, or biking. With watchOS 5, the Navigation app relied entirely on sound. With watch OS 6, these instructions will be supplemented with visual queues. As you can see in the below side-by-side, the new maps make instructions a lot clearer.
2. Use an iPhone as an Apple Watch Keyboard
Texting from the Apple Watch's tiny screen can be frustrating. But it's still sometimes necessary, for example when users are prompted for a WiFi password or their Apple ID password when an app is downloaded. To make it easier for people to still communicate with their Apple Watch during occasions when some discretion may be required, Apple made it possible to use the iPhone's keyboard as a surrogate.
This feature was uncovered by the developer /u/lakshhgupta, and will likely be pretty rarely-used. But if you're often confronted by password prompts when using your Apple Watch, it'll definitely come in handy.
1. Fitness Tracking Feature for Overachievers
One of the Apple Watch's most signature features is its ability to offer daily fitness goals that are visualized using different color circles.
Apple Watch owners can use the visualizations to set daily walking, running, and standing goals for themselves on the Health app, and then track their progress throughout the day. While it helped kickstart the Apple Watch's reputation as a healthfulness tool, it also had a shortcoming: Once you reached your goal, the visualizations stopped changing to account for that extra progress.
Not anymore. As redditor /u/Speenuh first noticed, the circles now continue to move even after a goal has been met.
Apple isn't expected to publicly release watchOS 6 until the fall. That leaves plenty of time for developers to continue unraveling the small details and capabilities introduced with the new software. There may be more to come. But the betas have already introduced enough to get Apple Watch enthusiasts excited.