5 Kitchen Essentials You Should Have in Your Home and the Best Ones to Buy
If you spend a lot of time in the kitchen, then there are a few things you need to make your time there more enjoyable and easier. Check out these five "must-haves".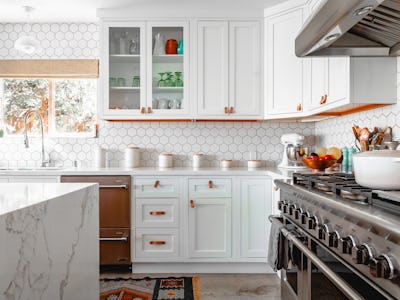 Unsplash / Rustic Vegan
Whether you're saving up to go to cooking school or you just love to create in your home kitchen, you know how important it is to have the right tools for the job. And often, you have to act as your own sous chef or try to cook as quickly as possible to feed a hungry family—or yourself—after a long day at work or school. So, if you love cooking and your kitchen, but need to upgrade a few things to make it more functional, these are the five kitchen essentials you need.
If you're the type who never does meal prep or plans out your dinners a week in advance, the Instant Pot pressure cooker is an item that your kitchen desperately needs. The Instant Pot brand made pressure cookers a "must-have" household item because they boldly promoted that you could quickly cook a full dinner—even when using frozen ingredients. While there are countless accessories you can buy to increase the versatility of your electric cooker, the Instant Pot is a seven-in-one appliance. The Instant Pot can pull double duty as a rice cooker, slow cooker, steamer, yogurt maker, sauter, and even act as a warmer.
We don't know anyone who actually hates fried food. They might hate the oil, grease and added calories, but the flavor—yes they love the flavor of fried foods. So, if you want to enjoy a fried treat without the nutritional guilt, you need an air fryer. The COSORI air fryer promises to cook fried foods without the need for oil. The digital interface makes using this fryer goof-proof and the non-stick dishwasher safe basket ensures easier cleanup and minimal mess. More importantly, you can rely on 11 preset options to expertly fry foods ranging from potatoes to shrimp, seafood, veggies, meats and more.
Cafe du Chateau French Press Coffee Maker
Coffee lovers absolutely need a coffee maker in their kitchen. But if you're not a fan of single-serve pods or standard drip coffee makers, then a french press might be the ideal alternative for you. The Cafe du Chateau French press offers a sleek design with sturdy materials for a long-lasting appliance that's pretty enough to leave on your kitchen counter. The French press combines stainless steel and heat resistant borosilicate glass to make it safe to the touch. More importantly, it features four levels of filtration, so you'll never be left with coffee grounds at the bottom of your cup. The BPA-free french press makes up to eight cups and is travel-friendly so you never have to rely on a hotel room coffee maker.
FoodSaver Vacuum Sealer Machine
While some people go shopping every time they plan to cook, others hate multiple trips to the store. So, they opt to go grocery shopping for the week or month. And if this is you, then you know how important it is to preserve the freshness of any produce or meats that you buy if you want to actually use them more than a few days from now. That's why you need the FoodSaver vacuum sealer machine. Not only can you vacuum seal uncooked foods, but you can use it to save leftovers as well. So, this is an appliance that ensures you get your money's worth from all your groceries and minimizes food waste.
Do you constantly forget to thaw meats in time to make dinner? Yes? Then the Urbanviva thawing plate is essential for your kitchen. We all know that we're not supposed to thaw meat on our kitchen counters, but sometimes trying to thaw in the refrigerator can be hit or miss. This thawing plate works without electricity and stays cool to the touch while it quickly defrosts meats. Based on customer reviews, depending on the cut and thickness of the meat, you can quickly thaw foods anywhere from 18 to 50 minutes. More importantly, the Urbanviva thawing plate is dishwasher safe for quick and easy cleanup.