The 10 Instant Pot Accessories That You Need
 These Instant Pot accessories that will turn you into a master chef at home.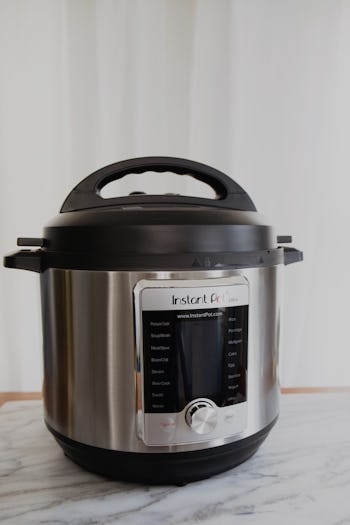 Unsplash / Katherine Chase
Who doesn't love the idea of arriving home after a long day of work to the savory aroma of a fresh-cooked meal? When the original slow cookers first launched in the 1950s, the concept of combining ingredients into a pot and letting it slowly cook while you were away was a novel breakthrough. For decades, the slow cooker has remained a staple in many homes. But there was always one caveat—you needed to plan ahead. If you forget to prep your cooker before you left home or set it too late in the day, you either ordered takeout or ate very late in the evening. Fast forward to today and the Instant Pot came to the rescue for all of us forgetful cooks.
Technically, Instant Pot is a specific brand of pressure cooker from Instant Brands. But once their version hit the market in 2010, it became so popular that Instant Pot is now like the Kleenex of the pressure cooker world. Most pressure cookers can actually do more than speedy slow-cooking. Depending on the brand, you can snag a pressure cooker that steams, cooks rice, slow cooks, sautees and even makes yogurt.And while many brands offer cookers that come with a set number of accessories, if you want your Instant Pot to truly pull double duty in your kitchen, you might want to invest in these accessories. The items on this list don't just look great on your counter, they make cooking with your Instant Pot easier and increase its versatility. When shopping online, you'll find that there are a number of pressure cooker accessory bundles catered to your needs that are more cost effective versus buying accessories individually.
This particular 6-quart steam basket fits Instant Pot, Ninja, and most other commercially available pressure cookers. However, this particular brand also offers 3-quart and 8-quart baskets just in case you have a smaller or larger cooker. Not only can you steam vegetables, but you can also make boiled eggs. And for your own safety, the basket features a silicone handle and feet. So you aren't just protecting your hands when you remove the basket from the pressure cooker, but you can also avoid scratching your countertops or the interior of your insert pot. Most importantly, Hatrigo promises that their basket won't rust, so go ahead and put it in the dishwasher.
OXO Good Grips Pressure Cooker Bakeware Sling
OXO is a fan favorite among cooks and bakers for good reason—they make products that just work. If you're going to use your pressure cooker to bake, then this sling keeps your baking tools from being submerged in the water and makes it easier for you to insert and remove baking accessories like cupcake molds, cake loaf pans, and ramekins. The entire basket fits securely within your pot, and the handles interlock so it sits completely within your pressure cooker, even with the lid closed. OXO's basket is constructed from silicone for safe handling and is dishwasher safe for an easy cleanup process.
Instant Pot Sealing Ring 2-Pack
A common complaint about pressure cooker sealing rings is that they can absorb the smell of the food being cooked. As a solution, many people buy extra rings and swap them out depending on the type of food they're cooking. For the record, pressure cookers come standard with sealing rings. You need them to ensure that your cooker is able to reach and maintain the pressure necessary to cook food quickly—otherwise you really just have a standard slow cooker. But if you plan to rely heavily on your Instant Pot for routine quick meals, it's good to be prepared with extra sealing rings on hand. Note though, these particular sealing rings are rated only for use with the Instant Pot brand and are available in 3-quart, 6-quart, and 8-quart sizes. The rings are meant for long term use and are dishwasher safe.
Hatrigo Steamer Divided Basket
Hatrigo offers a number of popular pressure cooker accessories brand that you can find on Amazon. If you steam frequently, then a divider basket is the way to go. Steam three different types of foods at the same time with this accessory. Just like with their single steamer basket, this divider version is available for 3-quart, 6-quart, and 8-quart pressure cookers and fits most standard brands. The best part is that you can actually use each third of the basket individually. Each piece is made from rust-proof stainless steel, is dishwasher safe and includes a safe-to-touch silicone handle for easy removal and placement. However, unlike the single steamer basket highlighted earlier, this particular accessory does not have silicone feet.
Cupboards/Cabinet Savior Original Steam Release Accessory
Even though people love to wax poetic about how quickly these appliances cook food, most commercials, and even food bloggers conveniently omit the fact that you have to release the steam before you remove the lid on a pressure cooker. That can mean that steam gets everywhere, carrying condensation and droplets of oil that get all over your cabinets and walls and create a mess. The Cupboards/Cabinet Savior basically acts as a curved silicone steampipe that you place over your pressure cooker's release valve. Point it away from your walls or cabinet doors to efficiently vent steam without making a cleaning project. While this accessory fits a variety of pressure cooker brands and is dishwasher safe, it only fits a limited number of Instant Pot models.
Aozita Silicone Egg Bite Molds
If you've ever made poached eggs the old fashioned way, you know that it's not as easy as television chefs would have you believe. Pressure cooked poached eggs are a mess-free alternative. To do this, you're going to need an accessory. Aozita's egg bite mold allows you to create perfectly poached or scrambled eggs and comes with a utensil to easily remove the bites. The mold cooks up to seven items at once and can pull double duty for more than eggs. You can use it to make baked goods either in your pressure cooker, microwave or in the oven. With the included lid, these molds are also ideal to create, store and freeze 8-ounce sized portions of baby food. Or wow guests at your next party by making giant ice cubes for craft cocktails and whiskeys on the rocks. Although this product is rated dishwasher safe, the brand recommends that you hand wash to preserve the integrity of the silicone.
One thing that pressure cookers do incredibly well, is cooking large cuts of meat to tender perfection. For people who rely on their cookers to make smoke-free barbecue, stews and soups, shredding all that meat can feel like a process if all you're using are two forks or a fork and a pair of tongs. As the name implies, these claws will leave you looking like Wolverine and are just as effective as his superhuman appendages. The claws are BPA free, dishwasher safe, provide a strong grip and can even be used to move large cuts of meat from your pressure cooker to a cutting board or plate.
Everyone knows that hot cooking tools should be handled with care. But when you're using a variety of metal baskets and trays that must be submerged in a steaming hot appliance to make a meal, how do you safely remove them from a pressure cooker without burning yourself? Instant Pot Mini Mitts are slim half gloves made of food-grade, dishwasher safe silicone that literally cover your fingers and thumbs so you can remove those metal accessories without fear. Most importantly, the Mini Mitts don't limit your range of motion like traditional pot holders or oven mitts can do.
Salbree Silicone Snap Vegetable and Ground Beef Grease Drainer
When people say that you can do anything with a pressure cooker, they really weren't lying. You can even cook pasta in your cooker, but that means that you need to have the ability to strain the excess water. The Salbree Silicone Snap Vegetable and Ground Beef Grease Strainer literally snaps onto the edge of your pressure cooker's interior pots and comes with a pair of snap-on mitts so you can safely remove and handle a hot pot. However, this particular dishwasher safe accessory only fits 6-quart pots.
Instant Pot Ceramic Non-Stick Interior Coated Cooking Pot
This particular item is an official Instant Pot accessory from the brand so it may not be compatible with any other pressure cookers. That being said, many pressure cooking experts agree that it's a good idea to have extra insert pots—especially if you're making multiple items during one cooking session. Your Instant Pot will usually come with a stainless steel insert, but the non-stick pot is preferred if you want to try your hand at sauteing and essential if you plan to bake or cook rice with your pressure cooker. Just like all the other accessories on this roundup, Instant Pot's ceramic insert is dishwasher safe.
Dorian Smith-Garcia Author Bio
Dorian is a veteran reviewer and product junkie. When she's not rounding up the best products on Inverse, she's sharing her thoughts on beauty and motherhood through her personal websites and social accounts. You can find Dorian on Instagram at @TheAntiBridezilla and @TheMelaninMamiFiles