What Kilgrave's Message at the End of 'Jessica Jones' Season 3 Really Means
Look who's talking! Here's what happened at the end of 'Jessica Jones.'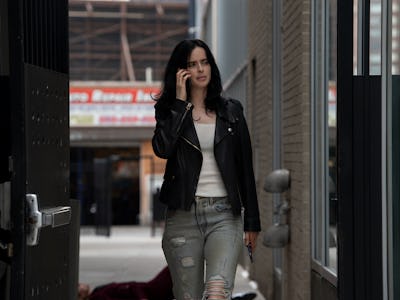 Netflix
In the end, Jessica Jones is all alone. Or is she? In the final season of Marvel's Jessica Jones on Netflix, the troubled investigator's life is turned upside down following her battle with the serial killer, Greg Sallinger. But when Jessica tries to pack and leave New York, a last-minute voice compels her to do otherwise.
While we may not know the full extent of Jessica Jones' story from here on, we can guess that while some things change, things also stay the same.
Major spoilers for Jessica Jones Season 3's ending ahead.
In the third season of Jesica Jones, Krysten Ritter's vigilante P.I. does battle with a serial killer, Greg Sallinger (Jeremy Bobb). But that's not the real story. The real conflict is between Jessica and her pseudo-celebrity sister, Trish Walker (Rachael Taylor). Although these sisters are tight, their bonds are shattered in this final journey of the Marvel/Netflix universe.
At the end of Season 3, Trish is on the run from the police (and Jessica Jones) after brutally murdering Greg Sallinger. Although Trish tries to escape, she's quickly found by Jessica (thanks to the help of Jeri Hogarth), who easily defeats her sister in a super quick one-on-one fight.
While the battle isn't anything flashy like, say, Captain American vs. Iron Man, it's just as high-stakes. For Trish, it's realizing that great power really did come with great responsibility and that she was never up to it despite her best efforts. For Jessica, it's revisiting her ugly emotions that have been boiling since Trish killed Jessica's mom in the Season 2 finale.
At the precinct, Trish is charged with, in the words of Detective Costa, "Two counts of murder in the first degree, one count of murder in the second degree, multiple accounts of aggravated assault, kidnapping, breaking and entering, trespassing, and one count of attempted murder against your own sister."
In tears, it dawns on Trish: "I'm the bad guy."
Jessica says goodbye to her sister from afar as she's transported to the Raft, the high-security prison for powered individuals — and the same prison where Captain America's allies were kept during the events of Captain America: Civil War. Jessica then packs up and leaves New York, bequeathing Alias Investigations to Malcolm (Eka Darville).
She also splits with Erik on the basis that it just wouldn't work out. "You're a good man," Jessica says. "But I don't trust you." Erik, understanding what Jessica means, leaves her to "go do something about that."
At a bus station, Jessica buys a one-way ticket to El Paso, Texas, when a familiar voice, Kilgrave's (David Tennant), begins telling her something in her head: "Jessica, you're right to give in. Give up. It's someone else's job now." That's when Jessica turns around and returns to the streets of New York.
What Does It Mean?
The end of Jessica Jones Season 3 is purposefully open-ended. While it's unknown exactly when showrunner Melissa Rosenberg and the rest of the production learned that Season 3 would be their final year, it's possible the series was setting up a story for Season 4: Jessica could have "started over," possibly being a "real" superhero in the way most people thought of her.
What Kilgrave is "telling" Jessica is that it's good that she's leaving the superhero life behind, because there are other people who could do it better. In other words, "Good riddance, Jessica Jones." Thing is, being told to give up is the last thing Jessica Jones wants to hear.
Her turning around and walking back, to the high-energy sounds of New York punk band El Tigre and their song "Keep on Livin" — the final track from their 2001 album Feminist Sweepstakes — suggests that Jessica Jones isn't done yet.
Unfortunately, Jessica Jones is done. Season 3 was the final season of not just her show, but the Marvel/Netflix franchise as a whole. But it's quite fitting that Jessica's determination to get back when she almost quit is a fitting parting image for a sandbox universe full of superheroes who share one thing in common: They never, ever give up.
Marvel's Jessica Jones Season 3 is streaming now on Netflix.