The Lovable 100-Calorie Snack Has a Backstory Too Weird to Ignore
The 100-calorie snack's history is full of retractions, alleged misconduct, and a charismatic food researcher.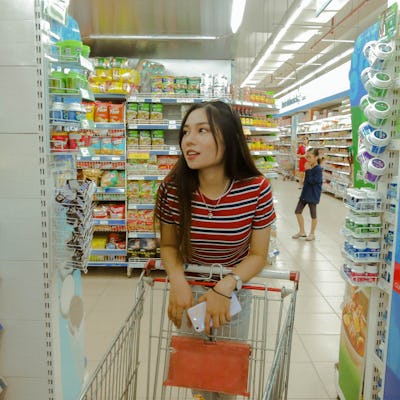 Unsplash / Phuong Tran
The 100-calorie snack: It's become so common — in offices, school lunchrooms, college dining halls — that we almost don't think about its strangeness.
But it is strange.
For one, the calorie is a unit of measuring heat that was initially central to steam engines during the Industrial Revolution, but in the 1920s, it became a standard method for quantifying the amount of energy in food. And today, 100 of them is how we measure what we should eat between afternoon meetings.
A trip down most grocery aisles reveals 100-calorie packs of healthy snacks — nuts, raisins, dried fruit — as well as 100-calorie packs of processed foods like breakfast bars, beef jerky, and heat-and-serve soup.
The inclusivity is perhaps the strangest aspect of 100-calorie snacks. The label "100 calories" flattens the complex differences among the sugar, fat, sodium, and carbohydrate contents of different foods.
The idea behind the 100-calorie marketing is simply brilliant: Packaging snacks in smaller containers can help anybody feel satisfied without eating as much. It also helps food companies make more money by offering a new product that can become a routine purchase. For instance, a 32-count of lightly salted almonds for $13 a month can quickly become a 100-calorie addition to anybody's lunch.
Health blogs abound with recipes for do-it-yourself 100-calorie snacks and a National Health Service campaign in the UK urges parents to limit their kids to two 100-calorie snacks a day. It's become a standard unit of snack measurement.
The 100-calorie snack is cute. It's easy to love. It's a tangible data point for people who want to think more critically about their diet. But the beloved 100-calorie snack has a weird backstory that's too interesting not to share. There are retractions; there is alleged research misconduct; and there is one charismatic, flawed food researcher at the center of it all.
Brian Wansink, Ph.D., is head of the Cornell Food and Brand Lab at Cornell University in Ithaca, New York, and has dedicated his career to illuminating the psychological and environmental factors that can influence our eating habits.
Wansink's ideas gained traction and grabbed headlines, and according to his book, Slim by Design, Nabisco and Kraft adopted 100-calorie snacks thanks to the presentations he made to their executives back in 1996.
Once those big food companies proved consumers would actually buy snacks that were sub-packaged in smaller portions, others followed suit until it became an industry standard.
In a 2012 paper in the journal Obesity, Wansink and his team reinforced this idea. They observed that portioning snacks into four 100-calorie packages reduced calorie consumption in TV-watching snackers compared to one 400-calorie package.
Notably, they saw the biggest difference — more than a 50-percent reduction in calories — among overweight individuals, but even as they ate fewer calories, these snackers didn't notice that they were eating less. A 2013 paper published in the journal Food Quality and Preference put a finer point on this finding. Wansink's team showed evidence that smaller portions of snacks can satisfy hunger just as well as larger portions, but with significantly fewer calories.
These results seemed to validate what Wansink had been telling the world, both on the TED stage and in the pages of pretty much every major news outlet around the country. Because all sorts of factors beyond food itself — fast food restaurant lighting and music, for example — play into how much we eat and how we feel about it, eating well can be a simple matter of changing the design of our food dishes and packages.
But in 2017, more than 20 years after he gave his 100-calorie presentation to snack food executives, cracks began to appear in Wansink's research.
A team of researchers published an analysis in January 2017 of Wansink's papers, suggesting serious statistical issues. Not long after, one of his papers was retracted for borrowing text too heavily from a previous paper. And then, in 2018, the Wansink empire began to crumble.
A BuzzFeed News article laid out accusations that Wansink's lab was employing a bit of statistical trickery in which researchers analyze data in various ways to find any statistically significant associations, rather than establishing a single hypothesis at the beginning of a study and testing it. This trick, called p-hacking, is the practice of re-analyzing data until it meets statistical criteria to be published. The "p" is a reference to the statistics figure known as "p-value," a number that is calculated to show the likelihood that an observed outcome would happen if there was no real relationship between the factors in an experiment. It's a complicated statistical figure, but in short, lower p-values are taken as evidence that there is a statistically significant relationship. The practice of p-hacking, in which researchers re-analyze data until it shows a low enough p-value, is frowned upon because it can yield false correlations, suggesting that two things are associated when they may not be.
As a result of an internal investigation, his university determined that the issues brought to light had reached the level of "academic misconduct."
Other re-analyses of Wansink's lab's work showed glaring discrepancies between the collected data and published data, including the published version of a study that said it was conducted with 8- to 11-year-olds but was, in fact, conducted with preschoolers.
In the coming months, investigations by Cornell and by academic journals resulted in retractions of 17 of Wansink's papers by major journals, including one paper that got retracted twice for a different reason each time.
"If a paper is retracted, it doesn't necessarily mean the conclusions are wrong or the analysis is wrong, but it can also be because the researcher wasn't able to find the original coding sheets or something like that."
Wansink, who turns 59 at the end of June, has boyish blonde hair and piercing yet friendly blue eyes. Despite the controversy surrounding his work, he remains upbeat about the potential for his research to improve people's lives.
In addition to his work on 100-calorie snacks, Wansink is famous for his self-refilling soup bowl experiment, which focused on how food portioning can affect an eater's level of satisfaction — and how that can influence longer-term health.
Wansink tells Inverse he stands by his lab's work — even the papers that were retracted.
"If a paper is retracted, it doesn't necessarily mean the conclusions are wrong or the analysis is wrong, but it can also be because the researcher wasn't able to find the original coding sheets or something like that," he tells Inverse.
His critics say it's worse than just misplacing coding sheets, though.
In a September 2018 statement, Cornell's provost said a faculty committee "found that Professor Wansink committed academic misconduct in his research and scholarship, including misreporting of research data, problematic statistical techniques, failure to properly document and preserve research results, and inappropriate authorship."
In the BuzzFeed News report, emails between Wansink and his research collaborators seem to show him encouraging researchers to massage data to find statistically significant conclusions, painting a picture that one critic called "a cartoon of how someone in the most extreme form might p-hack data."
The end of the spring 2019 semester marks Wansink's retirement from Cornell. This summer, Wansink plans to capitalize on his newfound free time to go to a conference for independent scholars, as well as the World Boardgaming Championships in Pennsylvania at the end of July — an event that used to conflict with Cornell summer internships.
Wansink tells Inverse he's working independently on a new project that he says "focuses on how food can be better used as context to boost health, happiness, and meaning with new parents and how a similar framework could be modified and explored to do the same with the at-home elderly."
His work on 100-calorie snacks stands among the number of Wansink's more than 200 papers that did not get retracted, as other studies with similar conclusions about portion sizes were retracted — like one on the relationship between serving bowl size and food consumption. He's at peace with himself, saying that he's pleased at the wide adoption of the ideas in his plate and bowl research, as well as the 100-calorie snack research, both among researchers and dieters.
"In the end, that's what I think social science should aim at: making people's lives better (even if only a few calories at a time)," he says.
Regardless of the retractions, 100-calorie snacks are here to stay.
Nabisco's parent company, Mondelēz International, announced in May that it had reached its goal of having 15 percent of the company's net revenue come from portion-control snacks — two years earlier than expected. In this case, though, the definition of portion-control snacks has been allowed to double in the most important area: "individually wrapped and 200 calories or less."
At the same time, Mondelēz has made a minority investment in Hu (short for "human"), a paleo snack company whose offerings include 90-calorie packs of grain-free crackers. And Soylent, the company famous for making soy-based shakes, has announced a 100-calorie snack square, branching into the chewable food market.
Market research firm Mintel observed in 2017 that 100-calorie snack packs had somewhat fallen out of favor, but there are still a lot of new 100-calorie products coming to grocery aisles.
Discount grocery chain ALDI is launching a 100-calorie boozy seltzer this summer, and Costco has its own 100-calorie booze popsicles.
Given the prevalence of 100-calorie snacks, it's easy to say the origin story doesn't really matter.
Brian Nosek, Ph.D., a professor of psychology at the University of Virginia and the executive director at the science and tech nonprofit Center for Open Science, is the one who made the "cartoon" comment to BuzzFeed. He tells Inverse that he is reluctant to attach much credibility to Wansink's findings, unless they can be independently replicated.
"The reason is that he has acknowledged analyzing his data many ways and reporting the best story as standard practice," he says. "The problem with this is the selective reporting of analysis dramatically increases the likelihood that his findings were false positives — even if there were no errors in the reporting that demanded retraction."
"It is very possible that some findings are true effects, but because he presented exploratory analyses as if they were hypothesis tests, we can't really know without pursuing replications of the findings."
For now, Nosek says he would "consider Wansink's findings 'interesting ideas' rather than evidence that should be used for product design or policy-making."
So, why is the 100-calorie stat one of the most important factors for snack food makers?
Johanna Rustia, the founder of Snacks of Substance, a company that specializes in 100-calorie snacks, tells Inverse that it comes down to customer demand. The people want 100-calorie snacks.
"When I ask what is the biggest factor — 'Is it the plant-based? Is it the gluten-free?' — the 100 calories really resonates," she says.
For Rustia, 100-calorie snacks are about satisfying a need and quickly getting on with your day.
"I can eat a snack and move on," she says.
And rather than retrofitting sugary snacks like Oreos and Nutter Butters into 100-calorie packs, she seeks to make her products healthier from the get-go by choosing plant-based ingredients.
Even as Rustia attempts to carve out her own niche in the food industry, she's responding to a long line that brought her company to where it is today, one that has some shady corners, but, for better or for worse, appears to be here to stay.
After all the retractions and controversy, Wansink still sees the journey as a success. When asked about his legacy, he comes across as rather unconcerned about the controversy that surrounded the end of his career.
"Legacy is an interesting issue for academics," he says. "I've always viewed myself as a pracademic who tried to solve everyday problems to improve lives. The nice thing about solution-based research is that if it works for a person, they do it. They don't care if it was published in a great journal, won an award, or got lots of citations. They care if it works for them."
In a sense, Wansink is right about this particular metric of his legacy: Browsing the aisles of the grocery store, far removed from a university lab or the pages of an academic journal, I saw tons of 100-calorie snacks — as well as 90-calorie, 150-calorie, and 200-calorie snacks, indicating the direction the market has moved since Wansink's initial pitch to food executives.
Regardless of the twisting roads they took to get here, these portion-controlled foods appear to be here to stay.
Correction 6/24/19: This article has been updated to include a fuller explanation of a "p-value." A previous version of this story had an incorrect definition and an inaccurate example of p-hacking.