Rooster Teeth's 'gen:LOCK' Emmy Campaign Is About the Future of Media
The 16-year-old studio that created 'Red Vs. Blue' and 'RWBY' is campaigning for its first Emmy Awards. Here's what lies ahead of them.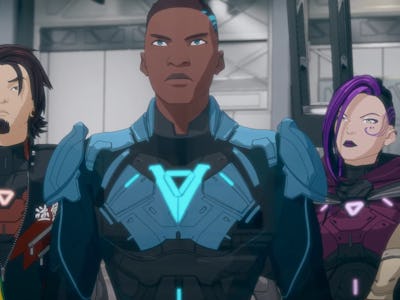 Rooster Teeth
Starting today, the 22,000-plus members of the Television Academy will vote on nominations for the 71st Emmy Awards, set to take place in L.A. on September 22. Amid the prestigious primetime and streaming shows from big studios with deep pockets, there's one wild card that most voters will likely discover for the first time: the sci-fi anime gen:LOCK from Rooster Teeth.
"We made a little show called gen:LOCK that people seem to like. — Gray G. Haddock
Rooster Teeth, best known for Red Vs. Blue and RWBY, is submitting its newest series, gen:LOCK, for several Emmy Award considerations. These include: Best Animated Series, Best Male Vocal Performance (for Michael B. Jordan), Best Female Vocal Performance (for Maisie Williams), Outstanding Main Title Design, and a "variety of technical credits," says series creator Gray G. Haddock.
"So, we made a little show called gen:LOCK that people seem to like," Haddock tells Inverse. "The crew put a tremendous amount of passion and creativity, and we really want to show off their work and get more people to stand up and take notice of the things Rooster Teeth is up to these days."
The nominations will be revealed on July 16, after voting has ended.
2019 is the first year Rooster Teeth has campaigned for the awards, and Haddock acknowledges the studio has been an "outsider looking in" until now. There's also some self-doubt that Rooster Teeth is even ready. But with its first real shot at hand, this is the moment when everything could change, both for Rooster Teeth and for what the industry considers an "Emmy-worthy" show.
"What's won out for me is this hope that the industry and the Academy is evolving," he says. "That it will become more of a truism that good content is recognized no matter where it comes from, and it's okay if that content is coming from non-traditional sources."
"Deep down, we know we're doing something right.
Set in a future Earth ravaged by war, gen:LOCK stars Michael B. Jordan, Maisie Williams, Asia Kate Dillon, Golshifteh Farahani, Kōichi Yamadera, and David Tennant as a class of elite specialists who control the next iteration of giant war machines, called "mechas." The show, which premiered on Rooster Teeth's streaming service FIRST in January, is inspired by Japanese anime like Gundam and Neon Genesis Evangelion, and Western media like X-Men and Star Trek.
There's a lot involved with awards voting, beginning with what shows can even qualify. "For better or worse, the industry already has some pretty strong preconceptions about how these are going to go," Haddock says. "There's articles already out there predicting who the front runners are and why."
Not to be deterred, Haddock says underestimation over the studio could give Rooster Teeth exactly the edge it needs over favored animated contenders like The Simpsons, South Park, and Netflix's BoJack Horseman — all major hits that have competed in the animation categories for years.
"Rather than thinking that's working against us, I would prefer to take a perspective that we will generate buzz by being the wild card," he says, "Being the thing nobody saw coming and hopefully get word of mouth going."
Haddock also acknowledges that, despite generous support from parent company Warner Bros. and confidence from Jordan's Outlier Society, Rooster Teeth is still working at a major disadvantage.
"We're absolutely not the big corporate television studio with all resources at hand," he says. "We're not gonna be throwing any yacht parties. We don't have the resources to do some of the flashier traditional consideration events that you'll see other I.P. doing in the coming days."
Instead, Haddock says, Rooster Teeth will do "what it's always done," which is to rely "on the graces" of its fan community. "We have to start making as much noise as possible starting right now. We'll see in July how successful we were."
Whether or not Rooster Teeth will actually compete for an Emmy, Haddock says it's not all about the trophy. When I ask what an Emmy nomination could mean for Rooster Teeth, Haddock says it's all about the future.
"It's our hope that if we can bring home a nomination for Rooster Teeth, that will unlock all sorts of future possibilities," he says. "To create even more content that fans, even new ones, can all enjoy. The Emmys are just one manifestation of another internal series of questions we're answering right now, for ourselves: What is the core of Rooster Teeth? And how do we protect that as we explore new opportunities?"
"We feel legitimate already," he adds, "The company has been around for 16 years while so many other internet producers have come and gone. Rooster Teeth is still standing. So deep down, we know we're doing something right."
gen:LOCK is streaming now on Rooster Teeth's FIRST.