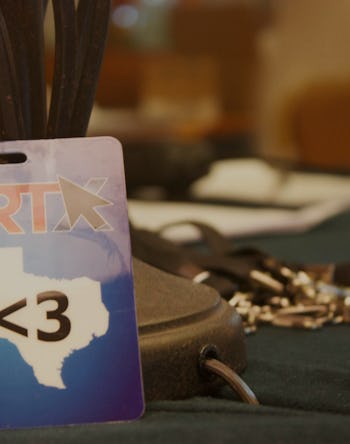 Culture
The Oral History of Rooster Teeth's RTX
In 2011, Rooster Teeth packed an open field for a weekend of fun. It changed everything.
Rooster Teeth, Dominic Dobrzensky
The co-founders of Rooster Teeth remember the summer of 2011 for two reasons. One, it was one of the hottest summers ever in the history of Austin. That year, on Memorial Day weekend, attendees at the inaugural (and outdoors) RTX convention endured nuclear 99-degree Texas heat.
And two: "I remember meetings about food trucks," says studio co-founder Burnie Burns.
In 2011, eight years after Rooster Teeth released its sci-fi comedy series Red vs. Blue to viral fame, the co-founders created RTX, a central gathering place for fans who followed them throughout the anime convention circuit. RTX also solved a few problems indicative of Rooster Teeth's growing pains into a major brand.
The convention was built on the premise of being part Comic-Con (for fans), part SXSW (for content creators). What no one expected was how quickly RTX would explode, becoming one of the largest single pop culture conventions in Austin behind SXSW. Nor did anyone anticipate how RTX would become the proving ground for new shows and new personalities, establishing Rooster Teeth as the gaming, animation, and content creation stronghold of the American southwest.
In 2011, RTX beckoned 535 people to an open field. Today, RTX attracts 62,000-plus to Austin, with satellite conventions in London and Sydney. And at every RTX, the most devoted fans form the volunteer "Guardians," know-it-alls who guide attendees through every weekend.
Tickets for RTX 2019 in Austin are on sale now.
In conversations with Inverse, Rooster Teeth co-founders Burnie Burns, Gus Sorola, Geoff Ramsey, Matt Hullum, and Rooster Teeth's Head of Events, Bethany Feinstein, reveal the history of RTX. Their interviews have been edited for clarity.
Part I: "I want everybody wearing our Naruto headband."
Rooster Teeth was two years old and employed just a handful of people when it first entertained a convention in 2005. Some enterprising fans had begun organizing their own localized events, often with the prefix "RVB" for Red vs. Blue (i.e. RVB-TO, a fan convention held in Toronto until 2012).
Traveling to these events and to other anime conventions where they were invited, while trying to get work done back home in Austin, was taking its toll.
Gus Sorola: We talked about having a convention because there were so many. We thought, let's have our own, not only for our community but for content creators. We wanted to call it Dot Com Con. Unfortunately there were only six or seven of us at Rooster Teeth at the time. We didn't have the bandwidth to make Dot Com Con but it was something that sat in the back of our minds.
Burnie Burns: Going to so many conventions ourselves, we kept traveling all the time. And having only ten people, it became a big part of our job, appearing at other people's events.
Geoff Ramsey: We were doing 20 to 25 of those a year, and it was hampering production. But we wanted to be out there with the community, especially with fan-run events like RVB-TO that were going around the country we wanted to support.
Burnie Burns: RVB CanWest was another good one.
Geoff Ramsey: We wanted to support them and it got to the point the manpower required to visit, in addition trying to promote the company, was a full time job. It was hurting our ability to do productions.
Burnie Burns: One of the events in particular was inspiration. RVB-TO in Toronto was a Rooster Teeth convention, and they had 500 people attending it. We thought, okay, if one of our community groups can do this, maybe we should do something. That was one of the inspirations for RTX.
Gus Sorola: In 2011, we still didn't have enough people to do an event but we decided to try it anyway.
It was at those anime conventions Rooster Teeth identified its audience, a shaded Venn Diagram of gamers and anime otakus. They used that information to eventually produce its own anime, RWBY and gen:LOCK.
Gus Sorola: If it was an anime convention with 10,000 attendees, we've probably been to it.
Burnie Burns: If we were invited, it was almost always anime cons. They were reaching out to us. We would voluntarily go for PAX and San Diego Comic-Con, but if we were invited, it was an anime con. People were like, "Your thing is anime." It's not anime, it's machinima. Years later we made an anime and they go, "It's not anime."
Geoff Ramsey: I remember the day we talked about it. One of the earliest conventions we did, I wanna say Anime Reactor in Chicago, everybody who came up to buy an RvB DVD had a Naruto headband. I didn't know what that fuck Naruto was. I was like, "Are these kids in a gang?" And he's [Matt Hullum] like, "No, they're anime fans."
I remember going, I want that. I want everybody wearing our Naruto headband.
Burnie Burns: I saw this unbelievably enthusiastic audience that was ravenous about the stuff they love. It seemed familiar to the audience we had. It was adjacent. It was a big part of the strategy for launching RWBY, going to anime cons. We knew the audience was there.
Part II: "There was never going to be a convenient time."
2011 became the first year for RTX for no reason other than they wanted to finally get it going. Now a staff of 30, Rooster Teeth took advantage of an empty nearby field where an archery camp was scheduled to begin construction. The clock for RTX 1 began ticking.
Matt Hullum: I remember this time pressure we put on ourselves. Our old office was next to this empty field. That's where most of the first RTX was, in this field. The rumor was that the field had been sold and they were going to start building it the next year. Which is such a ridiculous thing, to put pressure on yourselves, like that being the reason.
Burnie Burns: There was never going to be a convenient time. It was always going to be better doing it a year out. We just realized we had to knuckle down and get it done.
Matt Hullum: We could have held it anywhere. But that was one of those things, like, "Let's do this, things are happening, we gotta get moving."
RTX was also created to solve a big problem. At the time, Rooster Teeth and Achievement Hunter (launched in 2008) welcomed fans to its studio for free tours. By 2011 the number of tours exceeded a dozen a day. This encouraged the company to feature tours as part of the first RTX experience. Tours were still given in 2012, and it was quietly killed before RTX 2013.
Geoff Ramsey: That was an impetus. Especially in the summer things would get rough. I remember there was a day where everybody was gone except for [Achievement Hunter co-founder] Jack [Pattillo] and I. We were the only people in the office, and we gave 16 tours. People just showed up unannounced, knocking on the door. That would happen daily, but one Friday in July we gave 16 tours to 45 people.
You get to the point you're a touring company. You can't produce. When you're giving tours constantly, when you're working with sensitive material under NDAs, you have to shut the company down to bring a person through. It hampers productivity to the nth degree.
Matt Hullum: The craziest one, there was a kid who was 14 or something. His parents dropped him off and left. And it was just like, "Hi, I'm here for a tour." Are you by yourself? Where are your parents? "They went off to do something else." Are you from Austin? "No, Minnesota." We were summer camp.
Camp Camp, an animated comedy by Rooster Teeth set at a dysfunctional summer camp, premiered in 2016.
Burnie Burns: Tours in the office was a big part of it. Once we got to our own building that wasn't a house or an office, with our own address, we got so many more people showing up for tours. We made sure tours were a big part of the RTX experience.
Although Rooster Teeth were familiar with conventions, RTX was envisioned to be different. Besides tours, Rooster Teeth wanted to foster a highly social environment for its fans. But one issue plagued RTX before it even started.
Gus Sorola: I did a lot of the planning for 2011. We were only going to have 200 attendees. The plan was we were going to screen stuff, rent out the Drafthouse. And we'd take people around, have big banquets, just hang out and have a good time. Just have a tour of Austin. I had to work with Geoff [who's] running the store. We were gonna sell tickets through our online store. So we set it up, everything was fine, launched it.
Burnie Burns: The ticketing system was live for 45 seconds. We sold 600 tickets in 45 seconds.
Gus Sorola: We were only going to sell 200! We didn't realize, if people put the item in their cart it didn't take it out of inventory until they completed the transaction. So we ended up with 500 or 600 people purchasing tickets before it "sold out." This was two months before the event.
Burnie Burns: I'm going through menus [trying to turn it off] and people are buying fast.
Matt Hullum: It was a mad scramble.
Gus Sorola: We have video!
Burnie Burns: We do have video! Of Gus going like, "Ready? Let's hit the button!" And they go, "Oh no, oh God no, stop!"
Gus Sorola: All the plans we had — renting the theater, going to that arcade and hang out with everyone — all of that was scrapped. We didn't have the capacity to hold 600. So in two months we had to rescope, which led to meetings about food trucks. How are we going to feed 600 people in an empty field?
Burnie Burns: In the early days, we learned by breaking stuff. This was different. This was our community, our fans coming to this event. We had to make sure it worked immediately. We couldn't get it right the second time. We had to get it right the first time.
The ticketing snafu forced the convention to accommodate an exact total of 535 attendees. But while it was more than they even prepared for, when the day came, memories were made. It was also hot.
Matt Hullum: It was hot.
Gus Sorola: Talk about the heat for a second. It was Memorial Day 2011. We were concerned it would be hot, but, it's May. It won't be that hot. 2011 ended up being one of the hottest years on record in Austin.
Geoff Ramsey: We did the zombie shoot where we asked people to come dressed up as zombies for this episode of Immersion, so they had makeup and all this extra clothing.
Gus Sorola: It was brutal. It should not have been that hot in May but it was some freak thing. We had like, a keg, a couple food trucks, and a couple tents in a field.
Matt Hullum: Once we got situated, it worked out pretty well. We could have used more food trucks.
Gus Sorola: Our primary food truck canceled so we had to have a back-up that couldn't serve fast enough.
Matt Hullum: We should have just had a bunch of them.
Despite those problems, a special guest still dropped by: Frank O'Connor, lead director for Microsoft's Halo franchise, which inspired the creation of Red vs. Blue.
Matt Hullum: Frank O'Connor came to 2011 to speak. Our first legitimate game company, and they could tell it was gonna do well and our community was integrated with theirs. It was a natural thing to happen.
Gus Sorola: We were a small event but we were an event filled with people passionate about their product. It's a lot more targeted.
Matt Hullum: It was very easygoing. Everybody could get together and talk. That was the thing we tried with RTX and Rooster Teeth in general. Trying to make sure we have a communal feeling. When you have so many people it's so hard to have one-on-one interaction, but that first RTX was like having a picnic.
RTX 2011 proved Rooster Teeth could, in fact, put on a convention where people had fun. But it also symbolically ushered in the next generation.
Michael Jones, an on-screen and voice over talent for the company, was working freelance for Rage Quit when RTX 2011 "hooked him." Barbara Dunkelman emigrated from Canada and was one of the very first volunteer Guardians. She later worked as community liaison while starring in RWBY and hosting her podcast Always Open.
And there was Miles Luna. Now a writer for Rooster Teeth's biggest projects, he was an intern whose quick thinking and outgoing personality at RTX 2011 cemented him as one of the new faces of the company.
Geoff Ramsey: The thing I remember from RTX 1 is falling in love with Miles. He was an intern for us.
Matt Hullum: He interviewed to be an intern and asked if he could start right then. He started working fifteen minutes from his interview.
Geoff Ramsey: He was an intern kid I barely knew. And at one point we were trying to entertain the audience, we were running around like mad, and he just picks up a microphone, got the kids singing songs and emceeing. He was just a ball of lovely energy, and everybody had a great time. He brightened up the room and I thought, this kid's special.
Burnie Burns: There was a little bit of lull, and Miles picked up the microphone and he has yet to put it down. From that moment forward he was a big part of the staff. Up until then, he transferred old files from across those old hard drives.
Matt Hullum: It coincided perfectly, that first RTX, with the second generation of talent at Rooster Teeth. Miles came out of nowhere. He became a huge voice. Michael [Jones] had just come down. Rooster Teeth had just begun to spread out and have well-defined areas of the business and different shows. Achievement Hunter was taking off, the podcast was starting.
A lot of things were gelling and we needed more talent and it felt like that was a watershed moment. All these new staff members and talent finding their own voice and making themselves known to the community.
While RTX no longer resembles that first event, a lot of the convention's annual traditions were crystallized that first weekend. Encouraging social cohesion, either through a massive video shoot with the community or other means, is an ongoing mission.
Matt Hullum: We started this tradition of doing big videos and getting everybody at RTX into production.
Burnie Burns: We did two things that stick out in the first year. We did the big shoot. "Hey, you like to watch the shows? Why don't you be in the shows?" It started with an episode of Immersion where we tested the mathematics of a giant zombie horde.
Also, the first night's event was a hotel ballroom up north offsite. The event started at six. We didn't show for 45 minutes. We were together in the room next to it, watching through the curtains, because we wanted people to understand it's not about us. It's about the community. Sure enough the people in this ballroom, all quiet at first, started interacting and it just turned into a big party. It worked really well. I'll always remember that from the first RTX.
Matt Hullum: They entertained themselves and were excited to meet each other. That's still one of the things people respond when you ask, "What are you excited about RTX?" Meeting people from the community, that's still the number one answer.
Part III: "They laughed at me for taking the appointment."
As soon as RTX 2011 ended, planning for RTX 2012 began. The biggest change would be the location: The temperature-controlled Austin Convention Center, which Rooster Teeth hoped to book for a weekend, any weekend, in the summer.
If only they could convince the city of Austin to let them have it.
Gus Sorola: Immediately after 2011 we knew we needed the convention center. After 2011 wrapped I made an appointment to talk to the city of Austin. I remember I had a meeting at the south side of the convention center. I had no idea how it worked. I just said, "I want to book for a weekend in 2012. What are your available dates?"
Of course they were skeptical. "Well it's not that easy. What do you do?" I explained it to them. They said, "You never had a convention before?" I said no, we just did. "That doesn't sound like any convention we've ever heard of." They laughed at me for taking the appointment.
Although Rooster Teeth had been in Austin for years, the city had no idea who these "Rooster Teeth" jokers were.
Burnie Burns: There's something about live events that demonstrate what we do in a way we can't ever seem to do, and never able to do. We were in business for eight years and we had fans all over, in London and Sydney, every major English speaking country around the world. We had this massive global audience. But nobody in Austin knew who we were here or that we were here. It wasn't until we started filling up hotels downtown that the city went, "Who are you guys?"
Gus Sorola: They wanted to be sure that if we booked the convention center people would actually show up. That they weren't just booking it to some fly by night people. They asked me what I foresee for the event. I said in five years I want to rent the entire convention center. And they definitely laughed at that.
It took a lot of convincing. They said to temper my expectations. They agreed to give us July 4 weekend for 2012 because Austin is so hot, no one wants to have a convention. July 4 was the only date available.
Matt Hullum: We hired a sales person after 2011. Alan [Abdine], our Director of Business Development, started having a plan for exhibitors on the show floor.
Gus Sorola: We contacted other industry people and internet content creators to structure it with booths, what you picture as a "Comic-Con" like that. We'd been going to conventions since '03, so we just emulated the things that work and avoid things that don't.
RTX 2012 took place in the breezy, 70-degree Austin Convention Center on July 4th weekend. The event welcomed 4,500 people, a leap from that first year but still a fraction of the attendees it has today. Among the welcome changes from 2011, there were no ticketing issues in 2012.
Gus Sorola: I didn't use Geoff for 2012.
Geoff Ramsey: It wasn't me! It was the limitation of the software we had!
Gus Sorola: It was easier [to have 4,500 people] because we had a convention center. We had a base for everything. There are hotels. 600 people in south Austin, there's no infrastructure, no way to get around. When you're downtown it's way easier. And 4,500 people in a convention center looks tiny. We had one exhibit hall, even then we didn't use the whole hall because it was too big. It seemed small.
Matt Hullum: The toughest balance for RTX and any convention is having things for people to do and the number of people. It's constantly in motion. You want a show floor, you sell a lot more booths, but sell too many tickets and you gotta book more panels, more exhibits. It's really tricky. That's the thing about growing. You end up in situations where things don't scale. For shows like RWBY, 20,000 people wanna see that. You run into issues you think would be solved by growing but it doesn't really work that way.
Gus Sorola: From the beginning, even after 2011, we knew we could grow the event faster and have more attendees but we were uncomfortable with that. We wanted to make sure we could wrap our heads around it. After year one, we know what 600 people looks like, we know how to manage that, so in 2012, we do 4,500. And then we know how to manage that, so let's move up to 10,000.
We intentionally scaled it. We could have grown much faster but we run the risk of being those conventions that ends up being a huge disaster for everyone.
Burnie Burns: 2012 was the year Elijah Wood came. He crashed the RVB panel. He was a voice in RVB Seasons 9 and 10 and he happened to be in town. He came in the back entrance. We set it up like a Skype call that lost connection but then he walked out. We stole that from Jon Favreau, by the way.
At RTX 2013, Rooster Teeth permanently altered its course when it premiered RWBY. An original fantasy anime created by the late Monty Oum, who joined Rooster Teeth in 2010, the series became a worldwide hit and is indisputably the company's crown jewel franchise. When Oum died in 2015, a memorial wall was erected at RTX that year, allowing fans to write messages in memory of their favorite creator.
Matt Hullum: People were showing up in cosplay before the series even took off.
Burnie Burns: Monty released his designs. That was his intent.
Matt Hullum: Monty would select pieces based on common cosplay items you could buy, to make sure the community could do it cheap and easy.
Burnie Burns: God, he was great. He would source things he was buying himself. When he was 3D modeling he would look at online retailers. "Oh I could buy this pouch? I'll use this pouch."
Matt Hullum: [Debuting RWBY was] really fun. Really daunting. It felt triumphant. For us but also for the community. The community said, "We love it when you do bigger and ambitious things," and in some ways it felt like the audience went, "This is what we've been waiting for you guys to do." It felt like a culmination of a lot of people's anticipations, building upon Red vs. Blue.
In 2015, knowing RTX was becoming a many-headed beast, Rooster Teeth hired Bethany Feinstein to become Director of Events. She would soon play a key role in its expansion overseas.
Bethany Feinstein: I remember the job description compared RTX to SXSW and Comic-Con due to the scale and content. Rooster Teeth needed an experienced leader to take a deep dive into what was working and what wasn't working, to reduce risk and expenses, improve logistics and execution, and most importantly, ensure the financials had stable footing.
Gus Sorola: I transitioned out of events right as we were starting the process of figuring out Sydney. And that's when she took over and finished executing on that.
Bethany Feinstein: When I was hired RTX was only 7 weeks away, so I hit the ground running! Many of the big decisions had been made at that point, however I was able to dig into the production and execution details to make each area more efficient and ultimately, manage the entire event onsite.
Part IV: "Very aggressive expansion."
Austin is home for Rooster Teeth, but an audience overseas craved their attention.
In 2016, with the help of Feinstein, Rooster Teeth went down under with RTX Australia, held at the Australian Technology Park with 11,000 fans in attendance. The next year, it was renamed RTX Sydney and relocated to the International Convention Centre where it welcomed Hideo Kojima — the award-winning creator of the Metal Gear Solid video game franchise — as a guest. It was also the site of one of Nintendo's first demoes for its Nintendo Switch console.
2017 saw the launch of RTX London at ExCel London. It hosted the convention again in 2018.
Geoff Ramsey: The biggest point we tried to go to the next level was when we had RTX Australia and London. It's very aggressive expansion for a couple reasons.
One, it's a big ordeal to put on an event overseas. Two, we targeted our two biggest cities. Sydney and London are our two highest traffic cities for our website, in the world. We really went after our biggest core group of audience quickly.
Bethany Feinstein: Expanding to Sydney and London was a natural next step. We work on RTX all year, so taking it internationally was a big undertaking for our small team. Though we've only ever held international RTXs in English-speaking countries, there are many logistical hurdles.
A big challenge is time zones. My team has to be even more efficient with their time each day, responding quickly to UK questions first thing in the morning and oftentimes working into the evening to get answers back to Australia.
For 2019, RTX Sydney is turning into three nights of "Let's Play Live," a live touring show starring Achievement Hunter and other gaming bodies that combines sketch and improv comedy, live music, and esports.
The first Let's Play Live was put on in 2015 and it quickly became a key part of RTX. 2019 will see three Let's Play Live shows replace RTX in Australia.
Bethany Feinstein: Rather than RTX, we'll be sending Achievement Hunter and friends down under to put on three shows in different cities. Traveling to Australia every year is a massive endeavor for Rooster Teeth, and one we always look forward to. However, we can only manage one big event in Australia each year, and based on feedback from our community we've decided to change things up in 2019.
Part V: "Let's just all get together and do something."
A convention alone cannot foster a community. Sure, they're fun and conducive to encouraging a social atmosphere. Become big enough and they're a major networking opportunity. But despite its gargantuan scale and the frightening speed at which its grown, RTX has always been about the people.
What does tomorrow look like for RTX?
Geoff Ramsey: RTX Moon Base Alpha.
Burnie Burns: I think we have room for one more big event in the calendar. Geoff is proven at live events that are of a touring nature. There's a huge opportunity for that.
Whenever we were traveling doing conventions, we could never get close enough. We'd go to Chicago and they'd go, "Yeah, but you didn't go to the West Side." We can't show up at everybody's house but we do want to make a place that people could come and have a more centralized [experience] for them.
Matt Hullum: In Austin, the animation festival is part of what we'll keep growing in a big way. Let's Play Live and all the gaming partners Geoff helped bring in, we'll expand that. There's not a lot of events like ours where you can meet cool creators who are like-minded like us.
Gus Sorola: That harkens back to the Dot Com Con idea, people whose work we enjoy and have a similar sensibility. Let's just all get together and do something.
Geoff Ramsey: Just trying to provide as much entertainment as possible for the people that attend. We wanna take advantage of everybody here. We have a stand up comedy night [now] because we're large enough, we have enough talent that people do stand up.
Matt Hullum: There's these community events that are their own thing that [fans] organize themselves. They have nothing to do with us other than they're Rooster Teeth community members. And there are people putting on shows, concerts, whatever around Austin, because they're trying to tap into the people attending RTX.
Gus Sorola: I knew we made it when last year, someone showed me a flyer they got in downtown Austin. It was an advertisement for a gentlemen's club that was giving no cover charge if you showed your RTX badge at the door.
Burnie Burns: There's something about a panel with five thousand people in one place to celebrate one thing. It's enormous. If we upload [a video] to five thousand views, we'd spend all day going "What happened? What went wrong?" It's two worlds. We have 45 million subscribers, our channel has billions of views, but there's something about people coming to a live event that people get. 70,000 people for RTX. That takes up city blocks.
RTX 2019 will take place on July 5-7 in Austin.