Get Your Bloody Mary Garnish Game on Absolute Point This Summer
And if you aren't a fan of the cocktail, these garnishes will make you one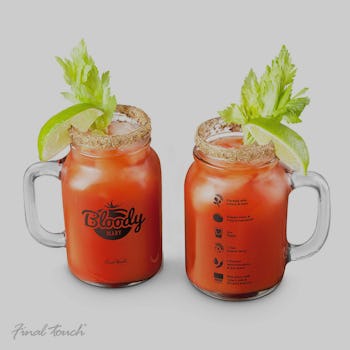 Amazon
The Bloody Mary is known as the ultimate hangover cure and, for some people, the brunch cocktail of choice. There are countless ways to make this tomato juice vodka cocktail, from more spicy to more vodka, to adding all sorts of garnishes besides celery and a lemon or lime wedge that you've probably never thought of. If you aren't yet a fan of Bloody Mary's, the garnishes on this list might just make you one.
1. Cayenne Carrot Sticks by Preservation Co.
Why We Picked It Yes, pickled carrots are actually a really garnish for your Bloody Mary, and will add some nutrition to your cocktail as well. These have a cayenne and mustard seed spice, which will add to the spiciness of your drink, if it isn't too spicy already.
2. Gourmet Feta Cheese Olives
Why We Picked It These stuffed feta olives are the perfect finishing touch to your breakfast cocktail. These olives come from Spain, and the combination of feta will add a Mediterranean flavor to your drink.
3. Demitri's Bloody Mary Pepperoni Straws
Why We Picked It Combine your favorite snack with your favorite cocktail, and also reduce your consumption of plastic straws. Who can argue with that?
4. Mama O's Kimchi - Daikon
Why We Picked It You might not think it, but this daikon kimchi can be a perfect compliment to your Bloody Mary. Not only is kimchi filled with probiotics, but this one is made with all-natural ingredients from the Oh family's traditional recipe.
5. Talk O Texas Okra Pickled Mild
Why We Picked It Have you ever tried pickled okra? Well the perfect time to try one is probably as a garnish to your favorite cocktail. Maybe you will even discover a new favorite vegetable.