Tom Holland Leaks a New Mysterio Detail From 'Spider-Man: Far From Home'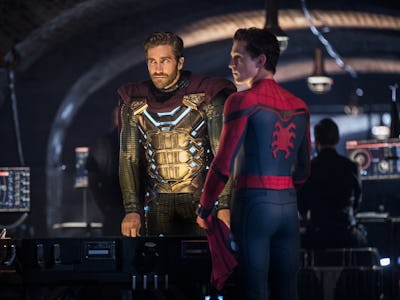 Sony Pictures
Famed Marvel spoiler machine Tom Holland, who happens to play Spider-Man in the billion dollar film franchise, is back at it again with Spider-Man: Far From Home. This time, the British actor is downplaying the villainy of Mysterio, his arch-nemesis in the comics, whom he actually calls "his new best friend" in what could be a pretty huge leak from Holland out of the Far From Home press tour.
In a recent excursion to Bali, Sony and Marvel promoted the July 2 release of Spider-Man: Far From Home, with Tom Holland answering questions in person. In a moment captured and shared on Twitter, via @Q82004yoursef1, Holland reveals that Jake Gyllenhaal's Mysterio is Peter's new best friend, and that they have to take down the Elementals, which arrive from a different dimension from a hole ripped open by Thanos' use of the Infinity Gauntlet.
"Mysterio in this movie is actually my new best friend," Holland said. "We team up together to fight these Elemental creatures. Because when Thanos snapped his fingers, these creatures came through the dimensional rift."
It sounds like spoilers, but we knew most of this already. (Here's our previous reports on the Elementals and Thanos' impact.) Still, that didn't stop the Indonesian fans from reacting loudly to a pretty minor spoiler, if only because Tom Holland is known for doing this a lot.
What fans should focus on is that Mysterio may not be a villain in Spider-Man: Far From Home. As Holland revealed, Mysterio is Peter's BFF, even though in the comics Mysterio has long been one of Spidey's enemies, even founding an alliance of villains known as the Sinister Six.
Their "friendship" may be out necessity — S.H.I.E.L.D. needs Spidey and Mysterio to stop the Elementals — But does this mean that our (not undeserved) speculation that Mysterio is lying to Peter is false?
Since the trailer of Far From Home, fans have guessed Mysterio is playing a massive mind trick on Peter Parker, due to his background as a master illusionist in the comics. He's one of the most powerful non-magical tricksters in the Marvel Universe, so you can't blame anyone for thinking Mysterio isn't who he claims to be. Even this "Multiverse" stuff, revealed in a clip that aired on Ellen a few weeks ago, is incredibly suspect.
But now Tom Holland is out here claiming that Mysterio is the real deal. So who and what can be believed? The most productive answer is to just accept whatever comes out of anyone's mouths with so much salt you'll need to see a physician until everything is actually revealed.
Spider-Man: Far From Home will be released in theaters on July 2.