'Spider-Man: Far From Home' Trailer Reveals an Unexpected Team-Up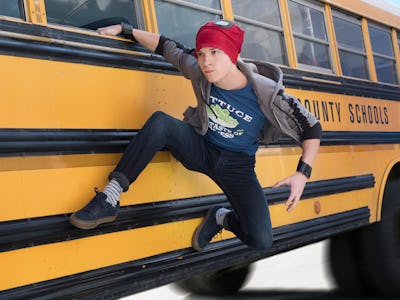 Marvel Entertainment
Last week, Marvel fans got their wish and finally saw the trailer for Avengers: Endgame, putting an end to rumors that the Endgame trailer would debut only after the trailer for Spider-Man: Far From Home, which arrives in theaters on July 5, 2019. But the few who attended Comic-Con Experience in Brazil caught an early peek at Far From Home, which has an unexpected team-up in Spider-Man (Tom Holland) and his new villain, Mysterio (Jake Gyllenhaal).
Although the Spider-Man: Far From Home trailer premiered exclusively to CCXP attendees, multiple sources at the event, including Brazilian news outlet Omelete and a Tom Holland fan account, Tom Holland Source (@tomhsource), shared new details about the film, including events that transpire in the trailer.
The biggest detail is that Spider-Man: Far From Home will involve the Elementals, four extradimensional beings who ruled Earth eons ago, even before the dawn of Atlantis. In the comics, the Elementals are Hydron (Lord of Waters), Magnum (Master of Earth), Zephyr (Mistress of Wind), and Hellfire (take a guess).
But what beef do four ancient beings have against a New York City high school student? Nothing. But the trailer reveals that Nick Fury, for whatever reason, recruits Mysterio and Spider-Man to stop them together. This happens while Spider-Man/Peter Parker is on a trip to Europe (specifically Venice in Italy, although production took place in Prague) with his classmates, which forced him to leave his red and blue Spider-Man suit at home.
In a tweet shared by @tomhsource, Peter and Mysterio are "approached by Nick Fury and recruited for a mission to defeat a giant villain made of stone and water." Also, Aunt May (Marisa Tomei) and Happy Hogan (Jon Favreau) are apparently dating, which is cute as hell, and Peter and Michelle/MJ (Zendaya) are also beginning to be an item.
What is the trailer leaving out, though? A glaring red flag is that the cosmic Elementals are showing up in a more grounded corner of the MCU. There's also the fact that Mysterio is a known master of illusion, and could very well be playing tricks on Peter Parker, but how? And how does Mysterio know about the Elementals, Nick Fury, and even Peter Parker's identity as Spider-Man?
Perhaps we'll find out when the film actually premieres next summer.
Spider-Man: Far From Home hits theaters on July 5, 2019.
Related video: Watch our review for 'Spider-Man: Into the Spider-Verse.'