Google Stadia: Price, Release Date, Games Revealed in Pre-Event Mega Leak
Gamers won't be disappointed.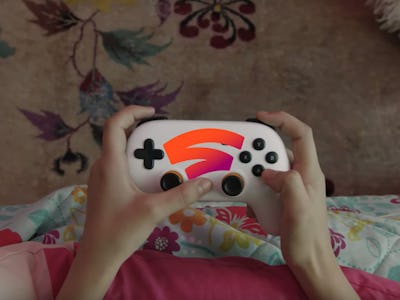 Stadia 
Google Stadia, the highly anticipated cloud gaming service that released to enormous fanfare at the GDC in March, is soon expected to release the major details about its potentially console-killing service. But hours before executives take the stake, it looks like Stadia's price, release date, and game roster were all leaked by a French Canadian outlet that was briefed on the news.
The search giant has been tight-lipped about its cloud gaming service since its March announcement at GDC 2019. But just like the leaks that plagued its Pixel smartphones, all of Stadia's pricing options, its release month, specs, and major games have come to light.
The information comes from Canadian news site Lapresse, and it seems to have accidentally published a pre-written story summarizing Stadia Connect. It doesn't site any sources, but rattles off a staggeringly comprehensive list of Stadia details as fact. Inverse reached out to Google to verify the leaks but the company did not immediately respond to a request for comment.
That said, Lapresse's story was confirmed by Kotaku news editor Jason Schreier early Thursday morning on Twitter. Schreier is a trusted gaming industry insider who correctly leaked the Fallout 4 setting and game dialogue before the title was released, and who has closely followed Stadia's developments.
Here's everything that's likely to be announced at Stadia Connect at 12 p.m. Eastern.
Google Stadia: Release Date
The report says Stadia will be available in 14 countries, including Canada, as of November. It doesn't list anything more specific, and it's possible that Google will also leave its release date open-ended to deal with any unforeseen issues before launch.
This is a bit vague, particularly given that it is an international outlet, but fortunately the pricing, specs, and game details are all more specific.
Google Stadia: Price and Bundles
Google is allegedly set to announce a Stadia launch bundle which will include a few different pricing options. All of the following prices are likely in Canadian dollars so Inverse will include a conversion.
The Stadia "Founder's Edition" retails for $169 ($126.18 USD) and will include the Stadia Controller, a 4K-supporting Chromecast Ultra, access to Destiny 2, and three months of subscription. The bundle will be available for pre-order Thursday.
Since Stadia is compatible with all game controllers and a myriad of devices, interested consumers can also opt for a "Stadia Pro" subscription and begin playing. But Stadia will require a Chromecast to work at first, but Google plans on optimizing it on any Google device with Chrome by 2020.
Stadia will be initially be subscription only and cost $11.99 per month ($8.96 USD). This will give customers access to streaming up to 4K resolution at 60 frames per second. But this won't give users access to unlimited games.
Lapresse notes that the Stadia Pro plan will only include access to the games originally launched on Stadia, while newly released titles will need to be purchased individually. This is the payment plan predicted by Schreier, and could make it easier for developers to continue monetizing more labor-intensive games, like Red Dead Redemption 2 and The Last of Us. But it won't be the only option.
Google is also allegedly going to announce "Stadia Base", a free account option in 2020. This plan will be capped at 1,080p resolution and won't include access to any of the games that come with the Pro plan. But users can still make an account and individually purchase any of the games hosted by Stadia.
Google Stadia: Game Library
Stadia will have 31 games at launch, which enough to whet the palate of early adopters. Ubisoft, Bethesda, and Square Enix are all on board and have adapted a few of their most popular games for Stadia's launch:
These headlining titles include:
Destiny 2
The Division 2
DOOM (2016)
Assassin's Creed Odyssey
Three editions of Tomb Raider
All of the other titles were not specified but expect a full list to be released after Stadia Connect.
Google Stadia: Internet Speed Requirements
Stadia will require download speeds of at least 10 Mbps and upload speeds of 1 Mbps for baseline performance. Anyone with a Chromecast Ultra will need 35 Mbps to play on 4K at 60fps without any issues.
The minimum estimates are lower than Google's 20 to 25 Mbps minimum download speed that was announced at GDC. But Google's previous on-stage demo of the service was plagued by notable lag issues and early testers also noticed a similar problem. It'll be in the company's best interest to show off a more in-depth demo to address these internet connection concerns, but Lapresse's story doesn't mention anything about a trial run.
The time has finally come for Stadia to spread its wings, and with so many top-tier game studios — and even a free option to come — it might completely change the way people play games. Pricy hardware is about to become optional, regardless of how serious you like to game.