iPhone Dark Mode: Release Date, Download Guide, What iPhones You'll Need 
Seriously, it's Everything You Need to Know About Dark Mode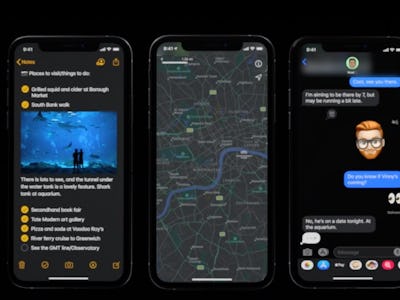 Apple
Apple finally announced that it would roll out Dark Mode to iPhones as part of the updates in iOS 13. The announcement, made Monday during the company's annual Worldwide Developers Conference (WWDC) at the San Jose McEnery Convention Center, was greeted by almost comically effusive cheers from the audience.
So why are people so hyped about some darker color schemes? Well, the general idea is that Dark Mode makes your phone easier to look at. Almost 60 percent of the American adults have reported experiencing symptoms of digital eye strain, according to a survey from the Vision Council, which represents members of the optical industry. While there is still no definitive research confirming the benefits of Dark Mode, there is evidence that blue light can mess with your sleep cycle.
As a matter of common courtesy, Dark Mode will also make it easier to subtly check your phone or show someone your screen when you're in a dark room. Next time you're out at a dimly-lit bar and need to show your drinking buddy something on your screen, you won't have to risk blinding them with a display that shines with the light of a thousand suns.
Here's everything you need to know about Dark Mode and what to expect when it rolls out this fall.
When Does Dark Mode Come Out?
Dark mode will be rolled out along with the rest of the iOS 13 update in Fall of 2019. Apple has yet to publicly set an exact date, but based on previous iOS release dates, it looks likely to be released mid-late September.
What Apps Will Have Dark Mode?
Dark Mode will adjust the color palate on all built-in Apple apps, including Calendar, Notes, Messages, Photos, and Music apps. Apple is also letting third-party developers access its Dark Mode API, which means that third-party apps can soon start including the feature as well. So at the end of the day, it seems likely that most if not all apps will be able to integrate some version of Dark Mode.
Will Dark Mode Work on My iPhone?
iOS 13, and therefore Dark Mode, is compatible with the following phones: iPhone XS, iPhone XS Max, iPhone XR, iPhone X, iPhone 8, iPhone 8 Plus, iPhone 7, iPhone 7 Plus, iPhone 6s, iPhone 6s Plus, iPhone SE, and the iPod touch (7th generation).
Dark Mode: How to Turn It On
The Dark Mode setting can be activated within the Settings app. To find the option, you go into Settings, enter the Display and Brightness section, and at the top of your screen press the Dark option. You can also schedule Dark Mode to turn on and off at a specific time, or even have it go on with the sunset and off with the sunrise.
To quickly toggle between having Dark Mode on or off, you can go to the Control Center, and firmly press on the brightness slider. This will enlarge the brightness meter, and in the lower left-hand corner you'll have the option to quickly turn Dark Mode on or off.
Here's a Visual Guide to Making the Most of Dark Mode
Lock screen and message notifications
Turning on Dark Mode changes not just the color of the wallpaper, but also makes message notifications more translucent. If you swipe left from the lock screen, the widgets will have similar backgrounds to the message notification, and really just makes looking at the screen and processing the information on it easier.
Here's how the experience will break down on individual apps.
The News App: How It's Different
The News App changes its white background and black and red text to a black background and a mix of white, red, and other color texts.
The Calendar App: How It's Different
Similarly, Calendar loses its white background and switches to black, along with white text. It does however keep the red bubbles which note what day it is.
The Messages App: How It's Different
The Messages app will be the most transformed. In Dark Mode, Messages ditches the white background for a black one, but it keeps the blue bubble many have come to know and love, along with the white text inside it. The responses look a little different, and will be presented in a lighter shade of black bubble, rather than the gray bubble on white background. At WWDC, Apple also revealed a swipe function for the keyboard, which allows you to drag your finger across keys to type. The keyboard also has a more refined, dark appearance when you're in Messages.
The Photos App: How It's Different
The Photos App got one of the biggest overhauls in iOS 13, switching to a new filing system that uses machine learning to try and help you sort through junk pictures. In Dark Mode, Photos gets a darker gray bottom dashboard, and muted gray buttons. The share screen is now set against a stark black background. Apparently the Apple team (in the second photo below) who developed Dark Mode descended into some weird steampunk alternate reality over the course of the project.
The Music App: How It's Different
The Music app is also set against an all-black backdrop in Dark Mode, and it's the least elegant of the re-skins. Based on the images that Apple presented, it actually kind of looks too black, and images and album covers will look a bit washed out. That said, listening to music only in Dark Mode would seem to be pretty easy on the battery. That's a lot of darkened pixels.
Dark Mode has grown in popularity over the last few years with the rise of OLED smartphones. Dark Mode lights up fewer pixels than standard mode, so it helps conserve battery life in OLED screens. Apple did not explicitly say that their Dark Mode would achieve this, though, so your mileage will likely vary highly based on your device and what Apps you're running.
While Google rolled out its own Dark Theme for Android Q in May, Apple wasn't too far behind, and given the reception Dark Mode received at WWDC, this is just what people (and their eyes) have been waiting for.