Actually, Robert Pattinson Could Become the Best Batman Ever
Isn't it time for a post-modern Batman?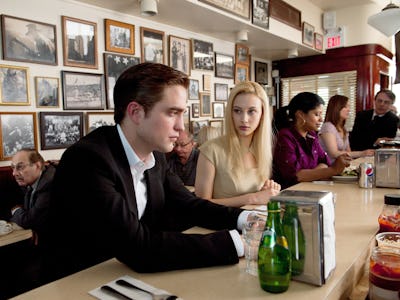 eOne Films
Robert Pattinson is the Batman we deserve and the one we need right now. A Friday report from Deadline confirmed that the former Twilight actor will play Bruce Wayne/Batman in a trilogy helmed by Matt Reeves, and anyone complaining about the decision hasn't been paying attention to Pattinson's recent work.
Pattinson feels like a total shift from the likes of Ben Affleck and his many predecessors, but the Twilight actor carries enough tortured gravitas that his version of Bruce Wayne's complex dual personality as Batman could be refreshing and darker in a more interesting way than we've seen since Christian Bale grabbed Heath Ledger by his bright green vest and slammed him against the wall.
Numerous fan petitions on change.org emerged in the past month since casting rumors first began circling around Pattinson as a frontrunner for the role, and once the news was confirmed, one person on Twitter literally called the news "heartbreaking." That may seem dramatic, but the truth is, fans almost always react negatively to superhero casting news — especially for Batman. Heck, there was even a 1980s petition to remove Michael Keaton from the Tim Burton movie.
The same people who initially trashed Heath Ledger's casting as the Joker are the ones now focusing too much on Pattinson's lackluster performance as a sparkly vampire and not enough on his excellent range he's shown in the seven years since Twilight ended.
Even The Batman director Matt Reeves seemed to anticipate the backlash, announcing the news on Twitter with an intense GIF of Pattinson from the 2017 crime drama Good Time, in which Pattinson plays a young criminal desperate to free his brother from jail, rather than something from Twilight.
Good Time was a critical darling in 2017 and is sitting pretty at 91 percent on Rotten Tomatoes, with most reviewers praising Pattinson's performance. If you're worried Pattinson doesn't have the acting chops to wear Batman's cowl, just watch this drug-fueled odyssey through New York's seedy underbelly.
Since beginning his career with a minor role as Cedric Diggory in the Harry Potter films and then playing Edward Cullen in the Twilight movies, Pattinson has pushed out of franchises and into art house cinema, working with filmmakers like Werner Herzog and David Cronenberg to broaden his range and experience. Most recently, he starred in The Lighthouse alongside Willem Dafoe, a black-and-white dark fantasy horror movie from Robert Eggers, the director of 2015's critically acclaimed thrilled, The Witch.
Of the 22 rated movies Pattinson has on Rotten Tomatoes, the overall average comes in at 58 percent, just barely into "rotten" territory thanks to extremely low ratings for the Twilight movies, Pattinson's surprising drama Remember Me that ends with his character dying in 9/11, and a few other bad career choices.
But for every bad movie, there's a cult classic. Pattinson recently played an ex-convict sentenced to die in space in High Life, a dreary sci-fi odyssey from acclaimed French director Claire Denis. Before that, he teemed up with master of body horror David Cronenberg for 2012's Cosmopolis, where he played a young billionaire mostly confined to his stretch limo.
It's as if, after conquering the world of action franchises, Pattinson set out to prove himself as a master of the psychological thriller. Now, it will all come together as he takes on the role an emotionally fractured billionaire turned superhero.
Most of us recognize Batman as an action hero thanks to Frank Miller's reinvention of the character in the late '80s with The Dark Knight Returns and Batman: Year One, but the Caped Crusader's roots are as the world's greatest detective steeped in a noir style. This version of the character influenced Tim Burton's 1989 Batman, including the casting of Michael Keaton as the hero. Pattinson's Batman will return the character to those roots as a detective first and action hero second.
"It's very much a point of view-driven, noir Batman tale," Matt Reeves told The Hollywood Reporter in January. "It's more Batman in his detective mode than we've seen in the films. The comics have a history of that. He's supposed to be the world's greatest detective, and that's not necessarily been a part of what the movies have been."
Batman is changing, and it's about time we got a new Bruce Wayne more in line with the character's classic depth. Pattinson can deliver just that.
The Batman is scheduled for release on June 25, 2021.
Fandor published an excellent video over a year ago about how and why Robert Pattinson has become such an excellent actor: