Google Stadia Price and Lineup: It Could Steal the Spotlight From E3 2019
Has the time finally arrived?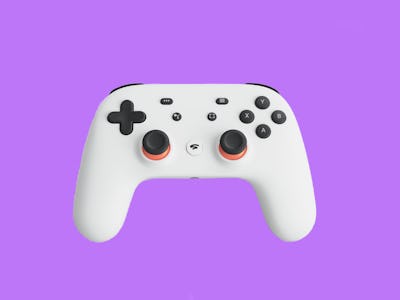 Google
E3 2019 will bring a host of exciting new video game updates, from potential next-generation Xbox teasers to a flurry of new titles.
But Google — which promised updates on its Stadia cloud gaming platform in "June" — will be skipping the Los Angeles gaming expo. But the tech giant might be planning on stealing the show completely with its own event.
Since May 24, Google has been teasing that it's on the cusp of revealing Stadia's pricing, game roster, and launch details via a series of tweets. The company's most recent tweet was on Friday, stating that the wait for the platform is "almost over." On Saturday, freelance video game reporter Liam Robertson published a Patreon post alleging when the next Stadia update will take place, and that a specific game that could debut.
Update: Google announced that it will reveal how much Stadia will cost, its game roster, and a launch date on Thursday June 6 at 12 p.m. Eastern. The event will be live streamed on YouTube.
Robertson cited anonymous sources that told him Google will host its second Stadia announcement at 12 p.m. Eastern on Thursday, June 6. His post also stated that Belgian game developer Larian Studios will tease its Dungeons & Dragons role-playing video game Baldur's Gate III, coming to Stadia and PC exclusively, on the same date.
"Google is planning to unveil its current slate of games for the service, including some fully original and exclusive content from known developers," he writes.
Robertson states that the time could be subject to change, but cites the overlap of Baldur's Gate III teasers on Larian's site and Google's tweets as further evidence of the partnership. Google has not announced a specific date for its next Stadia presentation and did not immediately respond to a request for comment.
But skipping E3 could be exactly how it will set Stadia apart from the rest of the industry.
Stadia was proudly introduced during GDC 2019 in March with the tagline: "The future of gaming is not a box." The service was launched to free gamers from the constraints posed by pricy hardware and hour-long download times with its cloud infrastructure. That's a future that a few legacy console makers, like Microsoft, are inching toward. Yet the upcoming Xbox "Scarlett" consoles are evidence that these companies aren't ready to phase out local hardware all at once.
E3 has traditionally been the venue where console giants tease their new hardware. Google could be skipping the event to differentiate itself from its competitors, like Sony, Microsoft, and Nintendo. And it could very well give them a run for their money.
Google has partnered with French game developer Ubisoft, the creators of the Assassin's Creed series, and during the studio's most recent earnings call, it teased that cloud gaming will be a huge part of its 2019 strategy and that it's working on three unannounced AAA titles that could very well debut on Stadia.
Ubisoft will be attending E3 2019, but if Google does end up hosting a June 6 event, gamers could get a taste of what Stadia will offer. The company might just one-up many of E3's most anticipated showcases with a lineup of stellar games, pricing details, and a potential release date.