iPod Touch 2019: Specs, Price for Video-Gaming, Spotify-Killing Music Player
Apple has a shiny new vessel for its new subscription businesses.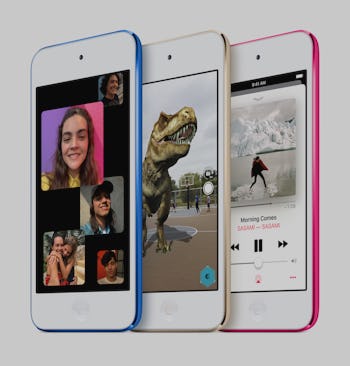 Apple 
Apple is betting that it can sell a new generation of teens on its colorful digital music players: On Tuesday Apple announced that it had developed a new iPod Touch, a product line that's been dormant since 2015. Essentially a cellular-free iPhone 7, the new Touches will serve as a shiny new vessel for Apple's suite of subscription services, specifically Apple Music and the upcoming Apple Arcade.
Will the New iPod Hurt Spotify Subscriptions?
It's also the latest shot fired in the long-standing rivalry between Apple and Spotify to attain music streaming dominance. Apple Music has been successful at closing the gap in the United States, but Spotify remains the most widely used music streaming site worldwide, with more than double the paying subscribers, according to Digital Trends. Even if the new Touches support Spotify — however unlikely that scenario — Apple Music will naturally benefit from in-house integration. For example, offline listening and the ability to sync content purchased through iTunes will be a no-brainer for owners of this 2019 iPod Touch.
Other than performance improvements, the new iPod Touches will retain classic elements of earlier generations, particularly in terms of design. The iPod Touch will retain its wide white bezels, for example, and come in a similar variety of colors. The signature difference will be the internal chipset, which was upgraded to the iPhone 7's A10 Fusion chip, which will help power augmented reality gaming and some other recent Apple upgrades like Group Face Time.
In light of the improvements, the new iPod Touch might make for an odd fit in the suite of consumer tech for some users. Starting at $199, the new iPod Touch will cost almost as much as a new iPhone 7 with a trade-in.
Does the 2019 iPod Touch Have a Headphone Jack?
The biggest allure of the iPod Touch might be the return of the 3.5mm headphone jack. It will be on the bottom left of the device, to the right of a lightning connector and a five-hole built-in speaker, according to [specifications](https://www.apple.com/ipod-touch/specs/ released by Apple.
The iPod Touch also will please anybody who wants to access music and other content without being reachable via a cell signal, thanks to that offline mode. (Though, of course, there's always Airplane Mode.)
Here's what to know about the new iPod Touch and what Apple may be thinking by reviving a four year old product.
iPod Touch: Specs, Display
While it looks similar, the iPod Touch will improve upon its predecessors in a number of ways to enable new features introduced with iOS 12.
Chipset: The main improvement to the iPod Touch is the inclusion of the A10 chipset introduced in the fall of 2016. This change is essentially what will make the iPod up-to-date; most notably, Apple says that it will be sufficient to power all the new AR-powered games available in Apple Arcade.
Camera: The iPod Touch will feature a 8MP rear camera, and will support some photo editing features like Burst, Panorama, Autofocus, 3X zoom, and Geotagging when connected to wifi. The front lens packs a 1.2MP camera for Selfies and Group Face Time. Interestingly, the devices won't unlock via Face ID or Touch ID, and instead use pass codes.
2019 iPod Touch Colors: blue, gold, pink, space gray, white, and (PRODUCT)RED.
2019 iPod Touch Display: The new iPod Touch will feature the exact same 4-inch display as its predecessor. It will use an LED display with 1136-by-640-pixel resolution.
2019 iPod Touch Memory: The new iPod Touch offers three variants, a 32 gigabyte variant for $199, a 128 GB variant for $299, and a $399 variant for 256GB.
2019 iPod Touch Battery: The iPod Touch will offer pretty good battery life, particularly as you're unlikely to be using it as a catch-all device. When you're listening to music only, Apple says your charge should last roughly 40 hours, or up to 8 hours when you're watching video.
What's the 2019 iPod Touch Release Date?
The iPod Touch is already available in the Apple Store online, and should be available in retail stores later in the week, according to Apple.
Why Revive the iPod?
Between the gaming emphasis and the low price-point, the new iPod Touch definitely appears to be a device that's primarily geared toward kids. The $199 device in particular would give parents a way to let children access game and video libraries without having to buy them a cellular plan.
There may be other explanations for its appeal, too. As Medium's Damon Beres recently pointed out, there's currently a hyper-abundance of devices that do everything; and increasingly few devices that do a single thing well. Perhaps, Apple is feeling out the demand for something closer to single-use products.
TechCrunch's Romain Dillet also floats the idea that the $199 iPod Touch could also act as a kind of controller for all your Apple devices. Google recently released the Home Hub, meant to act as a kind of Hub to control various smart home products in one place. The new iPod Touch could play a similar role for Apple households.
Still, it's unclear how much of a market for these use-cases there is yet. Forum posts and comments on Tuesday are skeptical — for only a few dollars more, they point out, you can get significantly better devices which will access cellular services, making them far more useful on the go. Particularly as 5G connectivity becomes more widespread, needing to remain tethered to Wifi will soon start to feel very dated.
On the other hand, by lowering the price point on Apple devices — even if just a bit — Apple will very likely make it easier to get more Apple subscriptions into more people's hands. The company has a lot at stake amidst its big services push, so much so that the typically placid CEO Tim Cook got testy on a recent earnings call. "These aren't hobbies," he said, in response to a question about how subscription sign-ups were going.
Apple's more famous for hardware than software. The new iPods might reasonably be seen as a marketing tactic. After all, even if its appeal is limited to niche uses an kids, those kids could very well go on to become Apple Music and Apple Arcade subscribers for life.