One Member of Apple's Services Push Is Already in Trouble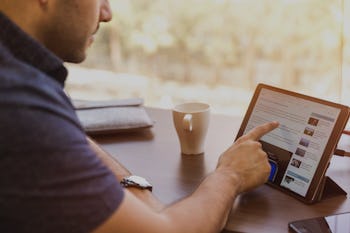 Unsplash / LinkedIn Sales Navigator
Though it's the only member of Apple's recent services push that's currently available, CEO Tim Cook got a little testy when asked to give an update on its progress during the company's latest earnings call. Unlike Apple's upcoming TV streaming service, gaming service, and its new credit card, Apple News+ was available right away.
"We're working very hard to get everyone to give Apple News+ a look," Cook said. "We think it's a very unique product. And I love magazines. And we have really wanted to support the publishers. And so, we're working very hard to…but at the very beginning of the ramp there."
Just after it seemed like Cook had finished his answer, he appeared to get a little flustered.
"We wouldn't do a service that we didn't think could be meaningful!" he said. "That's sort of the way I look at it…these aren't hobbies."
Carolina Milanesi, tech analyst at Creative Strategies, said it was the first time she had heard "a little bit of [irritation] in Tim's voice":
The $9.99 per month package, only available in the United States at launch, offers access to content from over 200 outlets, plus a 30-day trial enables curious users to give it a sample. It also offers a handful of newspapers, too, including the Los Angeles Times, Wall Street Journal and the Toronto Star. It builds on the existing Apple News app, which the company claims is the number one news app. Apple introduced this service on March 25 by outlining huge savings. After all, subscribing to all individually would cost around $8,000.
The company also looks set to make a fair amount from this venture. Apple takes an eye-watering 50 percent cut of the money, far higher than the 15 percent it takes from other app subscriptions after the first year. Its well-documented pivot to services in the wake of shrinking iPhone sales means it needs ventures like News+ to shine.
It sounds like a pretty good deal, but initial reports suggested that only about 200,000 people signed up in the first 48 hours of its availability. Considering everyone at that stage was offered a free trial, that doesn't seem like very much considering Apple News had something like 90 million readers as of last October.
The service has also gotten some mixed reviews on the reading experience, which flitters between an ANF format that has been compared to a collection of web pages, and a PDF version that draws into question the value:
"As the first bit of evidence of Apple's renewed approach to software services, News Plus feels messy and inconsistent enough to cause some real concern about how the company's similar TV and games offerings will shake out later this year," Nick Statt wrote in The Verge earlier this month.
Finally, Apple drew criticism immediately after the launch for failing to protect the content, as developer Steve Troughton-Smith demonstrated:
And, as we noted at the time, Apple's also launched a very, very similar product before. When the company launched Newsstand, a magazine experience for the iPad in 2011, it even used most of the same titles to tease the service.
Apple is expected to launch a Netflix competitor dubbed Apple TV+ later this year for an as-yet undisclosed price. It's also planning to launch the Apple Arcade to deliver games everywhere. Fortunately, Cook's response indicates that he, too, is aware that this services push won't be as straightforward as flipping the switch on a new subscription model.