Apple News+: The 277 Publications Available With a Subscription (So Far)
Will Apple News+ be worth it?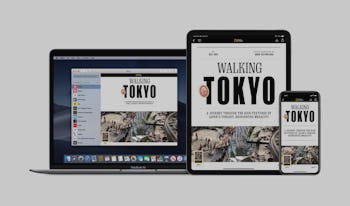 Apple 
Apple News+, the premium subscription product rolled out by Apple as part of its new services blitz, is Apple's attempt to help consumers avoid succumbing to subscription hell. Faced with declining advertising revenues, publications both online and off- have erected paywalls en-masse. For $9.99 per month, Apple News+ lets you bypass the paywalls on more than 300 publications, the cost of which unbundled would top $8,000, according to the company's claims.
The vast majority of the available publications are magazines (Texture, a magazine bundling service that Apple acquired last year already offered 200 magazine subscriptions for about the same price). As part of its Apple News+ service, the company has also recruited a handful of newspapers and digital media entities to offer their products as part of the $9.99 fee.
Apple will split the money from the subscriptions with publishers 50/50 based on how many people read a given publication's articles. Apple's marketing the service as a deal, even going so far as to flash a big "$8,000" on the screen during its presentation, which then gets booted out of the way by a more attractively priced $9.99, as you can see in the below GIF. This is textbook price-anchoring: By showing you an expensive hypothetical or alternative price before showing the real one, Apple makes the actual price seem cheaper.
Apple News+ Release Date and Price
Unlike most of the other products Apple unveiled at Monday's event, Apple News+ is available right away starting at $9.99 in the United States, or $12.99 in Canada, according to Apple's press release. The service will be available in the United Kingdom and Australia "later this year."
Apple News+ Available Publications
Apple has recruited most of the big magazine conglomerates into the Apple News+ ecosystem, including Hearst, Conde Nast, and Meredith, which between them account for nearly 80 U.S. titles, according to the company media kits. Apple has also recruited a handful of daily newspapers, including The Los Angeles Times, The Wall Street Journal, and The Toronto Star; and some digital publications like theSkimm.
You can check out a full list of the publications that were featured in the announcement below, as well as the full library available on Texture, the magazine app Apple acquired last year. Apple didn't respond to multiple requests for a full publication list, but we were able to add a few more titles to list below using a leak from Federico Viticci at MacStories.
Between Apple's announcement, Viticci's count, and the available magazines on Texture, Inverse counted a total of 277 publications. We'll update the list if Apple alerts us to any that we missed.
Apple News+: Is It Worth the Money?
Apple's $8,000 figure is a bit misleading, the 300-publication count includes a lot of industry publications with pretty narrow appeal (not to slight the fine work of the people at Wood), children's titles, and even a few publications in foreign languages, like Châtelaine. And of course, even if you read 24/7, you'd have a hard time getting the full $8,000 worth of articles.
It also doesn't look like the full Wall Street Journal subscription will be included with Apple News+ According to an internal memo obtained by the Verge, the Journal will only provide a selection of curated general interest news to Apple News+ readers, not necessarily the all of in-depth financial coverage and analysis the paper is known for.
To that end, an Apple News+ subscription likely makes the most sense for people who already subscribe to the new dailies offered (like the Star or the LA Times) or people who read a lot of magazines. The average American spends something like 15 minutes reading magazines per day, according to data on Statista, which is probably between five and ten stories per week, depending on how long they are. At $9.99 per month, that's something like 30 cents per story for an average consumer. If you read more than a dozen magazine stories a month, the Apple News+ subscription will likely be a bargain.
Newspapers Available With Apple News+
The Wall Street Journal
Los Angeles Times
Toronto Star
Digital Subscriptions Available With Apple News
theSkimm
The Highlight by Vox
New York Magazine publications like The Cut and Grub Street
Extra Crunch from Verizon Media's TechCrunch
Magazines Available on Texture
AARP The Magazine
ABC Soaps in Depth
Adweek
Afar
Airbnbmag
All About History
All About Space
All About Beer
Allrecipes
Allrecipes
Allure
Alta
American History
Animal Tales
Architectural Digest
Ask Magazine
The Atlantic
Automobile
Babybug Magazine
Backpacker
BBC Countryfile Magazine
BBC Gardener's World Magazine
BBC Sky at Night Magazine
BBC Wildlife Magazine
Better Homes and Gardens
Bicycling
Bike
Bike Radar
Billboard
Birds & Blooms
Bloomberg Businessweek
Bloomberg Markets
Boating
Bon Appétit
Boys' Life
Brides
Canadian Cycling
Canadian Running
Car and Driver
CBS Soaps in Depth
Chatelaine
Châtelaine
Classic Rock
Clean Eating
Click Magazine
Closer Weekly
CNET
Cobblestone Magazine
Coastal Living
Computer Arts
Computer Music
Condé Nast Traveler
Consumer Reports
Cooking Light
Cosmopolitan
Cottage Life
Country Gardens
Country Living
Cowboys & Indians Magazine
Cricket Magazine
Cruising World
Cycle World
Deer & Deer Hunting
Diabetes Self-Management
Diabetic Living
Do-It-Yourself
Digital Camera World
Digital Photographer
Domino
Dwell
EatingWell
Ebony
EDGE
ELLE
ELLE Decor
Entertainment Weekly
Entrepreneur
ESPN The Magazine
Esquire
Essence
Faces Magazine
FASHION
Family Circle
Family Handyman
Family Tree Magazine
The Family Handyman
Fast Company
Field & Stream
First for Women
Fit Pregnancy and Baby
Flying
Food & Wine
Food Network Magazine
Forbes
Fortune
FourFourTwo
Future Music
Forward
Garden & Gun
Gardens Illustrated
Girls' Life
Girls' World
Glamour
Gluten-Free Living
Golf Digest
Golf Magazine
Golf Tips
Good Housekeeping
GQ
GQ Style
Gripped
Guitarist
Guitar Player
Guitar World
Harper's Bazaar
Health
Heed Magazine
HELLO! Canada
HGTV Magazine
The Hockey News
The Hollywood Reporter
Homes & Antiques
History
Hot Rod
House & Home Magazine
House Beautiful
How it Works
iD Magazine
In Touch Weekly
ImagineFX
Inc.
InStyle
In The Moment
In Touch Weekly
Interior Design
J-14
Journal of Alta California
L'actualité
Ladybug Magazine
Life & Style Weekly
Linux Format
Living the Country Life
Luxe
MacFormat
MacLife
Maclean's
Macworld
The Magnolia Journal
Make:
Marie Claire
Marlin
Martha Stewart Living
Maxim
Men's Health
Men's Journal
Metal Hammer
Midwest Living
Money
Mother Jones
Motor Trend
Motorcyclist
Mountain Biking UK
Muse Magazine
N-Photo
National Geographic
National Geographic Kids
National Geographic Little Kids
National Geographic Traveler
National Review
Naturally, Danny Seo
New York Magazine
The New Yorker
Net Magazine
The New Republic
NewBeauty
Newsweek
O, The Oprah Magazine
OK!
OUT
Outdoor Life
Outdoor Photographer
Outside
Oxygen
Parents
Parents Latina
PC Gamer
PC Magazine
PCWorld
People
People en Español
Period Living
PhotoPlus
The Pioneer Woman
PlayStation Magazine
Popular Mechanics
Popular Science
Popular Woodworking
Prevention
Racer Magazine
Rachael Ray Every Day
Reader's Digest
Real Homes
Real Simple
Redbook
Reminisce
Retro Gamer
Ricardo
Road & Track
Rolling Stone
Runner's World
Sailing World
Salt Water Sportsman
Saveur
Scientific American
SFX
Seventeen
Shape
Shutterbug
Simple & Delicious
SKI
Sky & Telescope
Smithsonian
Southern Living
Spider Magazine
Sport Fishing
Sports Illustrated
Sports Illustrated Kids
STAR
Stereophile
Successful Farming
Sunset
Surfer
Taste of Home
Tennis
Texas Monthly
The Walrus
The Week
The Advocate
The Hollywood Reporter
The Magnolia Journal
The Pioneer Woman
This Old House
Time
Today's Parent
Toronto Life
Total Film
Total Guitar
Town & Country
Traditional Home
Travel + Leisure
Triathlon
Truck Trend
Us Weekly
Vanity Fair
Variety
Veranda
Vogue
W Magazine
Web Designer
Weddingbells
Who Do You Think You Are?
Wine Enthusiast
Weight Watchers
Wine Enthusiast
Wired
Woman's Day
Woman's World
Women's Health
Wood
Working Mother
Xbox 360 Magazine
Yachting
Yoga Journal
ZOOMER
220 Triathlon
3D World
3D Artist