'Stranger Things' Season 3 Actress Teases a Major New Upside Down Threat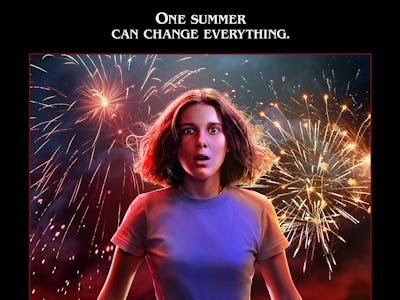 Netflix
Stranger Things Season 3 won't hit Netflix until July 4, but one of the show's stars just dropped a huge hint that Season 3's mysterious new threat could be some kind of disease from the Upside Down or worse: a zombie outbreak.
ET published an interview Sunday with Stranger Things star Millie Bobby Brown, who plays the telekinetic fan-favorite Eleven. She was formally adopted by Sheriff Hopper at the end of Season 2 and renamed Jane Hopper. So when the new season takes place, she's been publicly introduced to society for the first time ever. Finally, she gets to be a normal kid.
"Eleven's character evolves greatly," Brown said. "And I can say it's spreading fast — and that's all I can tell you."
Wait. Hold up. What exactly is "spreading fast"?
This cryptic allusion probably has something to do with the Upside Down and a new threat that plagues Hawkins, Indiana in Season 3. In Season 2, the Mind Flayer was able to possess Will Byers and also corrupt the earth in Hawkins. The infection spread through all of the local plant life, but after Sheriff Hopper and Eleven temporarily defeated the Mind Flayer by closing the interdimensional rift in Hawkins Lab, the infection seemingly stopped. This is something new.
In Worlds Turned Upside Down, a companion book to Stranger Things released last year, series producer Shawn Levy confirmed that the Mind Flayer remains the principal villain in Season 3.
"We ended Season 2 with a clear signal that the Shadow Monster was not eliminated, and maybe he's even identified his foe," Levy said. "And that darkness, and the battle that it will require grows in Season 3."
That means the Shadow Monster/Mind Flayer will have to find a new means to infiltrate the real world from the Upside Down. Based on what we've seen in the Season 3 trailer released in March, there's a shot of Eleven on the beach experiencing a "True Sight" vision like Will had in Season 2, and then she's seemingly attacked in the void of her own mind.
Does the Shadow Monster manipulate her powers somehow to regain access to the real world?
The trailer also revealed that someone (probably Billy) gets some kind of infection via a bite on his arm. Later, we see a grotesque Cronenberg-type monster mutating into existence. Does Billy transform into this monster? Is this affliction contagious, like a zombie virus? It could be both.
In Worlds Turned Upside Down, series co-creators Matt and Ross Duffer mention that similar to how Season 2 was inspired by Ghostbusters, Season 3 will be inspired by the work of three big horror directors: John Carpenter (Halloween, The Thing), David Cronenberg (The Fly, Videodrome), and George Romero (Night of the Living Dead). Together, these directors channel a terrifying fusion of body horror and zombie infections, implying that Season 3 could involve a zombie outbreak caused by the Upside Down.
We know for a fact that Episode 7 is titled "The Bite" and that the new Starcourt Mall is a prominent setting throughout the season, together establishing the perfect setting for a late-season zombie outbreak inside a mall a la Dawn of the Dead.
Also recall that early in Season 2, Will Byers' peers referred to him as "Zombie Boy" because he'd seemingly come back from the dead after his ordeal in the Upside Down in Season 1. So these undead themes are nothing new to the series.
Whatever is "spreading fast" in Stranger Things Season 3, if it's enough to get Eleven herself scared than we should all be very, very afraid.
Stranger Things 3 will be released on Netflix July 4, 2019.