Even Jaime Lannister Is Hyping a 'Game of Thrones' Arya Stark Spinoff Sequel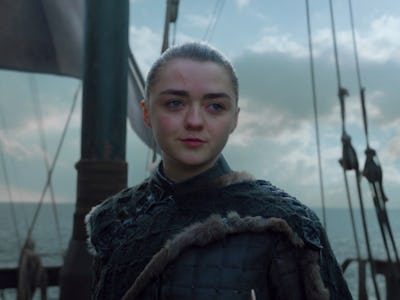 HBO
When Game of Thrones ended, Arya Stark sailed off to the uncharted lands somewhere west of Westeros. If there was ever a GoT sequel we needed to see, it's definitely Arya Goes West, and even Jaime Lannister actor Nikolaj Coster-Waldau agrees it would make a better spinoff than any kind of prequel. Truly, Jaime's fraught redemption arc is finally complete.
He even took the chance to lightly mock these fan petitions requesting the last few seasons get remade.
"I know they're doing all these prequels, but what about a sequel with Arya?" Coster-Waldau said in a video posted to his Instagram account Monday. "How about a petition? An online petition to HBO that they do a sequel with Arya Stark."
Almost instantly, one such petition was created.
Coster-Waldau is referring to the Game of Thrones prequel show currently in production, but now that we've all seen the series finale, following up with more stories focused on fan-favorite Arya Stark sounds far more interesting than a story set thousands of years ago that explores the origins of the Night King.
Who cares about the Night King!? Arya already killed him. Give us something new. Give us more Arya.
Because Arya's sailing off into unmapped territory without any other characters, HBO would only need to rehire Maisie Williams to reprise the role, and the rest of the cast would be completely new people. Could it happen? Maybe. But not anytime soon.
Several different spinoffs are currently in development, but Game of Thrones author George R.R. Martin confirmed in a 2017 blog entry, "Every one of the concepts under discussion is a prequel, rather than a sequel." These comments are now more than two years old, so there's no telling what the reality is behind the scenes or if things have shifted. It seems likely, however, that if HBO considers some kind of Arya Stark: West of Westeros series, then it hasn't been on the table until now.
Is it worth nothing that even famed horror author Stephen King wants to see this spinoff?
What's truly exciting about an Arya Stark sequel series is that it would be completely different from the core Game of Thrones story about a dragon queen's rise to power and the greatest houses of Westeros all vying for political control of a divided land. Instead of politics and backstabbing, it would just be Arya exploring a new world and … well, there'd still be lots of stabbing.
Arya's already most people's favorite character. She's a skilled fighter with a compelling pseudo-magical toolkit that allows her to shapeshift into dead people. Now she's sailing a ship to a foreign land where anything is possible. More dragons? Different kinds of magic? More advanced technology?
Maybe it feels weird to see Arya abandon her family, and permanently at that. At the same time, maybe the best thing of all is for us to forever remember this as Arya's last moment, looking forward to the infinite potential ahead of her. It's a far better note to remember than Tyrion's joke about a donkey in a brothel.
Game of Thrones is now available to stream in its entirety on HBO.