'Rick and Morty-Dungeons & Dragons' Adventure Is "Insanity in the Best Way"
Finally, a 'Rick and Morty' crossover with 'D&D' that we can all play.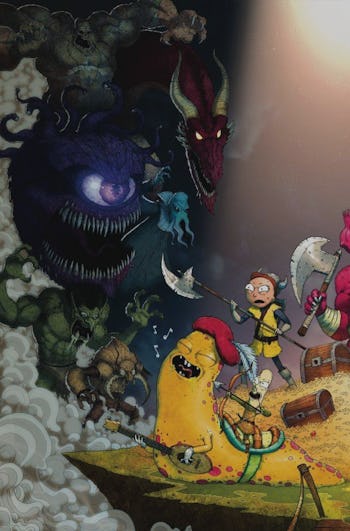 Oni Press / Artist: Mike Vasquez
If ever there was an adventure to indoctrinate tons of new players to Dungeons & Dragons, it's a crossover with Rick and Morty. Thankfully, that's exactly what we're getting, unlike the crossover comic series published by Oni Press and IDW Publishing since August 2018, this new sourcebook from Wizards of the Coast is a bonafide Dungeons & Dragons adventure inspired by Rick and Morty. 'Rick and Morty-Dungeons & Dragons' will be released later this year.
"What if Rick was your Dungeon Master?" comics writer Jim Zub asked the crowd at a D&D Live on Friday, May 17. "He's going to ruin everything you've ever loved, and your own self-esteem, and maybe you'll have a really good time. It's going to be really nuts. We're tearing open the game paradigm."
Formally titled Dungeons & Dragons vs. Rick and Morty: Tabletop Roleplaying Game Adventure, the book should stand apart from the comic series Rick and Morty vs. Dungeons & Dragons despite their similar names. It's probably a traditional D&D adventure — just with heavy edits and annotations from Rick Sanchez himself, drunk with power and driven insane by the thrill of assuming the role of Dungeon Master.
"Horseshit insanity in the best way.
The actual mechanics and story of the book remain uncertain, but it's possible it'll borrow plot points and character variations from the comics that Zub continues to write. Troy Little, who illustrates the crossover comics run, also did all of the art for the sourcebook and accompanying materials, which include a "totally kick-ass DM screen," according to project lead Kate Welch. There might even be custom dice.
"This is not only an adventure, but it's a box set," Welch said at D&D Live. "This box set contains a rule book that has been heavily revised by Rick Sanchez. There's a complete custom new adventure that we wrote. We ended up banging out this adventure that, I think it's safe to say, is horseshit insanity in the best way." She also later used the term "hot garbage" to describe it.
One of Rick's edits is critical fumble tables, so when a player rolls a 1 on their D20, the Dungeon Master can roll a D100 to determine what unique fumble happens to the player. Do they get slapped in the face by an alien monster? Or something much worse?
Fans at Emerald City Comic Con 2019 actually got a surprise exclusive preview of the new book during a live D&D session panel. Originally slanted as a fun event with ties to the crossover comics, Jim Zub voiced Rick Sanchez in the role of dungeon master for a two-hour encounter with Jen Vaughn, Lysa Chen, Josh Trujillo, Kat Kruger, and Kate Welsh playing.
Zub admitted during Friday's announcement that this two-hour encounter "was ripping liberally from some of the things [they] were already working on in the adventure." The closed event hasn't been broadcast online. So only fans who made it out to the Seattle-based convention got this exclusive preview, but it definitely offered an early preview of what we can expect from the book.
According to a press release, the set blends "the world of Dungeons & Dragons with the mad narcissistic genius of Rick Sanchez's power-gaming sensibilities, and it includes everything a Dungeon Master needs to channel their inner mad scientist and run a rickrolling adventure for up to 5 players, levels 1-3." In plain terms, this beginner's adventure is the perfect way to introduce up to 5 Rick and Morty fans to Dungeons & Dragons. They'll be Level 3 by the end and can take their characters into any other adventures after that, including the upcoming Descent Into Avernus.
Will the Rick and Morty set introduce unique classes? Will it incorporate some of Rick's crazy sci-fi technology? What kinds of NPCs from Rick and Morty might appear? We can't wait to find out when the set releases around the same time as Rick and Morty Season 4.
Dungeons & Dragons vs. Rick and Morty: Tabletop Roleplaying Game Adventure will be released November 19, 2019.
Watch the full Opening Ceremonies for D&D Live 2019 to hear Jim Zub and Kate Welch talk about the sourcebook from about 57:40 to 1:02:30.