'Dungeons & Dragons' Is Cool Now, 'Rick and Morty' Declares
Rick Roll for initiative.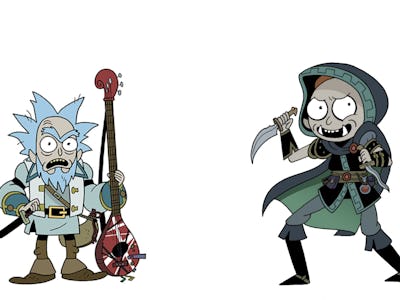 Oni Press / IDW Publishing
In the upcoming Rick and Morty crossover comic with Dungeons & Dragons, all the cool kids are playing D&D. Morty needs to learn more about tabletop gaming so he can have an easier time fitting in, not the other way around. This comic really wants us to think that D&D has gone fully mainstream. What a time to be alive.
On Monday, Screen Rant revealed the first few pages from Rick and Morty vs. Dungeons & Dragons #1, subtitled "Rick Rolling." It's pretty much just Morty looking super awkward while overhearing some kids chatting on the school bus about a totally gnarly campaign they've been running. This is kind of weird considering Morty's life is threatened on a regular basis while adventuring with his grandpa, but it does speak to the rising popularity of tabletop gaming in recent years.
D&D podcasts and TV shows have helped to popularize the classic tabletop game to the extent that it's not relegated to basement dwellers from the '80s anymore. Rick and Morty co-creator Dan Harmon even hosts his own D&D web series called Harmonquest.
In one of the early preview pages, a few of Morty's classmates gossip about the finale of a podcast series like it's an episode of Game of Thrones and they fangirl out over the lead character:
Is Dungeons and Dragons legitimately cool now? What a time to be alive. If Rick and Morty could make tons of millennials harass McDonald's into resurrecting a sauce that shouldn't exist, then maybe it can make Dungeons & Dragons go truly mainstream with this new comic.
Since this crossover comic was announced in April, we knew that Morty would go to Rick for D&D guidance before "things go horribly wrong as Rick, Morty, and the whole Smith family find themselves on an epic quest with no escape in sight." Previews World debuted some concept sketches for the series from artist Troy Little that cast Rick as a Bard, Morty as a Rogue, Summer as a Ranger, Beth as a Cleric, and Jerry as a Wizard.
When the world's most popular animated comedy collides with the world's most popular role-playing game, things do get pretty awesome.
For someone like myself that totally loves Rick and Morty and recently started his very first D&D campaign as a Hill Dwarf Cleric named Clarty, I can't wait to see where this comic goes.
Rick and Morty vs. Dungeons & Dragons is co-written by Jim Zub and Patrick Rothfuss (author of the Kingkiller Chronicle series) and drawn by Troy Little.
Rick and Morty vs. Dungeons & Dragons #1 will be released on August 22, 2018.