10 Cool-Ass 'Dungeons & Dragons' Campaign Podcasts and Web Series
Table-top role-playing has gone out of the basement and into streaming. These are the best ones.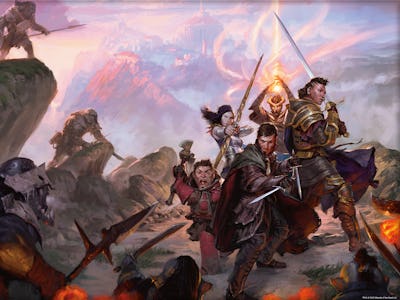 Wizards of the Coast
Nothing embodies geek pop culture better than Dungeons & Dragons. Gary Gygax's table-top fantasy game survived ridicule and the Satanic panic of the '80s to earn its spot as a landmark game for anyone with an active imagination or the need for an outlet. The game's community, which includes some of Hollywood's elite, is one of the most active fandoms– which hastaken their once exclusive, you-had-to-be-there tales to the internet and beyond. The spread of these shows prove there is a demand for people sitting around a foldout table pretending to be half-elves. But which ones are the best?
Whether you're itching for some d20 action because you can't get your busy friends to play together, or you're a newbie looking to see how this "Dee-and-Dee" is actually played, look no further. Check out these shows that celebrate and document all that is Dungeons & Dragons.
Critical Role
One of the more popular D&D shows – given the novelty appeal and nifty presentation – Geek and Sundry's Critical Role stars voice actors from video games and cartoons playing Dungeons & Dragons, usually for a live-streaming audience but sometimes in front of a live studio, too.
Critical Role is an ingenious concept: VO artists make a living portraying unique and weird characters just by speaking, so D&D is a perfect platform for them to perform some great improv. Matthew Mercer (the English voice for Leon Kennedy in the Resident Evil franchise) is the show's DM (Dungeon Master), who leads a cast that includes Marisha Ray, Travis Willingham, Laura Bailey, and more.
As the show's popularity increases, so does its production values, with episodes filmed in a dungeon set and its opening a CGI-heavy sequence featuring the show's actors dressed up as their characters.
HarmonQuest
It should be zero surprise that Community and Rick & Morty creator Dan Harmon is an avid D&D player. On the new VOD service Seeso, Harmon has led its programming with HarmonQuest, where the TV showruner plays D&D with his celebrity friends for a live-audience. Unique to other shows is that HarmonQuest is intercut with cartoon animations of the campaign, which gives the game a visual element no miniatures can ever achieve. The first episode is up on YouTube for free, with the rest available on Seeso.
Force Grey: Giant Hunters
Not one to be outdone by friendly competitors Geek & Sundry, Chris Hardwick's Nerdist has started its own D&D series also with Matthew Mercer as its DM. Force Grey: Giant Hunters is a brand new series starring Hardwick and other guests playing the newest storyline, Storm King's Thunder, and is filmed in the back of the popular Meltdown Comics in L.A. The series just premiered, so it's really easy to catch up if you hurry.
Nerd Poker
Comedian Brian Posehn leads one of the most popular D&D podcasts around in Nerd Poker on the Earwolf network. The show is as simple as it can get — funny people get nerdy as hell — and it's drummed up a dedicated following online. The show has been on hiatus since November with Posehn joining the aforementioned Force Giants for Nerdist, but all Nerd Poker episodes are still up for listening pleasure.
Drunks and Dragons
Lesser known than some of the other shows on this list, Drunks and Dragons features an array of comedians and ordinary nerdy people getting smashed while playing D&D. Miraculously, the party never descends into incoherent madness. Instead, it's just good, chaotic (evil) fun.
Friends at the Table
Another podcast, Friends at the Table has skyrocketed in popularity after recently being a feature on iTunes. Unlike other shows on this list, Friends at the Table plays other RPG games besides D&D while also doing meta-explorations of the medium and the genre. The podcast is led by Austin Walker, a writer from Giant Bomb who is finishing up his Ph.D with research in play and labor.
D20 Babes
Kurtis J. Weibe, writer of the Eisner-winning comic series Rat Queens is the DM of D20 Babes, a live-streamed D&D campaign sporting an all-female party which Weibe credits its creation to his wife, Shannon. "She's the D20 Babe," he told Inverse in a recent interview. "[S]he wanted to stream a game, and she kept talking about it, working out the system, recruiting everybody. I told her I'd run the game as Dungeon Master, but the production of the stream and getting the team together, that was all her."
He added: "Opening it up and streaming the game has reached different fans: female gamers, female fans of high fantasy, fans of the comic."
If you want to see a quartet of cool as hell women play D&D — essentially bringing Rat Queens to life — then D20 Babes is for you.
Acquisitions Incorporated
Jerry Holkins and Mike Krahulik of the Penny Arcade empire have extended to tabletop with Acquisitions Incorporated, another D&D series made entertaining by the personalities sitting around the table. Initially a live show at Penny Arcade's annual Penny Arcade Expo (PAX) convention, Acquisitions Incorporated is now airing in weekly installments filmed in someone's lavishly finished basement. Like HarmonQuest and Force Grey, Acquisitions Incorporated started up only recently, making it very easy to binge for a weekend.
Dice, Camera, Action
Not to be outperformed by their own product, D&D owners Wizards of the Coast have started its own weekly video campaign, Dice, Camera, Action. Dungeon Master Chris Perkins leads YouTube streamers Holly Conrad, Jared Knabenbauer, Anna Prosser Robinson, and Nathan Sharp in the newest D&D campaign, Curse of Strahd. It's not as cleverly presented as the other shows on this list, but it's as no-nonsense as you can get and is probably the most accurate to any real D&D experience: Just a bunch of nerds having fun playing pretend.
BONUS: This YouTube Video of Vin Diesel Playing D&D
Because it's Vin Diesel playing D&D.