'Rat Queens' Creator Kurtis Wiebe Believes in High Fantasy and Women
We spoke with the guy responsible for the high fantasy, roleplaying revolution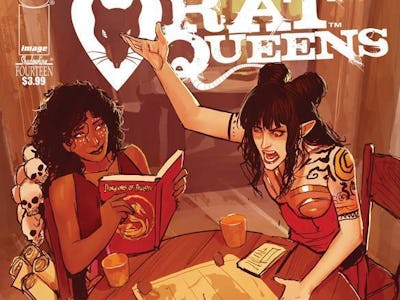 Kurtis Wiebe began publishing Rat Queens, his Dungeons and Dragons-inspired comic series about a band of women, through Image in 2013. The series was a huge success, and Wiebe maintained his focus on women in high fantasy environments when he went on to support D20 Babes, a live-streamed D&D game produced by Wiebe's wife Shannon.
Recently, Wiebe spoke with me over the phone about Rat Queens, his YouTube projects, and the fate of tabletop roleplaying games like Dungeons and Dragons in our internet-obsessed culture.
So what's the deal with you, female characters, and fantasy? Why continue that fascination throughout your projects?
Well, when I first set out to do Rat Queens, I hadn't really seen anything like it on the market. The fantasy genre has been, historically, pretty unkind to women. The best part about high fantasy, though, is that it can be whatever kind of world you want, and fans don't tend to interrogate those choices. I was building my world, and I thought, "why not a place where women and men accepted as exactly the same? What does that world look like?"
So was an all-female team on D20 Babes motivated by that logic?
Actually, that's all Shannon, my wife. It's her channel, and she's the D20 Babe. In the summer of 2015, she wanted to stream a game, and she kept talking about it, working out the system, recruiting everybody. I told her I'd run the game as Dungeon Master, but the production of the stream and getting the team together, that was all her. It's really just a coincidence that I write Rat Queens.
Neither of us is unfamiliar with the roleplaying world, but often when we played, Shannon had been the only female player. Opening it up and streaming the game has reached different fans: female gamers, female fans of high fantasy, fans of the comic.
So the Internet is changing tabletop roleplay culture?
Okay, so I know you've heard of Critical Role right?
Yes, of course, though I'm actually more of a Critical Hit fan.
Well, I think the folks at Critical Role really blew the world wide open for new players and creators. Those guys, they're professional actors having a genuinely great time as they play, and their show brought a lot forward for people.
For a long time, D&D was considered this weird subculture, and those misconceptions about role playing games are slowly going away. When you stream a game, like we do at D20 Babes, you can see what the game looks like, and you realize that pretty much anyone can be involved and really love it.
What do you think makes a good dungeon master? My DM is fantastic, but I'd like to hear your thoughts.
I think being open to player input is really important. A lot of being a storyteller during the game is telling your players' stories in an interesting way. I try to guide things along and I always have an overall story idea, but in most of the episodes, I allow the players to make their decisions.
The key is giving up control a bit. D20 Babes, unlike Rat Queens, is not my story to tell, and I'm just there to make sure the dots connect at the end of the campaign. Everyone I game with, they're all creators and storytellers, so the process works. I've managed to find teams who can help me put something cohesive together. A dungeon master is really a facilitator.
You mentioned Rat Queens again. Any chance you can tell us about the animated adaptation that was in the news a couple years ago?
It's still kind of an ongoing behind-the-scenes process, but it is happening Anything that happens with, well, Hollywood can take forever. Things are moving, but it's such a long wait. Luckily, the interest is still there and we're moving forward with the project.
What about the new queens we can see in the preview art, for the issue coming out in July?
So, that cover is not a fake-out, that's actually what's happening. Obviously, we have new members coming, and there's a missing member: Hannah. Issue 15 comes out on March 16th, and that will end the current arc. Something happens in that last issue, at the end of the arc, that means Hannah can't be a part of the Rat Queens in the next issue.
So the new Queens, they look like…an orc and an elf? Half orc, half elf?
If you look carefully, both characters have been around since the beginning. Braga, our orc, has been an ongoing side character. She's a member of the Peaches, and her side issue came out between issues 8 and 9.
I've been slowly building up her character, she's in the collected deluxe hardcover, and in the third trade paperback that's coming. Tizzie is another elf, she's been talked about since the beginning, here and there. She was the leader of the Peaches, and has that rivalry with Hannah.
You've got a lot of projects going on!
In addition to helping D20 Babes every Monday night, and writing Rat Queens, I'm also running a cyberpunk series, Gadfly on my own Twitch. That's a Blade Runner / Cowboy Bebop mash-up.