A 'Rat Queens' Adaptation Could Be the Foul-Mouthed Reboot High Fantasy Needs
Enough with the sci-fi reboots, already. What we need is elves and dwarves that are actually funny, and cool.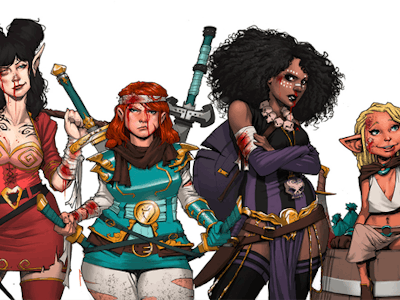 Variety reported in 2014 that Rat Queens, the long-running Image series set in a Dungeons and Dragons style fantasy world, would be developed into an animated series by Weta Workshop's Pukeko Pictures and Heavy Metal, a media company headed by Brian Witten, who oversaw Spawn, Final Destination, and the upcoming Cell film, based on a Stephen King novel. When the announcement was made, it felt like a perfect storm of geekdom, pairing all the nastiness and fun of the Rat Queens comics with Weta's famous attention to detail in fantasy-warfare. Unfortunately, no news on the animated series has appeared since.
It's a pity, because Rat Queens has so many of the factors attractive to studios now. Although comedy heavyweights, including Paul Feig and Judd Apatow, have recently thrown in with female-led projects, franchises like The Ghostbusters getting new, woman leads can only do so much to capture the public's imagination. The PR for the Ghostbusters reboot hasn't exactly been inspiring, and that may be because it's a disservice to both long-time geeks and women (and of course the folks who belong to both of those demographics, myself included). Why attribute the female-led revival of geek culture to reboots of original franchises, when there are hoards of more exciting and more timely sci-fi and fantasy franchises awaiting adaptations? Image's Bitch Planet simply adds hand-to-hand combat to the appeal of Orange is the New Black, but Rat Queens is another animal entirely. It could easily herald a new era in feminist geek culture, but more widely, in the revitalization and improvement of high fantasy.
When was the last time you saw something involving a dragon, elves, and magic that was undoubtedly cool? Game of Thrones? This season, the show will surpass the book, and no one can predict that that will turn out. The original Lord of the Rings trilogy? Their mainstream appeal was almost killed by the Hobbit prequels. MTV's Shannara show? To be determined. The point is, Rat Queens has all the foul-mouthed magic of Broad City — which networks are attempting to recreate constantly, with shows like Idiotsitter and Ghost Ghirls — combined with the real sense of awe and optimism that characterizes high fantasy works by Tolkien, Marion Zimmer Bradley, and George R. R. Martin.
A film or TV adaptation of Rat Queens would bring to both female-driven media and high fantasy what both genres so desperately need: a cool factor rooted in strong language, a believable world, and violence meant for consumption by adults. Game of Thrones has done much to make high fantasy feel relevant and appealing to mainstream viewers, but Rat Queens would drive this point even further home.
As a quick rundown, the series follows four female adventurers who solve crimes and defeat enemies for mead money. The Rat Queens band of sisters operates just like any troop of warriors in Dungeons and Dragons, shifting its allegiance to the highest bidder and exploring the magical world by way of paid excursions.
One of the Queens, pictured above, is Hannah, an elven mage who styles herself like a rockabilly Hot Topic fan. Violet, pictured below, is a female dwarf who shaves the beard that dwarves of both genders grow.
Betty, the lesbian halfling, is adept at quick combat and enjoys both candy and hallucinatory drugs. Dee, the only human in the group, is a black cleric who was raised in a cult worshipping a monster very similar to Cthulhu.
Television companies have been turning to comic books at an increased rate lately, even aside from the big guns like Marvel and DC. The CW's fantastic iZombie is loosely based on a lukewarm two-volume comic series, and the number one show on television, The Walking Dead, is based on the long-running comic series. Robert Kirkman's follow up series, Outcast, will also be based on the comic book series of the same name.
Adapting Rat Queens to the screen would satisfy both the demographic that watches confusing fantasy shows like Once Upon a Time, Grimm, Merlin, and Teen Wolf and the folks who like acidic, cutting sitcoms like Veep, Rick and Morty, and Silicon Valley. High fantasy offers imagination, mirth, escapism, and a large world for writers to experiment with, and R-rated sitcoms employ an intellectual edge. Rat Queens, if adapted by the right people, would have both.